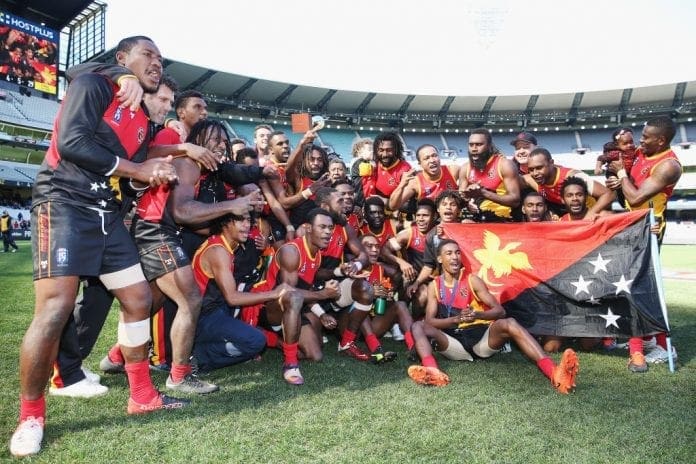 Papua New Guinea have won back-to-back AFL International Cup grand finals after beating New Zealand by just one point at the MCG on Saturday afternoon.
The Mosquitoes got the better of the Hawks in the division one decider, as both teams struggled in a low-scoring affair.
PNG defeated New Zealand 4.5 (29) to 4.4 (28), with the Mosquitoes leading 20-19 at the main break.
Hewago Oea was named as the best player on the ground, and the 16-year-old said it was a moment he will never forget.
"I am feeling proud for all the boys and our supporters here and back home," Oea told AFL.com.au.
"I loved kicking that goal and celebrating. That is a moment I will remember forever.
"It was amazing to run out at the MCG for the first time. I'll be back in three years to make it three consecutive titles."
With the International Cup running every three years, PNG have won their third grand final since the Cup's inception in 2002.
Both teams had their chances to win in the final quarter, but as AFL CEO Gillon McLachlan said after the match, the Mosquitoes just held their nerve when it mattered.
"The standard continues to improve throughout the tournament," McLachlan said following the trophy ceremony.
"I thought Papua New Guinea might rue the missed goal at the end but they stayed calm and got up again."