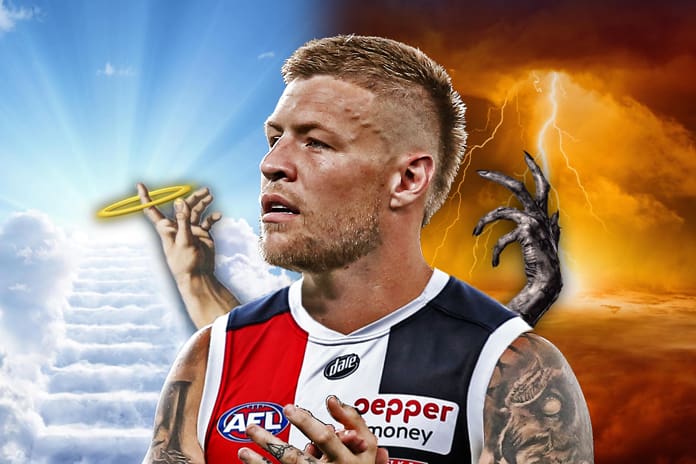 Since its formation just shy of 150 years ago, the St Kilda Football Club has proven a habitual provider of dismay, dejection and doom.
And that's just when on-field deeds are considered.
Away from the boundary line, similar sentiments have arisen, with tales of mismanagement and malapportioned bad luck routinely punctuating the club's history books.
Stop a fervent St Kilda supporter on the street, and their face is sure to drop when the topic turns to footy, their eyes rolling back into their heads as they and their masochistic mates become the butt of yet another cutting barb.
But for a club that has long professed that true strength is formed through neverending loyalty, the fans in the outer continue to roll up en masse, even when the club's many sins have been plain for all to see.
And with more than 58,000 patrons having parted with hard-earned payment to join the congregation - a record figure for the club – the depth of devotion is impossible to deny.
As the latest opportunity for snapping the league's longest premiership drought has all but evaporated following their team's patchy form after the bye, these same members have instead been subjected to the same tired story for the 56th year in a row.
Ahead of his side's Round 14 date with Essendon, coach Brett Ratten had steered a group comprised of traded names, blue-chip prospects, mature-aged talents and miscellaneous offcuts to an 8-4 record with a percentage of 119.1, good for sixth spot on the ladder.
After being comprehensively run off the park by the Bombers, further defeats at the hands of Sydney, Fremantle and the Western Bulldogs have seen the Saints lose ground in the eight, dropping more than 14 percentage points in the process.
While the run of losses squeezed almost every breath of air out of Ratten's tri-coloured balloon, the manner in which they were accrued has proven to be the most disappointing element.
Just ask the man himself.
Despite the throes of COVID necessitating a tropical end to the 2020 season, St Kilda thrived like few other clubs in the hub, using the time to bond together as a new unit before breaking through for a first finals victory in a decade.
Throughout the condensed campaign, locked-down fanatics were treated to outstanding performances from the likes of Dan Butler, Dougal Howard, Nick Coffield, Zak Jones and the habitually luckless Hunter Clark.
However, now 21 months on from their elimination final edging of the Dogs, a thick layer of gloss has been rubbed off, with each member of this quintet either stranded on the sideline or unable to rekindle their form on a consistent basis.
At face value, it may seem harsh to lump the oft-injured Clark and the currently rehabilitating Coffield in with a down crowd, but the statistics, the scoreboard and the naked eye show the Saints to be a side toying with a slide.
Still, as the vast majority of the Saints' back six have consolidated their roles under the watch of six-time All-Australian Corey Enright, there have been wins beyond those used to compose the ladder's order.
But with Ratten's biggest headaches lying further afield, surely a play for a highly-publicised forward-cum-midfielder is an absolute no-brainer?
Right?
THE ARGUMENT FOR DE GOEY
With moustachioed spearhead Max King contracted until the completion of 2026, St Kilda has access to one of the most talented and exciting key forwards in the competition. Yet, with the 22-year-old routinely subjected to some of the worst delivery known to man, his influence is more often scorched than supported.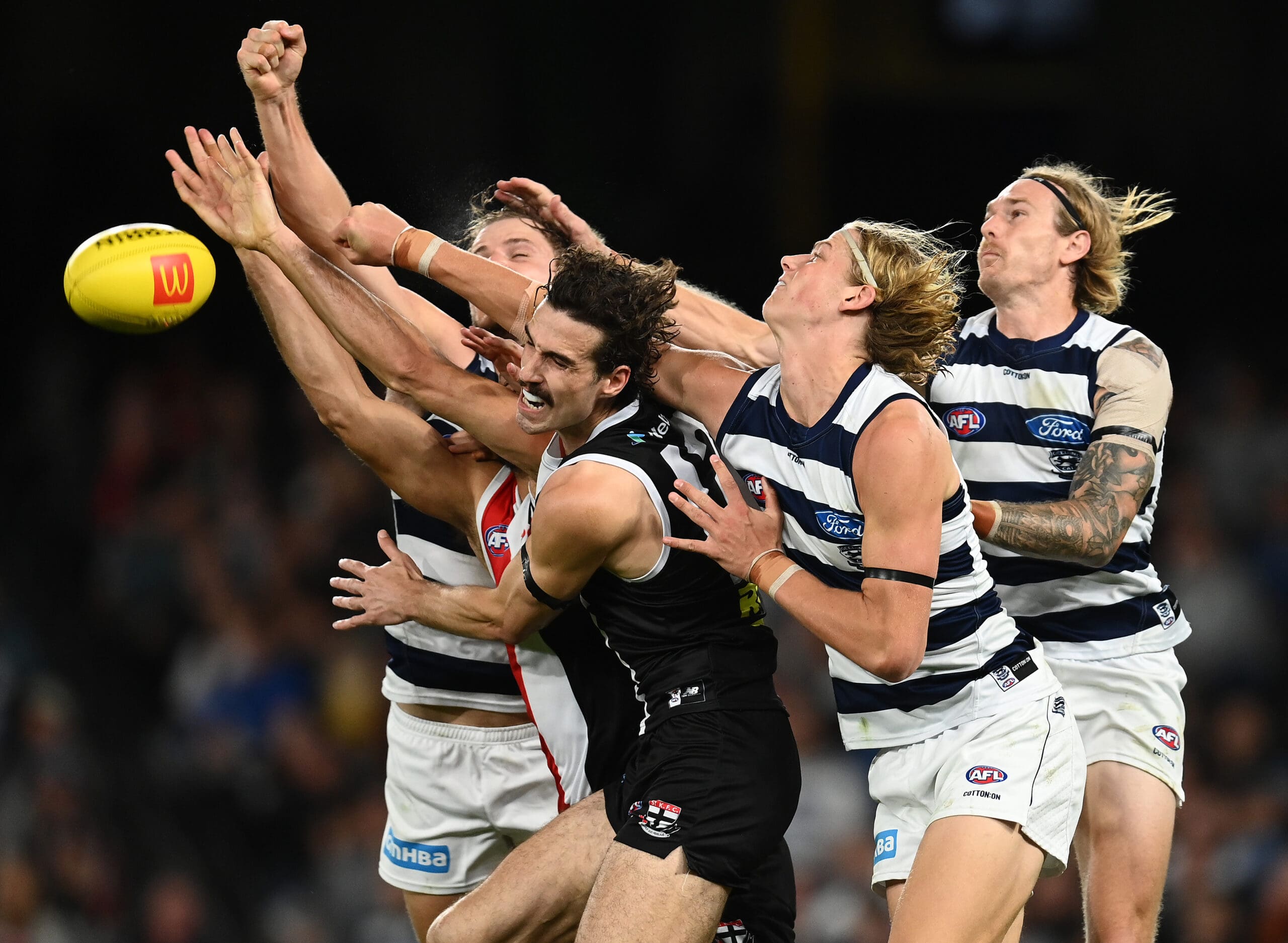 For anyone that has witnessed the Saints routinely sin with ball-in-hand, learning that Ratten's charges have produced on average 5.5 more turnovers than their opponents each week is unlikely to raise many eyebrows.
And while it is All-Australian candidate Jack Sinclair that has been St Kilda's chief cough-up artist this season with a total of 95 from his 19 appearances, the mulleted half-back runner has had more than enough friends from further afield.
Remove Rowan Marshall and his ruck partner, Paddy Ryder, and the five Saints that have attended the most centre bounces this season are Jack Steele, Brad Crouch, Sebastian Ross, Jade Gresham and the aforementioned Jones.
Though this set of five could not be more dissimilar in terms of appearance, the output provided by the crew of trade imports and top-25 draftees is nigh-on identical.
Kicking Efficiency
Centre
Clearances
Total Clearances
Centre Bounce Attendance Rate
Inside 50s
Clangers
Brad Crouch
51%
2.3
5.8
62%
3.1
4.3
Jade Gresham
54.9%
2.3
4.1
59%
4.2
3.7
Zak Jones
60.2%
2.1
3.7
52%
2.8
3.9
Sebastian Ross
65.2%
1.3
3.6
60%
4
3.4
Jack Steele
69%
2.5
5.3
83%
4.1
3.7
But how I hear you ask, do any of these numbers relate to a tattooed rival still clad in another club's colours?
Well, if you run the same rule over polarising Pie Jordan De Goey, it becomes clear to see that if he were plying his trade in red, white and black this season, the 26-year-old would act as St Kilda's most well-rounded midfielder.
With present weekly averages of 2.5 centre clearances, 4.1 inside 50s and 3.4 clangers, all with a 75 percent centre bounce attendance rate, De Goey's numbers show him to be a midfielder with more strings to his bow than any of those currently fiddling in the Linton Street orchestra.
| | | | | | | |
| --- | --- | --- | --- | --- | --- | --- |
| | Kicking Efficiency | Centre Clearances | Total Clearances | Centre Bounce Attendance Rate | Inside 50s | Clangers |
| Jordan De Goey | 57.2% | 2.5 | 4.6 | 75% | 4.1 | 3.4 |
Add in the controversial Woodsman's goal-per-game average comprised across 14 starts in black and white stripes, and each of the Moorabbin men can, once again, be found in De Goey's dust.
Given his ability to influence contests across multiple lines, it remains little wonder why St Kilda's suits have set their sights on the impending free agent.
Nevertheless, for those losing their cool on talkback lines, those with a capacity to look past raw statistics and those with a recall of a world beyond last week's news cycle, the hunt for the hybrid threat's signature has been met with little acclaim.
THE ARGUMENT AGAINST DE GOEY
Although De Goey's presence in a St Kilda guernsey would doubtlessly eradicate some of the team's woes in the offensive half, with an off-field rap sheet that now extends onto a second page, a set of overarching, and competing, queries are at play.
Can a club with its own blotted copybook and a comparative lack of wherewithal actually afford to roll the dice on a problematic player?
And, conversely, can that same club - one that has a plethora of holes on the playing field, as well as an apparent allergy to silverware - afford to pass up a potentially discount talent who is perfectly poised to help plug those holes?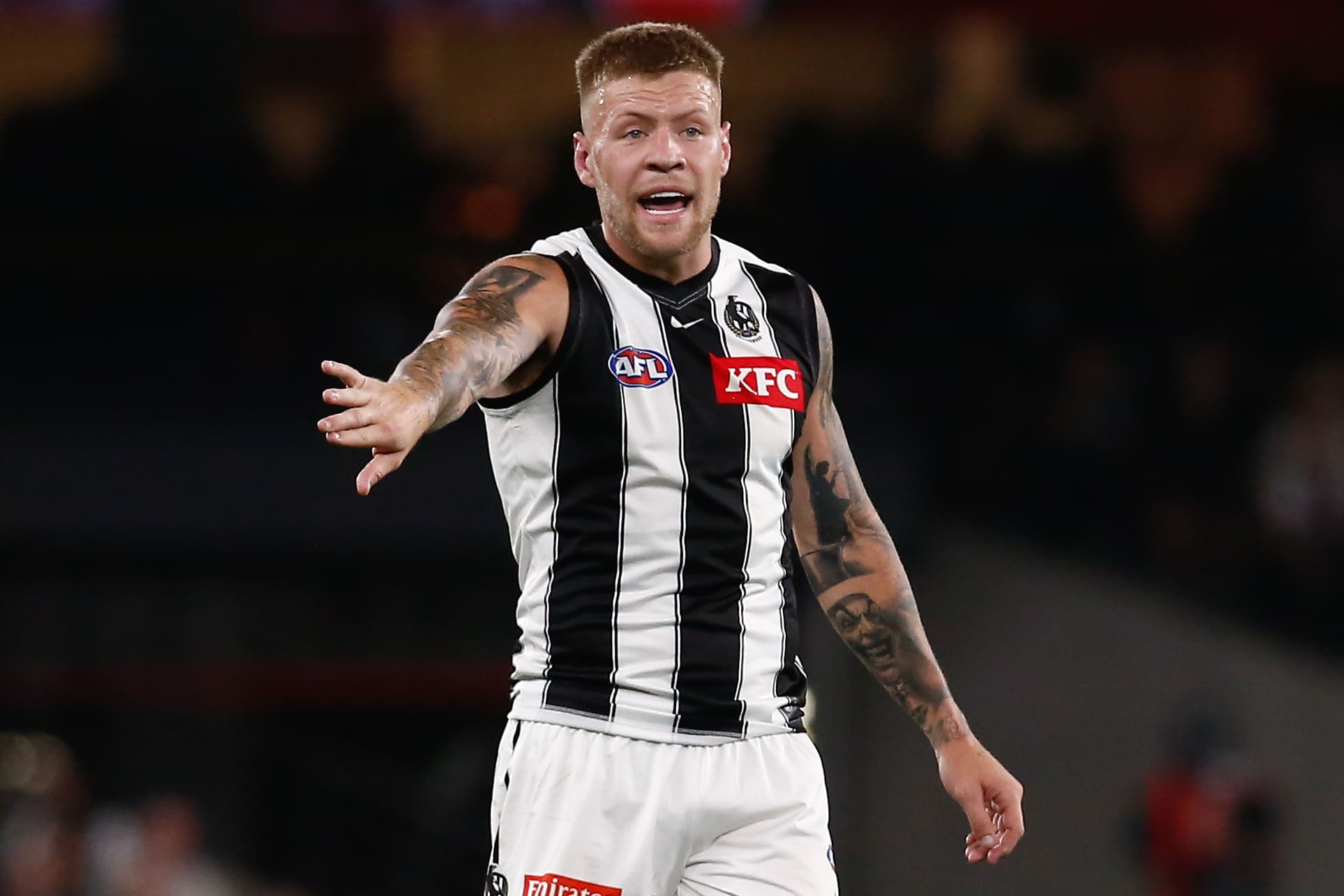 As proven by the recent panic on display within the inner sanctum, the Saints' leadership vacuum has left them forceless when it comes to forging both on and off-field standards.
Without visible abilities to pivot in-game and alter blueprints on the fly, what hope does a near rudderless unit have when it comes to taming a vessel that appears wantonly wayward?
Though the days of clockwork cockups at Moorabbin seem to be an ill of the past, can this new narrative survive the injection of an unacquainted name with serious charges collected both at home and abroad?
Given Collingwood's choice to remove its multi-million dollar extension intended for De Goey, even those that understand and love the man seem to be at their wits' end with his antics.
Previous St Kilda boards also have form in this area, with powerbrokers of the past proving happy to tear up Mark Jackson's contract due to insubordination and pranks, showing 'the individual' to the exit after 41 goals from just 10 starts in 1983.
Two decades later, dual premiership ruckman Matthew Capuano was also punted mid-season. His sin? Acting as a ruckman in the presence of Grant Thomas.
While the same stance was on show after criminal charges were laid against former Bomber Andrew Lovett before he could even turn out in the club's crested guernsey, such finite punishments were not dealt out following separate incidents involving housemates, sleeping pills, schoolgirls and post-season performers.
Falling foul of standards, and even the law, is apparently a right of passage for footballers as they aim to scythe their way from insignificance to stardom. But with the Saints' past set of penalties heavily favouring culprits that are proficient with the pill in hand, just how long will De Goey's leash be if he were to come marching in?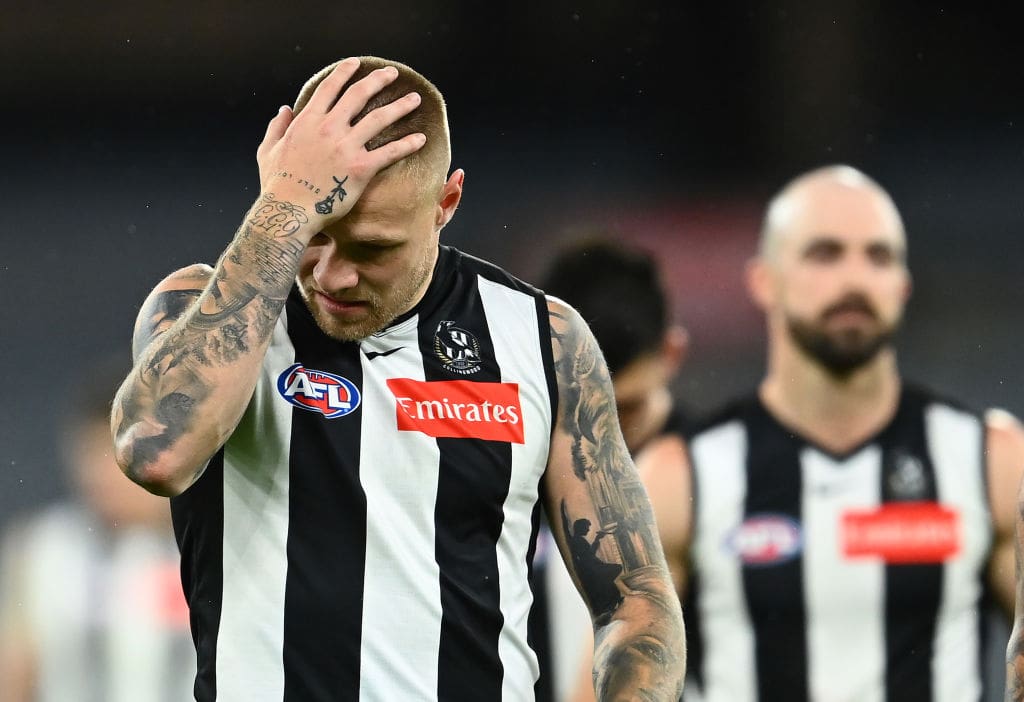 These roots of cognitive dissonance continue to grow deeper when the Saints' track record of social consciousness is considered.
Over the better part of its decade in the wilderness, St Kilda has made efforts to move the needle for mental health improvements, cures for bone marrow failures, LBGTIQ+ inclusivity, road safety, and - off the back of Russell Jackson's fearless reporting for the ABC - respectfully acknowledging cases of historic sexual abuse within its own ranks and community.
However, at the end of the day, football is no longer a game, it's a business. And for an entity that has long been a laughing stock when it comes to closing deals, certain sects will claim with a cynical assuredness that these positive public stances have been taken with the bottom line in mind.
RELATED: Should we expect our footy teams to mirror our morals?
With its facelift paid for by the financial backing of a new breed of barracker, the Saints seem to have nailed two birds with a singular stone's throw. But will all of the Botox hold up if De Goey signs up and, in turn, plays up?
DE GOE-ING FORWARD
As St Kilda still owes an array of creditors a combined figure just south of $10 million, the club who began life in the league with 31 consecutive defeats can ill afford to lose any new era fans who have signed on during the latest run of emptiness.
Yet, with the club's singular cup collecting more cobwebs by the minute, can the competition's whipping boys be seen to prioritise off-field wins over those claimed on it?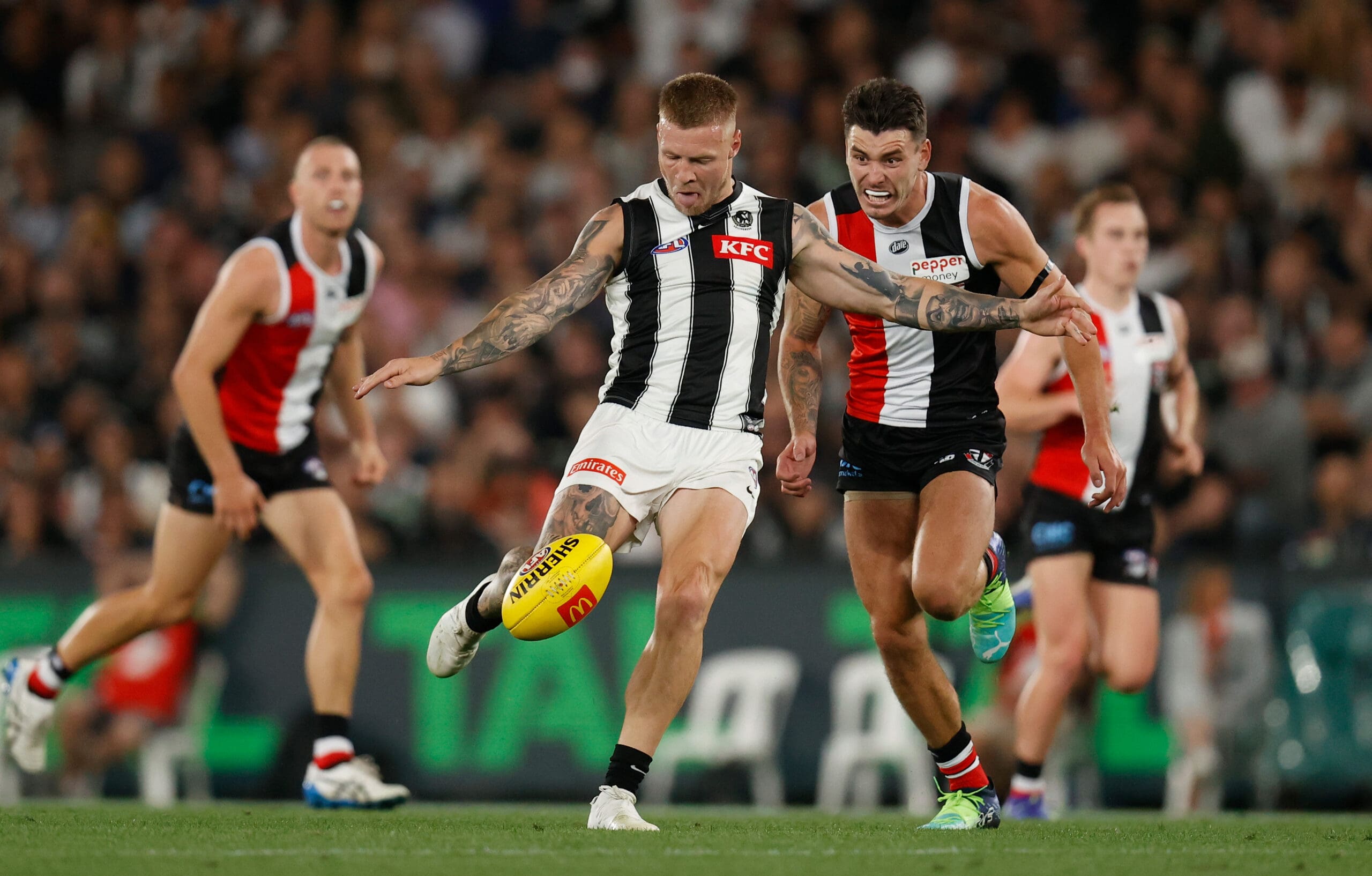 If the latter option is seen as the Baysiders route out of irrelevance, what then does that say of the Saints' list management ploys put in place prior to the pandemic?
Following a period in which the Saints spent, and effectively burnt, an entire generation of picks during successive draft nights, their plans pivoted 180 degrees, instead opting for tried and tested players at the trade table.
Given this decision to favour those already wearing battle scars over green teens, under the watch of chief list manager James Gallagher, St Kilda holds a clear desire to build a team to compete sooner rather than later.
So, while there are certain to be members unhappy with the notion of De Goey being ushered into RSEA Park, those holding the door open are no longer content to just make up the numbers.
As a sizable chunk of the Saints' salary cap space is set to re-open at the completion of Dan Hannebery's white elephant contract, the club wedged between South Road and the Nepean Highway has a direct path available to them to satisfy De Goey's cravings.
And under the steely-eyed commandership of incoming CEO Simon Lethlean, the promise of a cut-throat approach to performance is evident, with little short of a flag sure to satisfy the league's former footy boss.
Whether your moral compass agrees or not, St Kilda's current play for Jordan De Goey has the ability to bear fruit in a footballing sense, however, the chances of it combusting after a pint or two are at similarly slim odds.
Though there is plenty to play out between now and the trade deadline, once the final bell does sound, we'll know for certain whether St Kilda are willing to roll the dice and risk hell for heaven or whether the same weathered tape is set to be rewound and replayed.