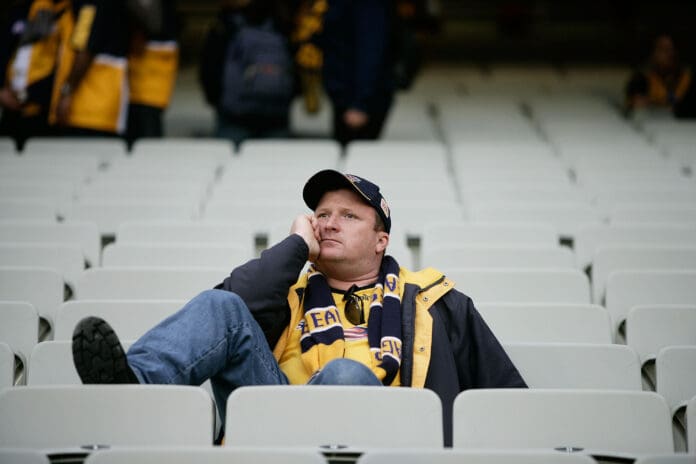 It is a debate that has stretched on since the days of silent films. It has the ability to fracture friendships, create kinship between previously warring factions and render the records of any public figure null and void.
But yet, it still stands. A near-unbroachable barrier. Can we actually separate the art from the artist? And if possible, should we?
With the ability to control a contest from innumerate angles across the course of any campaign, footballers have often earned the moniker most attributed to the likes of Monet and Manet.
And while the bestowed title of artist is one that is sure to be scoffed at by hoity-toity tastemakers, you will find the bounds of the noun actually befit the output of those in studded boots.
However, the conversation is more often held when placing members of any Hollywood set or folks fed fat by funds from the Guggenheim under the microscope.
Though it is inarguable Harvey Weinstein is one of the most repugnant stains to ever waste precious oxygen, it hasn't stopped Quentin Tarantino fans from rewatching the director's back catalogue which came courtesy of production from the Weinstein Company.
The multiple millions of fantasists that continue to lap up the Lord of the Rings trilogy have also paid little heed to the serial grub's cancellation.
Add in that Kathy Griffin's specials are still being consumed, as well as the fact that an original Picasso remains primed to shatter any bank balance, and it is clear that for some at least, the brush strokes of the damned can still be admired, even if the crafter's hand has been bitten to a pulp.
With this in mind, it isn't hard to see why certain sects of the AFL community use all of their huff and puff to see the same courtesy extended to its own wayward virtuosos.
But again, just because there is a push, and subsequent budges at times, this doesn't necessarily mean that those at odds with 'snowflakes', 'woke warriors' and 'virtue signalers' are in the right.
Put simply, it is a complex matter. One that quite often muddles truth with fiction and has parties on both sides of picket lines claiming victory amongst the outrage.
For the vast majority of scarf-wearing, flag-waving supporters that pour through the turnstiles each week, not only are their football clubs held in religious regard and their players as deities, their individual personalities are often intertwined with their teams, as evidenced by the perennial use of pronouns such as 'us', 'we' and 'them'.
Now, there is no shame or crime in any of this. It simply proves the undying passion that is at the heart of the game. However, it does leave each of us open to calls of contradiction.
Given our choice to cheer on our own anti-heroes while simultaneously jeering opponents of ill-repute, barrackers of all creeds have long left themselves open to a bias that naturally comes with slanted partiality.
Pour in the agendas constructed by each of the competition's 18 clubs which are often made without consultation, and the already heady mix of ambiguity only becomes murkier, with the ability to draw a line between the creator and their output almost impossible to define. 

With clubs happy to champion social campaigns – as they should – many are left bemused across the course of each season, given there have been unscrupulous sorts found in every locker room since the code's dawn.
Our own attachments with our teams were usually forged before the ingestion of moral fibre, as evidenced by those pressing for a treaty still supporting the 'Do Better' Pies and the likelihood that not all Blues backers have spotless domestic violence records despite the club's positive stance on the subject.
Throw in the fact that a club backed by Qatar Airways is hosting the latest Pride Game this Saturday night and the cognitive dissonance is creeping closer to becoming caustic.
While there are supporters that can lay claim to the fact that their club truly represents them, there is a multitude of others that are still left wanting before and after the final siren.
We can leave our posts as supporters if we want to, but that would see us commit the most cardinal of sins and tread all over the most sacred of unwritten rules that tie Australian society together.
Remember, even if an expansion side started playing games in your backyard and aligned perfectly with your morals, you would still wear abuse for jumping across to their ship.
Although the push for a more accepting and safer society should be paramount in the minds of everyone, irrespective of which box you tick on election day or which side of the tracks your soapbox sits on, the harsh reality remains that football clubs exist to take your money and to spend it on items and identities that best help them to win.
Thankfully, civilization has evolved somewhat since the 'halcyon days' of the 20th century, but as proven time and again, irrespective of the wax jobs, the new licks of paint or the different coloured socks on show throughout each season, football clubs have been leisurely, and at times loathed, to actually challenge for real change.
Collingwood's recent platitudes are a prime example.
After being left "extremely disappointed" by the ever-controversial Jordan De Goey demonstrating "disrespect towards women" on his recent Indonesian jaunt, the club granted the hybrid threat personal leave despite opting not to slap any immediate sanctions over his tattooed frame.
For a club that has spent the entirety of its 130-year history clad in black and white, its actions on Tuesday - or lack thereof - can only be described as hollow and grey.
Read between the lines and you will find that disrespect is not something that will be tolerated at the AIA Centre. Until, of course, it seemingly is.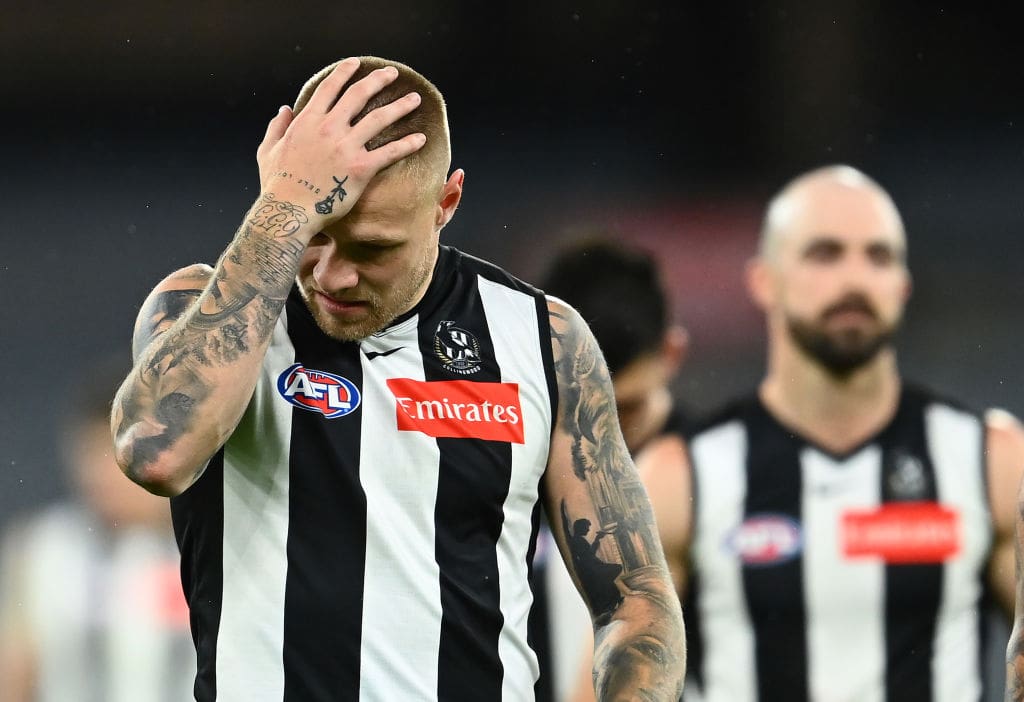 In a broad world where those afforded the right are rarely short of a word, our personal sensibilities routinely land us on either side of the fence, with very few on social media choosing to sit on the proverbial pickets.
Scan your timeline and you will find that almost everyone willing to weigh in on the matter has already selected a side.
There are those that believe that the 26-year-old's latest 'misadventure' has no place on his already lengthy rap sheet, and in opposition, there are those that have had a gutful of ignorance, arrogance, bromides and 'bro behaviour'.
RELATED: In the eye of another storm, what has Jordan De Goey done wrong?
As someone with apparently opposing morals, am I in any rush to sit down and spend time with someone like De Goey?
Not really.
Still, given I am able to pay my monthly rent and utilities by putting his name in my mouth, I don't expect the wayward talent to come busting through the cafe doors to wash down a cappuccino with me either.
Though there is often a divide between the fan in the stand, the men between the boundary lines and the suits in the front office, this only acts as proof that whether we are always able to see, hear or acknowledge them within our echo chambers, not everybody shares our outlook on life.
Yet, should this view be used as a defence of those that seemingly err without caution?
Absolutely not.
It is simply a weary concession that I alone have a snowflake's chance of altering the actions of those apparently set in their stony ways.
But will I, along with countless others, dust myself off and keep holding those that wantonly fall foul of society's ever-evolving standards to account?
Bloody oath.
In addition, can we expect our teams to mirror our morals?
For sure.
However, should we hold our collective breath until they do?
Not unless you feel purple is your colour.
Again, the intricacies of the divide are palpable.
As members and fanatics, don't give up on holding your sides to account and dragging them kicking and screaming when need be. It is your right, after all.
Just bear in mind that you are attempting to shift a needle that likely has few designs on budging, especially in a game where powerbrokers have always placed a premium on victories, silverware and black ink ahead of any proper progression.
The same pessimistic message also applies for the 'go woke, go broke' crowd.
Clubs will invariably use their platforms to post and participate in events that seek to make marginalized members of the community feel welcome, even if they have the ability to rattle your cages.
You can cheer all you want for celebrities going down the slide on Queen's Birthday. You can even buy another beanie. But if celebrating the love, care and happiness of the LGBTQIA+ community or members of the oldest living culture in the world gets on your goat, my tip would be to get a grip.
Though wishing that every player within a competition comprised entirely of young men to be an angel is likely to leave one despondent, openly ostracising folks from the game is downright dangerous. Plain and simple.
But then again, these words probably aren't breaching your bubble found across the other side of our societal divide either.
Perhaps the better question to ponder is whether clubs actually owe their fans anything more than just rolling up and playing at the time of the week they said they would.
While members should expect a level of transparency from their clubs, and, of course, another bumper sticker in the membership packs each season, we should not expect them to be made in our image, as we would only end up with befuddled messes that actually serve nobody and affronting even the most stoic among us.
With so many differing, and often contradictory, views across society's broad spectrum, it is a genuine impossibility for every supporter to feel seen by their clubs.
But for those that have long been represented, if you have issues with new groups earning the spotlight's glow on occasion or the core of your weekend religion seeking to take other progressive steps, the problem doesn't lie at the feet of your club. It actually lies within.