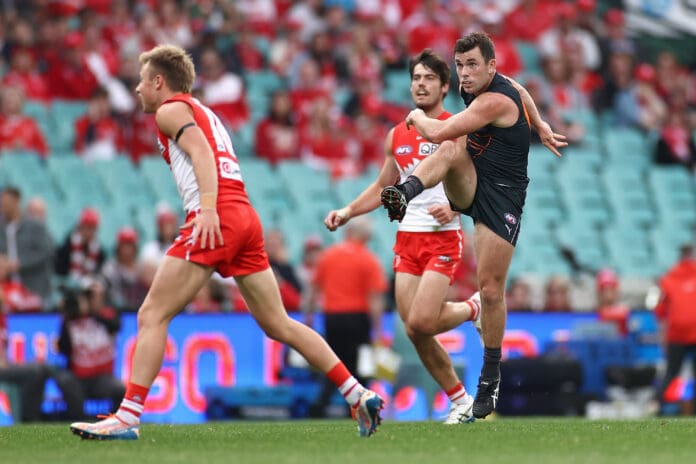 GWS and Sydney have finalised their lineups for the match at Metricon Stadium.
Toby Greene is out, replaced by Tanner Bruhn for the Giants, while Matt De Boer, who was named as the medical sub, is also out. Zach Sproule has come into the side.
Callum Mills, Colin O'Riordan, Harry Cunningham are the three players out for the Swans. They have been replaced by Ben Ronke, Dylan Stephens, James Rowbottom.
Zach Sproule (GWS) and Ben Ronke (Sydney Swans) are the emergency subs.
GWS

IN
M. Flynn, S. Coniglio, T. Bruhn, X. O'Halloran, Z. Sproule
OUT
B. Hill, L. Ash, L. Whitfield, S. Mumford, T. Greene

| | |
| --- | --- |
| B | S. Taylor, P. Davis, S. Reid |
| HB | H. Perryman, N. Haynes, I. Cumming |
| C | J. Kelly, C. Ward, A. Kennedy |
| HF | B. Daniels, H. Himmelberg, T. Taranto |
| F | D. Lloyd, J. Hogan, T. Bruhn |
| FOL | M. Flynn, S. Coniglio, J. Hopper |
| I/C | X. O'Halloran, T. Green, J. Finlayson, C. Idun |
| EMG | Z. Sproule, . , . |

Sydney

IN
B. Ronke, D. Stephens, J. Rowbottom
OUT
C. Mills, C. O'Riordan, H. Cunningham

| | |
| --- | --- |
| B | R. Fox, D. Rampe, D. Stephens |
| HB | N. Blakey, T. McCartin, J. Lloyd |
| C | J. McInerney, G. Hewett, J. Kennedy |
| HF | T. Papley, J. Amartey, I. Heeney |
| F | E. Gulden, L. Franklin, W. Hayward |
| FOL | T. Hickey, O. Florent, L. Parker |
| I/C | J. Rowbottom, S. Wicks, J. Bell, J. Dawson |
| EMG | B. Ronke, . , . |