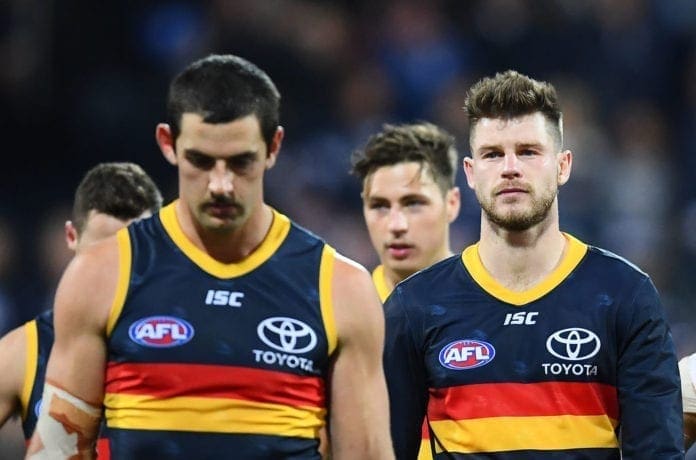 Tied to trees, surrounded by fake weapons and blindfolded were a few of the things Adelaide players endured on their tumultuous 2018 pre-season camp.
For the first time, in-depth details from the Collective Minds pre-season camp have been released by The Age's Sam McClure.
The investigation reports that Crows players were split into three groups and the most senior group were subjected to the most intense experience, including men wearing army fatigues and holding fake automatic weapons.
Players were also harnessed to a contraption tied to a tree and would have to crawl towards a combat knife to free themselves while nine teammates were told to pull the other way. These players also hurled abuse about childhood trauma and domestic abuse, which was personal information players believe the club leaked to Collective Minds.
The camp was instigated by the head of football Brett Burton, coach Don Pyke and senior assistant Scott Camporeale.
All three have left the club, while the fallout also saw the departure of a number of players, including Eddie Betts who returned to Carlton at the end of last season.
Earlier this year Betts told The Age that the camp was one of the main reasons it was hard for him to enjoy his footy at the end of his time at the Crows.
Another detail to emerge from the camp was the use of an Indigenous artefact as a talking stick.
Betts and young Indigenous player Curtley Hampton told senior officials they were offended by the use of the artefact and months later they along with Cam Ellis-Yolmen and Wayne Milera expressed their disappointment with several culturally offensive elements of the camp and their discomfort working with Collective Minds.
Hampton retired in July 2018 with a year left on his contract due to a loss of passion, motivation and enjoyment for the game.