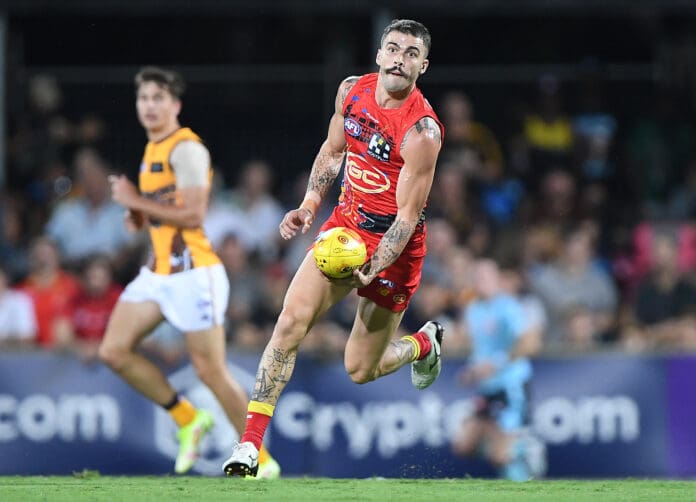 Former Sun and Tiger Oleg Markov appears tipped to earn an AFL lifeline, with the dasher reportedly close to signing on with the Blues as coverage for injured half-back Zac Williams.
Markov, 26, saw his tenure at Carrara come to an end last year, delisted after 25 games on the Gold Coast. The moustachioed defender's stint in Queensland arrived after spending five years for 23 games at Tigerland between 2016 and 2020.
While Carlton fans will still be processing the news that Williams will miss the entirety of the 2023 season after rupturing his ACL on Saturday, the club's recruiters have moved swiftly, now poised to replace one tattooed speedster with another.
As first reported by Mark Stevens on RSN Breakfast, Markov's arrival at Princes Park now appears imminent, set to become a Blue by signing on as a delisted free agent
🏉 Oleg Markov is set to replace Zac Williams at the Blues as a supplementary selection...@StevoMedia #BreakfastWithHarf https://t.co/E9ms1AoCi3

— Breakfast with Harf (@RSNBreakfast) February 5, 2023
Prior to Carlton's advances, Markov had been trailing for a list spot at Collingwood, with the Belarusian backman's relationship with head coach Craig McRae seeing him make tracks to the AIA Centre.
Throughout his AFL career, Markov has earned a reputation as a reliable rebound option from defence, averaging 2.7 rebound 50s each week and just shy of 15 disposals.
Though a spot off half-back for the Blues beckons, Markov may well be edged out by veteran Sam Docherty should head coach Michael Voss opt to shift the 29-year-old from midfield back behind the ball.
Docherty has spent large portions of the pre-season training with Voss' midfield group, an elevation that arose after star ball-winner Sam Walsh was booked in for back surgery.
Walsh is not expected to return until the second month of the home-and-away season.
Blues skipper Patrick Cripps has backed Markov's ability amid the defender's rumoured move, but played a straight bat in his support of Carlton's list decisions.
"He's a good player," Cripps said of the former Richmond and Gold Coast backman, per The Age. 
"Obviously, he's been in the system for a few years, but that's not my role – I don't even know what the list management team is thinking of.
"What I will say is, the unfortunate part of footy is injuries, and what it can do is open up other spots for people, whether it's from the state league or a young player who's missed out on the draft.
"You never know what you can find out there, but there will be an opportunity there for someone, so I'm looking forward to them taking it with both hands and being part of our culture."
Carlton will have until Wednesday, February 15 to sign Markov, with the pre-season supplemental selection period ending at the close of business.