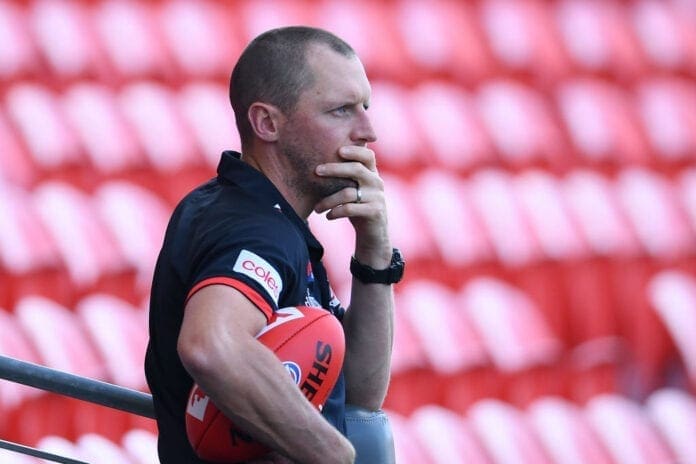 Bombers assistant coach James Kelly has resigned from his role for family reasons.
The club confirmed Kelly's departure in a statement on Tuesday afternoon after six years as a player and coach, most recently in charge of stoppages.
Kelly moved from Geelong to Essendon ahead of the 2016 season as a 'top-up player' during the infamous supplements scandal, where he played 40 games over two seasons before retiring at the end of 2017.
He departs the club to be closer to his two sons.
"This decision wasn't made lightly, but for me family comes first, and the time is now right to step back from football," Kelly told essendonfc.com.au.
"It will be really difficult to step away from the club and I will miss the people who made my experiences as both a player and a coach at Essendon so enjoyable over the past six years.
"The football program at Essendon is in really good shape under the new leadership with 'Truck' (Ben Rutten) and Josh (Mahoney), and I've seen the genuinely positive change that is happening at the moment. It's been exciting to see and I wish the players and coaches all the very best for the season ahead. I'll be watching the boys closely this year."
Bombers general manager of football Josh Mahoney said the club was fully supportive of his decision.
"James has been a popular member of our club as both a player and coach and while we are sad to see him go, he departs the club with our utmost support to be with his young family," Mahoney said.
"There's no shying away from the fact we work in a consuming industry, which was highlighted last season living in hubs. We ask a lot of our partners and families and James has been very open about his desire to be at home more permanently to look after his two young sons. Family is the most important thing in life, and we extend our best wishes to James, Leanne, Jack and Tom for their future endeavours."
"As a result of James' departure, we are well placed internally to redeploy the requirements of his role among our current coaching group and broader football department staff's responsibilities."
Kelly played 313 games over his AFL career from 2002-2017, including 273 appearances for the Cats where he won three premierships.
The defender was an All Australian in 2011.
Assistant coach James Kelly has decided to step away from the game to be closer to his family.

— Essendon FC (@essendonfc) February 9, 2021