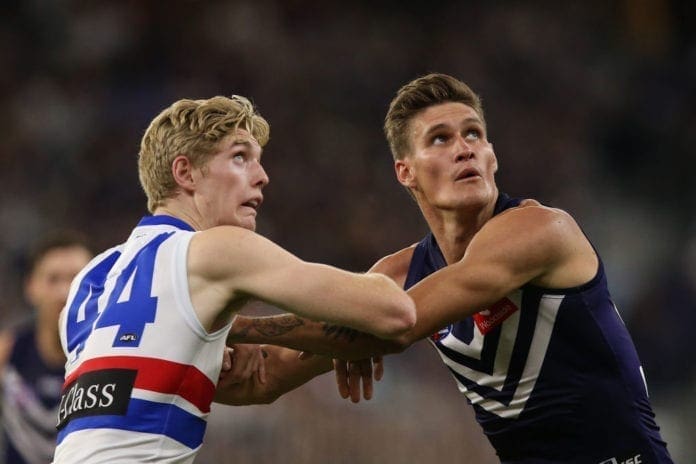 Fremantle big man Rory Lobb has been left disappointed by his club's stance on his request for a trade to the Western Bulldogs. Despite being under contract, Lobb informed the club he was seeking a move, a decision which saw the Dockers state they "wouldn't be able to facilitate a trade".
Despite the setback, the forward remains firm on his desire to play at a third club during his AFL career. Fremantle football boss Peter Bell has his work cut out for him this trade period, with the club set to be extremely active.
With Blake Acres, Griffin Logue and Lobb having all requested trades, as well as Darcy Tucker exploring his options, the Dockers already have their hands full. Bell has stated the club will work with Carlton and North Melbourne for Acres and Logue respectively, yet remained defiant on Lobb.
"We had a conversation with Rory where we informed him that due to his contracted status and also the importance he has for our structure that we wouldn't be able to facilitate a trade for [him]," Bell said.
See Also: Port Adelaide keen to make play for Kysaiah Pickett
The statement from Bell has reportedly left Lobb "upset". As reported by The West Australian on Thursday night, the stance shocked both Lobb and his manager Colin Young.
Speaking to The West Australian, Young revealed the Dockers had indicated up to 12 months ago that they might trade Lobb at the end of the 2022 season.
"Rory and I absolutely understand that Fremantle can hold him to the last year of his contract, totally understandable," Young said.
"Fremantle are entitled to do whatever is in the best in the interest of the club, as they should do. However if trading Rory to the Western Bulldogs secures Luke Jackson, then it could be a win for everyone.
"When the trade period ended last year the conversation that took place between Rory and the club suggested that they could look at trading Rory this season, so I'm not sure what has happened. I hope we can all work together to get the best result for all parties, just as we will look to do with Griffin Logue."
See Also: Giants set asking price for wantaway Bruhn as Geelong circle
With a huge off-season ahead of the Dockers, the possible arrival of Jackson appears to be the priority. Bell is known to play hard-ball to get the best result for his club, which could very likely see this become a saga that drags through the entire trade period.