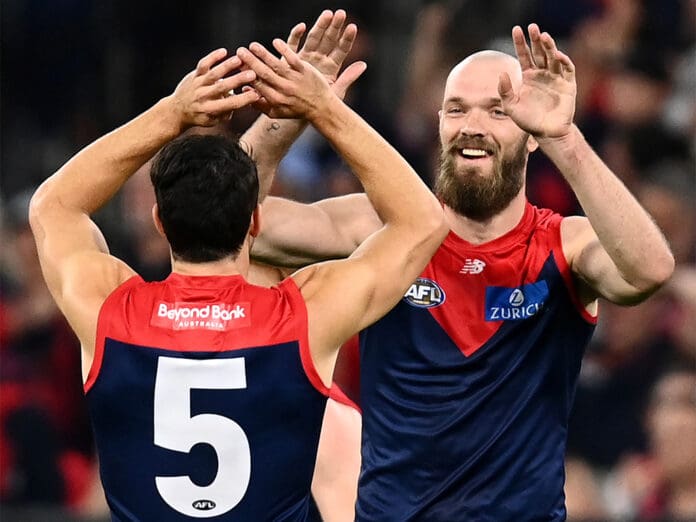 Melbourne has reportedly joined the race to land pick 19 of the 2022 AFL Draft from GWS.
According to reports from The Age, the Demons are toying with the idea of parting with one of two future first-round picks in an effort to secure the selection in question from the Giants.
The Redlegs already hold a pair of early selections in the 2023 Draft after parting ways with Western Australian ruckman Luke Jackson during the recent exchange period.
Exactly where Melbourne's second selection for next year sits on the board is still to be determined, with its landing place aligned with Fremantle's fortunes in throughout the 2023 season.
Reports claiming the Giants could be coaxed to part with pick 19 arose last week, with the expansion side said to be open to offers of the right price.
With the draft to be held over two nights again this year, the 19th selection holds particular weight as it allows the club in possession an extra 24 hours to deliberate on which product to pluck to start the second-round.
Last year, Western Australian teenager Matthew Johnson was made to sweat and squirm after failing to be drafted during the first-round. The 19-year was eventually selected with the opening pick of the second-round by Fremantle.
Though Melbourne's hat is now in the ring, they are likely to face competition from the Western Bulldogs, with their recent rivals also holding a pair of future first-rounders after seeing Josh Dunkley become a Lion during the trade period.
On Monday, it was claimed that Essendon is also mulling the notion of a live trade on draft night due to their desire to land three players for the price of two.
The Bombers will likely be forced to match a bid for father-son gun Alwyn Davey Jr prior to their second selection - currently pick 22 - and are said to be open to offers for their opening selection of pick 4.
The Tullamarine team appears keen on South Australian hybrid mid-forward Mattaes Phillipou, and if a deal can be struck to land the 17-year-old on draft night, Essendon could part with pick 4 to bolster its stocks for season 2023.
The 2022 AFL Draft is set to commence on Monday, November 28 at Marvel Stadium and conclude the following evening.