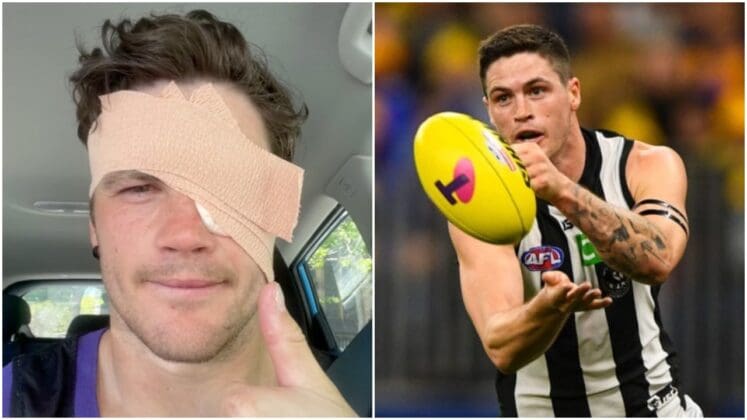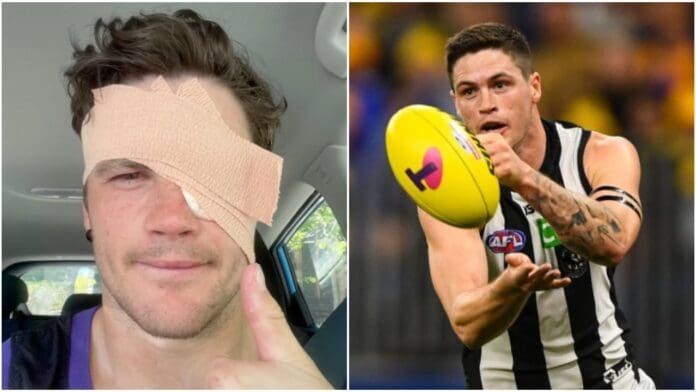 Copeland Trophy winner Jack Crisp has revealed a gruesome training injury that has seen the Collingwood star require stitches under his eye.
In a video posted to social media on Thursday, Crisp was sporting bandages over his left eye, which was blood shot, bruised and swollen.
"When you get poked so hard at training you need to get stitches on your eye ball," Crisp's post was captioned.
The full extent of damage the injury has caused on Crisp is currently unknown, however an eye injury to teammate Mason Cox has seen the Collingwood tall train with sunglasses this pre-season.
Cox suffered a detached retina in 2019, requiring multiple surgeries and leaving the veteran "legally blind" for some time, with the ruck/forward continuing to battle the impacts of the injury.
"It was tough going for about a month and a half. I was pretty much legally blind for a while," Cox said at the time, via SEN.
"We've gotten to the point now where I'm almost back to 20-20 (vision). I'm still on a lot of medication, but fortunate enough now to get back to my family, travel, get on a plane and be able to drive.
"To get a bit of independence is nice. For a long time I was sitting in a dark room staring at the ceiling and not much was going on in my life."
The Magpies are already battling with injuries to their key figure stocks, with skipper Scott Pendlebury currently sidelined with a stress fracture in his leg.