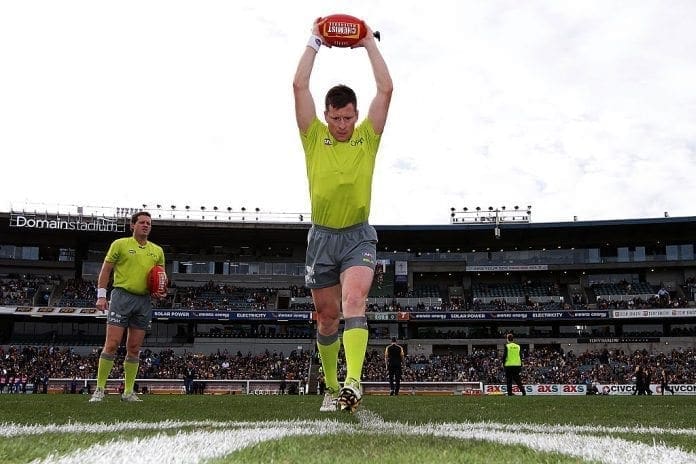 The WAFL could remove one of the game's biggest traditions, with centre bounces under threat to be cut from the league as part of a pre-season trial.
Bounces, now only used to start quarters and resume play after a goal in the AFL, have been questioned in recent seasons due to the higher risk of injuries and the skill's difficulty for match officials.
Both ruckmen and umpires are sent o be more susceptible to injuries when opting to bounce instead of throwing the ball up in the centre of the field.
Called-back ball-ups due to inaccurate bounces have also led to lost time in matches, with a minority of the game's followers calling for the tradition to be scrapped.
The WAFL is set to take measures to assess the benefits of only using ball-ups across their pre-season fixture, with a decision on potentially removing centre bounces to be made.
"We believe it'll reduce the number of injuries for umpires, reduce the stress and anxiety for many officials who struggle to execute the skill, and we know decision making worsens immediately following an unsuccessful bounce,"  umpire boss Dean Margetts said, via AFL.com.au. 
"Umpires can now focus on match management at training and the change will create more inclusivity for females or those from non-traditional football backgrounds.
"I watch many of our umpires spend hours a week practising a skill, and some umpires will only bounce a ball some 3-4 times in a game.
"I would much prefer umpires and coaches develop better relationships at training, because we want umpires to be better decision makers and match managers."
The WAFL is also set to trial the last-disposal out-of-bounds rule, which has been adopted by the SANFL since 2016.
The rule sees a free-kick awarded to the opposing team if a player's kick or handball crosses the boundary without being touched by another player.
The rule has been positively welcomed in the SANFL, while the AFL has monitored the pros and cons of the rule change.
"It seems fairly universal that it's been a positive change," former AFL GM of Football Brad Scott said last year.
"It's fair to say the AFL are looking very closely at what the SANFL are doing with last disposal."