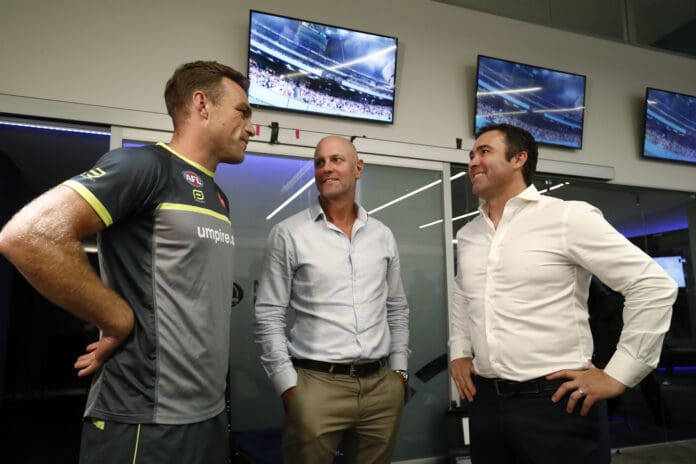 The AFL may yet introduce another rule, with AFL GM of Football Brad Scott announcing they are "looking very closely" at an out of bounds rule currently in place in the SANFL. The rule, regarding the last touch before out of bounds, was implemented in 2016.
Essentially, the rule sees a free kick against the player who is last to dispose of the ball prior to going out of bounds. The rule, in practice, is aimed at easing congestion and speeding up the game.
Speaking to 7 News, Scott said "it seems fairly universal that it's been a positive change. It's fair to say the AFL are looking very closely at what the SANFL are doing with last disposal."
See Also: Voss questions contentious overturned goal
In a move that would be sure to divide fans yet again, it seems as though there are some in the industry who support it. Former Port Adelaide player and current SEN host Kane Cornes is one such backer of the rule.
The media personality, known for his at times controversial takes, is of the opinion that it would clear up any uncertainty surrounding the insufficient intent interpretation.
"I was really against it when it first came into the SANFL, I thought it was a bit Mickey Mouse," he said on SEN Breakfast last year.
"But the more I've seen it and the more ridiculous the interpretation at AFL level has become, the more I think it has to come in.
"The AFL has been watching it for a while, they're clearly cracking down on deliberate. Just clear all confusion.
See Also: What part should Essendon's past play in their future?
"I'm about making it easier for the umpires and we've made it more difficult. This just cuts out all of the confusion, last possession out of bounds.
"I think we're heading that way."
A version of the rule has already been implemented in the AFLW during the 2018 season. This incarnation of the rule is only applied in between the 50 metre arcs.
With the league intent on speeding up the game, there is no word yet on if they would adopt a similar approach or apply it to the whole field.