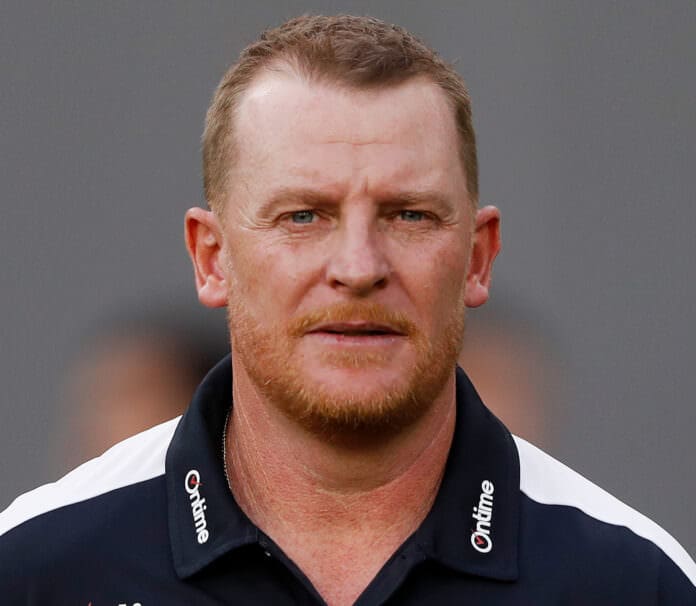 Carlton coach Michael Voss has questioned an overturned goal review in his side's 15-point loss to Richmond on Thursday night, conceding that he thought it "didn't look" like the ball had been touched.
The controversial decision came at a crucial time of the game after the Blues had kicked three straight goals to cut the margin to just nine points during the final quarter.
Carlton's Jack Newnes' shot at goal appeared to sail through and cut the margin even further, but was overturned when on review the vision seemed to show defender Nathan Broad's fingers moving upon contact with the ball, something Voss wasn't certain about.
"If we're going to make decisions like that in games, you'd hope it was definitive," Voss told media post-game.
"Certainly ,we'd want to make sure we're absolutely 100 per cent sure before overturning something like that myself. Clearly the call was made and we have to live with the result.
"It didn't look it (touched) from where I was but I don't watch the ten different angles of it. I've got one... if it was touched we move on."
His other hand and fingers were moving at the same time - hand didn't move because of the ball: it moved because he was moving them at the same time!! #AFLTigersBlues pic.twitter.com/kUpV6BTOoe

— Austin Pollock (@AustinPollock_6) June 16, 2022
Fox Footy commentator Jason Dunstall gave his opinion post-game, saying that he struggled to see how the goal could be conclusively overturned given the vision.
"We've got to say, it's not without controversy, this game. And there are moments, we're talking critical moments within matches, that can have such a huge impact," Dunstall said on Fox Footy.
"And there's a score review there that I think will be debated long and hard, because I had difficulty working out how they came up with the decision they made.
"Not saying it's wrong, but if this is the shot they're making it from - and we believe it is - I struggle to come to grips with how this is definitive evidence. Because all his fingers are wobbling, they're wobbling before they go up!
"I don't actually see the ball touch it or bend a finger, which I found quite extraordinary. And then they go straight down the other end and they kick a goal.
"Richmond deserved the win, no problems there, but I was a little mystified by that decision."