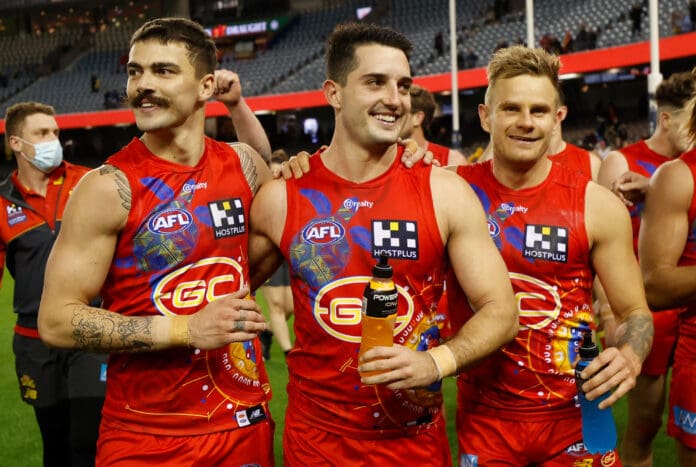 Hope was aplenty as the Gold Coast Suns looked poised to take the so called 'next step' in 2021 after a deceptively impressive 2020 campaign.
However, the Suns disastrously underdelivered on their own optimism this past season and below is a look at how this came to be.
Season finish: 16th
Record: Seven wins and 15 losses
2021 season snapshot
Gold Coast's season can be summed up simply by the fact that they were never good enough to contend with the top sides in the league and weren't consistent enough to win against the rest.
The Suns lost five games by under 12 points.
While they appeared to show signs of development in the early few rounds, several close losses quickly rattled the young sides' confidence as they quickly found themselves 1-4 to start the year. Making things worse was the fact that they continued their abysmal end of season run that's come to define the club in recent years, by again mimicking their opening record to finish 1-4 over the last five rounds.
Again, this was a season of flashes for the Suns, with their highlight being a two-week stretch where they rattled off victories against reigning premiers Richmond by 10 points and GWS by a point, between Rounds 16 and 17.
Touk Miller was a shining light for Gold Coast all season, while the likes of Wil Powell, Noah Anderson, Jack Lukosius and Ben King all proved to be formidable young foundations.
Miller was the Suns best player by a landslide.
The ball magnet captured his first Club Champion Award as he polled in every game, including nine of the 10 highest voted performances, to outpoll the second-placed Powell by a staggering 166 votes.
TOUK MILLER


Gold Coast

2021 SEASON AVG

31.8
Disposals

7.1
Tackles

5.7
Clearances
Miller had a career-best season that saw him increase his total possessions, contested possessions, clearances, tackles and marks from 2020.
This monumental rise culminated in his first All-Australian selection, and a fifth-place finish in the AFL Coaches Association Champion Player Award. Quite the season for the Suns most consistent contributor. 
The big and rangy onballer showed he was able to galvanise his team throughout 2021.
Anderson was able to amass 20 plus touches on 12 occasions, including five games where he had more than 30 disposals.
Like other young midfielders, Anderson was prone to being shut-out of games when he had extra attention from opposition players, something he has shown to be resilient in working through, and will only get better as he enters his third season in 2022.
NOAH ANDERSON


Gold Coast

2021 SEASON AVG

22.7
Disposals

3
Tackles

4.1
Clearances
Where Anderson shines though, is his multifaceted ability to play the game at a high level, whereby he is equally as damaging as an inside midfielder or outside as a winger.
His 6.9 ground ball gets, 3.4 intercept possessions and 19.4 pressure acts emphasise how versatile Anderson is as a footballer.
Positives
Competetive for longer: For all the disappointment that engulfed Gold Coast in 2021, they were a relatively competitive bunch.
As mentioned prior, the Suns lost five games by under two goals, but they also had a string of other losses that blew out late which weren't reflective of their efforts when viewing the final score.
While it's unlikely all five games could've gone their way, in an alternate reality, 12 wins would've been good for a seventh-place finish, which was nine spots higher than where they ended up.
Don't give up yet Suns fans.
More young players on the rise: From Ben King to Jeremy Sharp, the majority of Gold Coast's freshly drafted talent looked better than they did the year before.
This is evident in the fact that four of their top 10 polling players in their best and fairest have been drafted in the past several years. Definitely an encouraging trend.
Additionally, former Pick 1 Matt Rowell mustn't be forgotten when discussing the Suns promising young list, although he did struggle to recapture the dominant form he displayed in his limited showing in 2020.
The combination of a devastating knee injury in his debut season and shoulder injury in Round 1 explain Rowell's understandable dip in performance. Give him a full pre-season to get the body right and he'll be back to bullying the opposition in no time. 
Negatives
No four-quarter efforts: Despite having enough talent in their best 22 to win a semi-respectable amount of games at AFL level, Gold Coast consistently shoot themselves in the proverbial foot by not sustaining a consistent level of play for the duration of games.
There were six clear instances where the Suns slacking off clearly cost them a greater tally in the win column:
R1 v West Coast: eight points scored in the fourth quarter
R2 v Adelaide: three points scored in the second quarter
R4 v Carlton: three points scored in the fourth quarter
R8 v StKilda: three points scored in the fourth quarter
R13 v Fremantle: 10 points scored in the fourth quarter
Coaching/tactical adjustments: The quick fast-break like offence Stewart Dew and his staff have implemented makes for very exciting viewing, just not for four quarters. When the Suns adopt this methodology early in games they tend to tire out late and become prone to basic skill errors as a result, which has ultimately lead to their greatest undoing this season.
Conversely, when Gold Coast has tried to play a more conservative and physical style of football, they fall behind quickly and are forced to revert back to their default run and gun preset. This situation often results in a 'too little too late' outcome, and another loss.
If Gold Coast are to eventually play finals footy, Dew and his staff must be able to import a more balanced system for their playing group with built-in audibles to facilitate structural adjustments in-game.
Season Grade: C-
If the Suns hadn't shown so much promise in 'honourable' losses throughout the chaotic 2020 season their grade wouldn't be so harsh, but they really did get a lot of people excited, therefore they get the grade they deserve in 2021.
However, If Gold Coast is able to continue building upon their sturdy foundation of talented young players and key veterans, those arm-wrestle type games might just start to swing their way in 2022.
A Suns team firing on all cylinders for four quarters will be a devastating reality for the rest of the competition to face. If Gold Coast end up making a massive leap next season and do some real damage heading into September, don't be surprised.