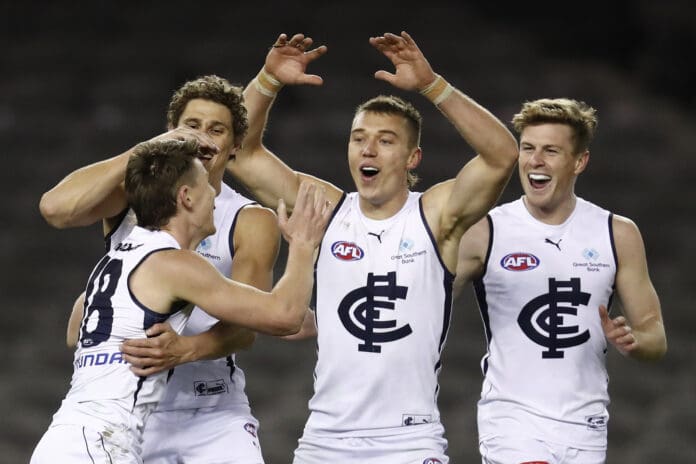 The Blues were mighty impressive on Friday night as they cruised to a 31-point win over the Saints to keep their slim finals hopes alive.
The Blues were loud and vocal and clearly up for the fight as they physically dominated the Saints from start to finish. However, Port Adelaide legend Kane Cornes believes the Blues may have gone "over the top" with their celebrations.
Cornes questioned whether the Blues were getting ahead of themselves after the win given their rather insipid effort the week before when handsomely beaten by North Melbourne.
"Let's see now if the Blues can back this up. There was a lot of jovial nature, over the top celebrated on that performance," Cornes said on AFL Media's The Round So Far.
Sam and Jack. Walsh and Silvagni. Snaps in stereo.#AFLSaintsBlues pic.twitter.com/Ca2Nmzz83r

— Carlton FC (@CarltonFC) July 30, 2021
"You can hear when there's no crowds the players really enjoying themselves. That's fine, but can you back it up next week? And then can you do it the week after, and the week after that?
Cornes said that Carlton had a habit of getting ahead of themselves when things start to go well and questioned whether they had the ability to turn in that kind of effort on a consistent basis.
"Carlton get very happy with themselves on the back of one reasonable performance," Cornes said.
"Let's see if they can string some consistency and more importantly some effort together for their coach who's under the pump."
The Blues are now in with a small chance of making the eight and with games against the Suns, Power and GWS to come they have reason to believe 8th spot could still still be theirs.
Cornes believes the Blues have the ability to win all three of their remaining games if they are able to put together some consistent effort to close out the season.
"If you're serious you win all three (games), what's the reason they can't? The only reason is they get comfortable and don't bring the same effort and intensity and preparation," he said.
The Blues have been hit incredibly hard with injury with their key-position posts being the most impacted. Ahead of the North Melbourne loss the Blues had 13 players on their injury list.
That included talls Harry McKay, Mitch McGovern, Levi Casboult, Marc Pittonet and Oscar McDonald. While Charlie Curnow played a VFL scratch match to gain match fitness after over two-years out.
The Blues played three-quarters without ruck Tom De Koning and Cornes praised the Blues for their ability to overcome the loss of such an important player.
"It's got to be said they did it with a lot of players missing and (Tom) De Koning getting injured as well was probably the last player you would want," Cornes went on to say.
"Credit to (Jack) Silvagni and the role that he played but Carlton have need to back it up next week.
"I'd be surprised if Carlton hadn't already picked up the phone some weeks ago and sounded out Alastair Clarkson."
Cornes also was full of praise for the returning Charlie Curnow who played his first AFL game back after a series of knee injuries. Curnow kicked seven goals in his last full game before the injury and while he didn't set the world on fire in his return, Cornes said he did enough to show he could get back to his best.
"I'm really glad they played him, I didn't think there was much to lose with this. He didn't tear it apart as you can imagine but you can just see a taste of the talent and what we've been missing out on," he said.
Charlie Curnow. Doing this in the Navy Blue.

761 days in the making. 🥺#AFLSaintsBlues pic.twitter.com/OTYMkE2MfD

— Carlton FC (@CarltonFC) July 30, 2021
"He's a serious player, I'm telling you, he can seriously play."