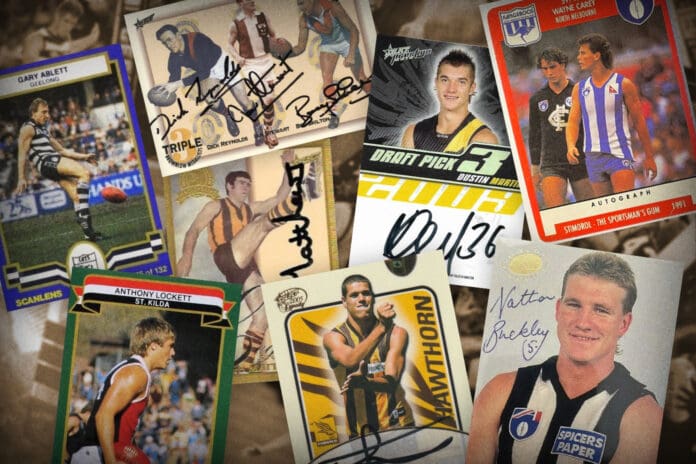 The AFL trading card market has soared in recent years, with online demand reaching new heights through the COVID lockdowns. Despite the pandemic's easing, many people rekindled their love for the hobby, and demand for products has stayed high. This means you could be sitting on a goldmine as individual card sale values stay strong.
Online markets, headlined by eBay's trading card vertical, are making the trading experience more advanced than ever, with the average footy fan now able to be part of the future of collecting.
The upward trend has placed mounting attention on collectors and their collectables, with the average footy fan now able to be part of the future of collecting.
Footy Card Guide founder, Elliot Dean, has flagged that collectors within the community are seeing more modern cards met with a spike in demand, with the market trending positively.
"The general market pretty much drives the prices so our guide looks at a range of sources," Dean told Zero Hanger. 
"I'm pretty much on eBay every single day just looking at different sold prices and so forth.
"Online is definitely where it's at and obviously the biggest place is eBay because it's got the biggest reach and most people search on there."
Several factors can have a large impact on the value of a particular card, such as the player's status, the card's condition, the card's set and numbering, and the overall rarity of each card.
RELATED: The cardboard craze taking the footy world by storm
With a vast majority of footy fans having been owners of footy cards during some chapter of their football journey, we've sourced several cards that could be of great value on the market while being in the hands of your everyday fan.
Here are EIGHT footy cards that may be collecting dust in your garage or drawers that are highly valuable:
2010 Select Prestige Dustin Martin Draft Pick Signature
Estimated Value: $800-$1000
The most recent card released on this list of trading card gems, Dustin Martin's value on the open market soared during a time when footy cards were back in fashion.
During lockdown periods across Australia through 2020, the hobby of footy card collecting reached a new peak, while Martin added to his decorated onfield career with the Tigers.
With his card's value rising throughout the year, demand for 'Dusty's' rookie card ascended further after he claimed his third Norm Smith Medal.
"The Dustin Martin one's an interesting one because I'd say 2018-2019 the footy cards started to really gain momentum again, and Select put out some really nice looking sets and a lot more people sort of came on board," Dean said.
"2020 was the perfect storm as well with COVID hitting and you basically saw a lot more people finding a hobby, including a lot of people in their 30s and 40s who essentially collected as a kid and they'd come back online and they're a lot more cashed up. So the last few years we've seen really incredible growth.
"That Dustin Martin card, funnily enough, I think at the start of 2020, was actually selling for around $150-200, then he went out and won another Norm Smith that year, and basically his cards have just gone through the roof.
"The great thing is you can actually buy boxes of that Select Prestige from 2010, still sealed boxes, that haven't been opened yet. You could buy them on the open market for a few hundred dollars last year."
1985 Scanlens Tony Lockett rookie card 
Estimated Value: $100-200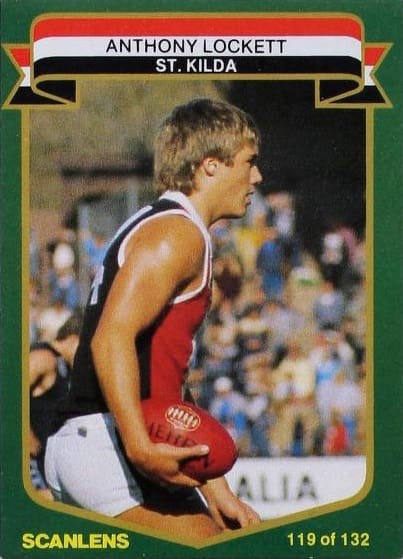 Number 119 of the Scanlens 1985 set of 132 cards, any card still in pristine condition now could fetch hundreds of dollars on the open market.
Priced as low as $15 in recent years, owners could now cash in this card for close to $200 today.
"With the Tony Lockett vintage card, we're seeing a lot of growth in vintage cards, especially the legendary players from the different eras," Dean said.
"This was his first ever footy card, known as a 'rookie card,' and is incredibly popular today with collectors.
"Probably a few years ago you could probably have got that Lockett card for $15-20 and now you're looking at a couple of hundred dollars, so there's been a lot of growth in that over the last few years."
1986 Scanlens Gary Ablett rookie card
Estimated Value: $150-200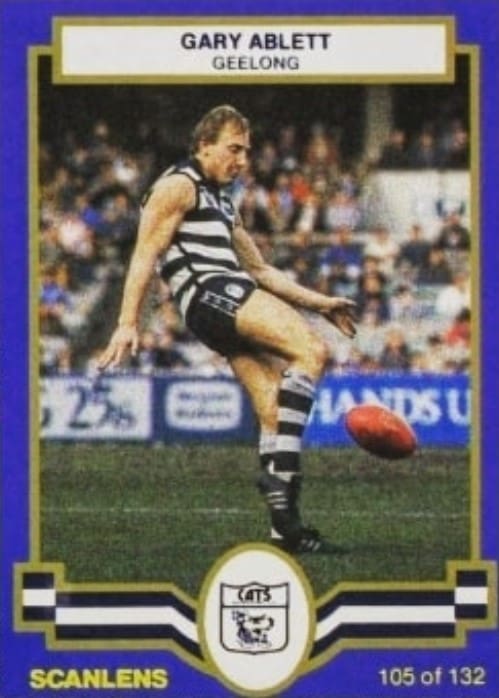 Like 'Plugger,' Gary Ablett Sr's rookie card is among a quartet of AFL legends that have seen their edition soar in value.
Ablett, Lockett, Hawks great, Jason Dunstall, and Collingwood legend, Peter Daicos, could fetch hundreds of dollars for their rookie cards.
This exact card is currently listed for sale on eBay at $500, but its estimated value is placed closer to $200.
"Back in the mid-80s you could buy a pack of Scanlens footy cards for 40c. Now, a lot of these cards sell for $10 or more," Dean said.
"The 80s was Tony Lockett, Gary Ablett, Jason Dunstall, Peter Daicos - they're the four names that we're really seeing people going after their cards. Especially their early cards.
"You're potentially sitting on a couple of hundred dollars value."
1991 Stimorol Wayne Carey rookie card 
Estimated Value: $40-100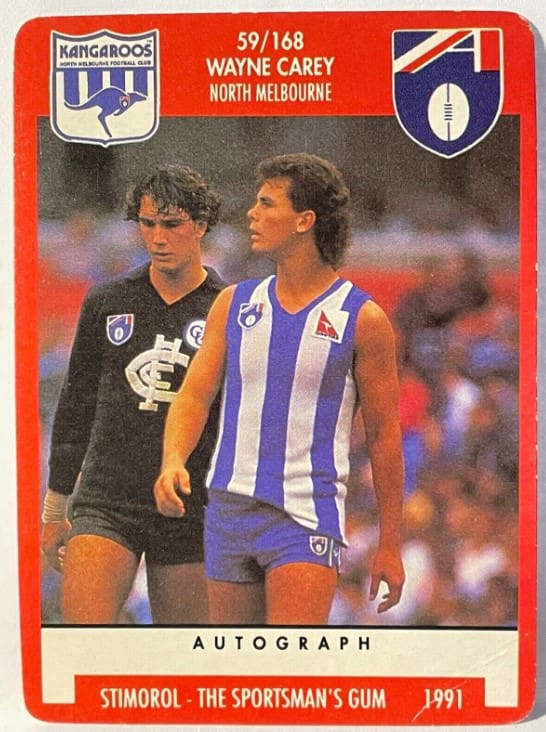 A more common 'recent' product, Wayne Carey's rookie card could fetch a large sum compared to its original asking price, particularly in recent years.
After being on offer for as little as $3 just half a decade ago, this card now sells for close to $100 or even more today.
"That Stimirol set was fairly highly produced, so there's not a massive amount of scarcity, but at the same time it's Wayne Carey, who's considered the greatest by a number of people, and definitely in the conversation as one of the best of all time," Dean said.
"So having his rookie card is quite a lucrative thing and a lot more people are going after it now.
"If people have any in pristine condition, then you're looking at approaching sort of 100 bucks for that card, when probably five years ago you could pick it up for $3 or $4. There's been massive growth.
"Over the last few years, vintage cards have grown [in value] a lot, and people looking back to some of the legends we look back on now who are past stars and their early cards, they're going for quite high prices, especially compared to what they were prior."
1996 Select HOF Platinum Triple Brownlow Signature
Estimated Value: $5000-7000
The most expensive card on the list, the Triple Brownlow Signature Card boasts the autographs of Essendon great Dick Reynolds, former Saint and Tiger Ian Stewart, and South Melbourne legend Bob Skilton, all three living triple Brownlow Medal winners from when the card was made in 1996.
"In 1996 Select released a Hall Of Fame Platinum set through the MCC, limited to 100. One of these cards was a Triple Brownlow Signature Card, signed by the three living players who had won 3 Brownlows.
"With the triple Brownlow signature, you very hardly see it turn up. We did see one sell for around the $5000 mark a little while back.
"There are people who I've spoken to through the various channels that are actually wanting to get one, and are happy to pay in excess of $5000-6000 to get that."
1996 Select Hall of Fame Leigh Matthews Legend Signature
Estimated Value: $3000-3500
The legend of 'Lethal' Leigh Matthews is echoed into the footy card realm, with the Hawthorn great's Signature Legends card recently fetching $3000 on the open market.
With some collectors willing to pay even further north of that sum, Mathhews' 1996 card could earn sellers in the vicinity of $5000.
"The thing with some of these scarcer or older cards - you don't see a lot of them for sale, and so there's not a massive amount of data around them," Dean said.
"With the Leigh Matthews one, we did see one sell for over $3000 last year, so that was a good yardstick. We do see a lot of other ones selling for about $2000 in those sort of similar Legend Signature cards.
"Those players aren't considered as higher priced. If we compare Leigh Matthews, he's pretty much one of the higher, top-tier level of players in terms of past players and the value we see.
"A lot of time we can extrapolate and see these guys are selling for $2000, Leigh Matthews is normally selling for 50% higher than these guys across other cards and then it's sort of safe to say that his Legend Signature should be around [$3000]."
2005 Select Dynasty Lance Franklin Draft Pick Signature
Estimated Value: $400-500
Originally valued at around $30, 'Buddy' Franklin's Signature rookie card can currently fetch up to $500 on the open market.
With the Hawks and Sydney great well into the twilight of his career, this card's value could soar further again in the near future.
"A lot of the draft pick signatures are very popular because it's the first first-year card of a young player's career, and it's signed and they're always numbered and limited to normally about 150 or 300, so they're kind of scarce," Dean said.
"So the Lance Franklin one is interesting because that was around the time I was doing my price guide when that came out. I think I listed that it was around $30.
"Now that's $400-500. So you could have made 10 times 15 times your return on that card.
"It obviously comes down to having an astute eye picking players that you think are definitely going to develop and getting in on those ones."
1994 Nathan Buckley Rookie Card Gold Signature
Estimated Value: $300-500
A rare card for several reasons, Nathan Buckley's Gold rookie card will be no easy find for even the most astute of collectors.
Buckley was the only player of 20 in the 1994 set that earnt a gold insert as their rookie card, compounding its value immensely.
"1994 was a very popular year for footy cards and also the debut cards of so many stars including James Hird, Nathan Buckley, Michael Voss, Matthew Richardson, Shane Crawford and several more," Dean said.
"Unfortunately, these sets were mass-produced, but if you manage to have one of the players in pristine condition it can attract $30-80.
"The Buckley rookie card had a gold signature version, which is a lot more limited and can bring anywhere between $300 and $500.
"There was actually a gold insert card which was a bit rarer. There were 20 players but he was the only rookie that actually got one of those cards and he also was one of 10 players to have a signature card as well.
"So that's why it draws a lot higher price, because a) it's his rookie card, b) It's signed, and c) it's a lot more scarce than those other cards."