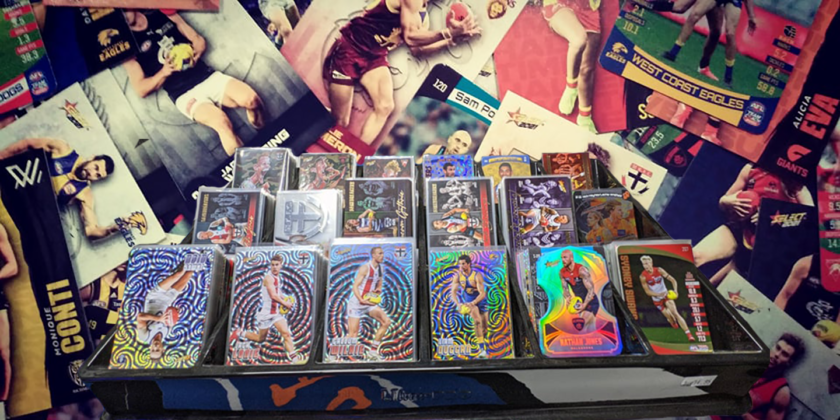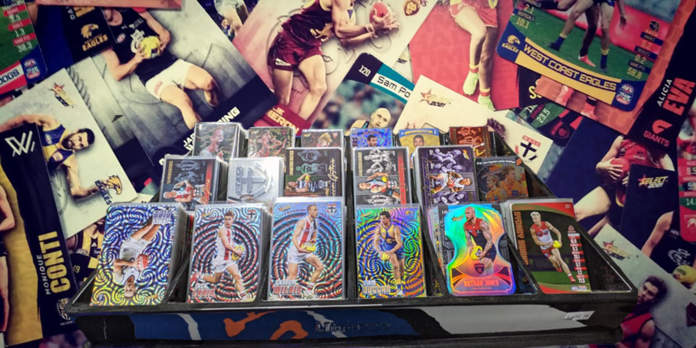 "I discovered 'passion' in a packet of footy cards," wrote comedian Matthew Hardy in his iconic best-seller, Saturday Afternoon Fever.
"Whatever kind of man I've become since then is the direct result of walking into my local milkbar sometime during the 1978 footy season, aged nine, and walking out into a whole new world... this act miraculously altered my life forever."
Historically, the landscape of trading cards in Australia has been limited to kids swapping in the playground or spending their hard-earned pocket money on a pack of cards at the local milk bar.
Back in the mid-'90s, Australia saw a boom in basketball trading cards as Michael Jordan's global popularity exploded.
Following the trend of American card manufacturers like Upper Deck, Topps - and more recently, Panini - Australia's Select started producing Australian Rules Football cards in 1993.
It was around this time that 7-year old Aaron McGrath discovered his passion for footy cards.
"I started with Select Stickers, then moved onto cards. I'd get a few packs every Saturday morning with pocket money in the hope of finishing my set," McGrath says.
"The passion waned during high school but luckily I held onto my entire collection because I picked it up again about 13 years later, after finding a few albums at the local Salvos."
Over the last two decades, the trading card industry has ballooned from a kids hobby to a collectors/investors market, with values of AFL cards reaching well into the thousands of dollars with recent sales as high as $10,000 for a single card.
These days, while mass-produced and mass-marketed products such as Teamcoach are still incredibly popular with younger generations, Select has quite openly expanded into a more adult-targeted product, with limited edition or short-print card runs, and collector's items including player-worn memorabilia and signature cards.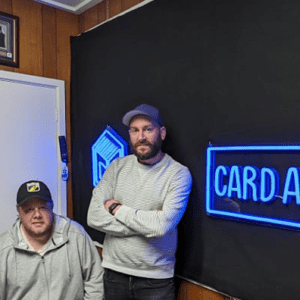 As Card Authority Australia co-founder - and co-owner of RGV Collectables - Adam Jankie, explains, the trading card hobby is now effectively a supply vs demand industry, complete with primary and secondary markets.
The primary market is "not about the fact that a 'Dusty' [Martin] card could be worth ten thousand dollars, it's, "does it cost [the publishers] one cent or ten  cents to produce this piece of cardboard... and when they package it all up and they include freight, licensing and everything else - what do they squeeze out of it, that's the primary market."
The revenue in the primary market of trading card manufacturing has to include other costs to the publishers or distributors, like licenses, image rights, marketing, rent, wages, and salaries, etc. All of these factors go into the cost of the product, to then sell wholesale to resellers or other distributors at a cost that is then marked up (otherwise known as the sales margin) to then onsell to the general public. That is, in essence, the card producer's - Select, in this case - business model.
The secondary market then includes what happens to the product AFTER it's gone through that primary phase. The consumer buys a packet of cards from a reseller, distributor or retailer. As Jankie explains, "the question is, what's inside that packet of cards, and how does that have a 'value' associated with it, and does it also have a perceived value associated still sealed up. Is the value in the future greater than what it is now due to the rarity factor [and] what MIGHT be in that packet?"
"Basically, you open a packet of cards - you're trying to get something either you need for your set, or something of value that's going to turn back into more cards, or money. That is the secondary market."
Ultimately, as in any commerce-based business, the secondary card market comes down to supply versus demand, and the costs for collectors associated with buying particular cards rise and fall with this demand. 
"A buyer is going to say 'Well, I'm going to raise my ceiling and I'll be prepared to pay more', or the seller is going to say "I'm going to concede a little bit just to get the sale done.'"
Another element to keep in mind when appraising the value of a sports card is the rarity of that card - the number of cards produced in that print run, and how many are available in circulation - and in some cases, the numbering of that particular card.
While trading cards in mass production sports - see NBA, NFL, and other global sports - have a seemingly unlimited audience to create multiple, products, series, releases, etc, 1-of-1 cards (the only card in that particular print run) have become increasingly popular as there are so many around for collectors to chase. But, Jankie, says this concept wouldn't work in the AFL card community.
Not since 1998 has Select released a product with a print run limited to as low as ten. These days the shortest print run for any new release product is cards numbered to /25.
The growth in the AFL card collecting adult community has had an impact on limited edition cards and print runs, and - in Jankie's opinion, at least - the shortest print run should be limited to /40 before collectors may start to feel alienated from collecting their set, and risk possibly losing them from the hobby all together. Cards limited to /25 have proven to work in recent years, and seem to be the absolute threshold in the current climate, but with the growth over the past 18 months, whether that print quantity will be enough to retain the set collectors, remains to be seen.
"A question that comes up a lot, is Is the market here ready for one-of-ones?' and I just think it's different. People collect differently [here]. It's something that's been ingrained in them for a very long time. You're talking about two decades of cards that have been numbered 1/1 [in the US]. If you're 18-years-old, you don't know any different. You've been educated that you can never have ALL the LeBron [James] cards. You can never have ALL the Michael Jordan cards because there are one-of-ones out there and every year there might be twenty or a hundred new one-of-ones released," Jankie said.
"AFL is a domestic product, it's not a global product. If a manufacturer was going to go to a one-of-one type product, I don't think it could be any of the major players, because it would be too detrimental to their core business model - set collecting - and the ability for people to collect. Companies like Select and Teamcoach don't survive for two decades by doing the wrong thing. If they had released one-of-one cards it would have drastically changed the trajectory of their businesses."
Just like the paintings hanging on your wall, AFL trading cards have become an investment valuable enough to muddy the water between collecting for fun and collecting for value, and with that intermingling incentive, comes, what some would call, the darker side of the trading card community.
"The market exploded with many former collectors coming back to the hobby. Select started increasing the number of inserts (special variation cards) in their boxes, which meant there were more cards to chase for set collectors, while re-sellers started to flood the market in the hope of hitting a big card to on-sell," veteran collector, Aaron McGrath explained.
'Flipping' has become common practice - whereby a user will look to buy a card, a pack, or a box of cards solely for the purpose of selling the product at a higher rate to another collector.
"This led to higher prices in the market, and with additional rare and more expensive cards has decreased some of the chances of completing a master set."
But Jankie says this is simply part of the ecology of a commercial market and actually contributes to the success and growth of a collectors hobby.
"That's what drives the market up. If you take that away, it removes a piece of demand. People complain that cards cost so much money now, but those very same people don't acknowledge every card that they bought prior to the date they complained is now worth significantly more than what it was, and it's worth significantly more because of the flippers, the speculators and the new collectors."
"I love looking at my cards, my good ones are on display. I love it. I love the chase, I love the social engagement, I love it all. But I'm sure I'd sleep better at night knowing that the money I've poured into trading cards doesn't disappear. It's worth something, I'll hand it on to my kids and they can decide if they want to continue collecting, it's an investment for them as well."
"My collection is a collection. I have fun and enjoyment out of it right now but make no doubt about it, it retains investment value."
Indeed, trading card investments don't have the volatility of equities or derivatives markets. They are physical objects rather than binary code on a screen, and you just have to look to savvy investors like Gary Vaynerchuk, CEO of media holding company VaynerX, actors Charlie Sheen and Bryan Cranston, who have more than dabbled in the trading card market.
"This is a market that's growing in demand, but doesn't have more supply," Vaynerchuk writes on his blog. 
"That's a recipe for opportunity – it's a big reason why I put over a million dollars into sports cards over other alternatives."
Have looked at like 20 top 100 baseball players in 2020 lists to see if something stands out to make a play on his rookie card 😂

Huge issues right now lol, can't stop investing in sportscards pic.twitter.com/vSyE0Ama5w

— Gary Vaynerchuk (@garyvee) March 6, 2020
Superstar DJ Steve Aoki has become so involved in trading cards he even broadcasts his own "live breaks" online, where a group of collectors buy into a case of cards and share the rewards based on teams, players, or other variables.
"It's like fantasy sports, combined with stocks, combined with nostalgia combined with gambling," Aoki told rollingstone.com in March of this year.
While of course cards can lose value over time, it happens incrementally, rather than overnight. 
"A stock can sink by over 80% overnight because of the way it's traded and the way it's so liquid. The value of your footy cards... might drop by small percentages over time, so you can choose when to get out. The more people that get out will drive the market down at a faster pace, but it can't just collapse," says Jankie.
On the flip side, though, the value of a card can increase quickly based on individual or team performance.
"You might find that after 'Dusty' (Richmond's Dustin Martin) wins another Norm Smith [medal], his cards go up 50% over a period... 5% a week or something like that, either because people who are already there want to purchase his cards more, or new people are coming to purchase those cards."
Are you thinking about getting into footy card collecting? Here are some handy tips from Card Authority Australia's Adam Jankie to help you get started, whether it's for your own collection or investment purposes or simply for your kids' enjoyment:
Research:

don't purchase until you understand what you're buying

Experiment:

try different products and see what you get the most enjoyment from

Network: 

build your own community that can help achieve your collecting goals
For more information on AFL trading cards visit Card Authority Australia and RGV Collectibles.