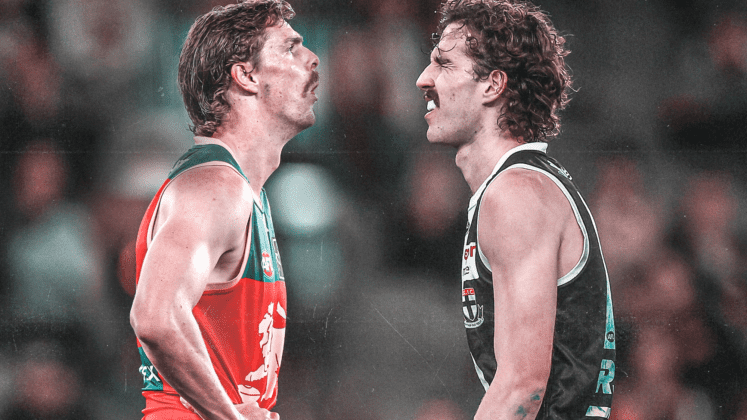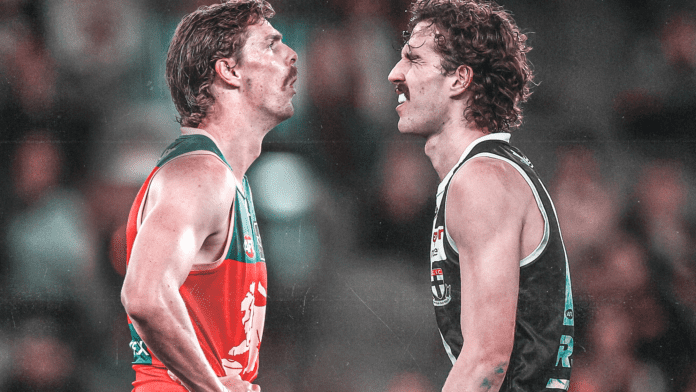 Despite being just 67 games into what could be a Hall of Fame career, St Kilda spearhead Max King is at an undeniable crossroads.
While showing enough glimpses of wild talent to keep palates whet, and with more potential to burn than any St Kilda forward since his idol, Nick Riewoldt, was shopping at Freshjive, like most young spearheads, consistency has been fleeting for the 23-year-old.
Red, white and black diehards will point to the slew of injuries picked up - both past and present - as the full stop on why the former Pick 4 is yet to take the competition by the scruff of the neck for longer than a quarter at a time.
The point is valid too, with King missing the entirety of his first season, 2019, at Moorabbin as he rehabbed an ACL injury sustained during his draft year and playing an average of less than 14 games per campaign.
Having claimed back-to-back club goalkicking gongs in 2021 and 2022, hopes were high that King could continue making strides towards rare air at Linton Street this season, air currently occupied solely by the ilk of Riewoldt, Stewart Loewe, Bill Mohr and the inimitable Anthony Howard Lockett.
And though King has managed a mean of two goals a game in 2023, the local product has only turned out on seven occasions, thanks in totality to a bung shoulder to go with his surgically repaired right knee.
A line may have been placed through King after reinjuring the joint against Melbourne in early July, yet with the Saints on the verge of securing their pass to September, head coach Ross Lyon suggested his earlier reports of King's icing had been greatly exaggerated, suggesting the forward was "every chance" to make his return against Carlton this Sunday.
Still, without any window to work on weaknesses, the same deficiencies seen time and again in King's game are nearly certain to still linger.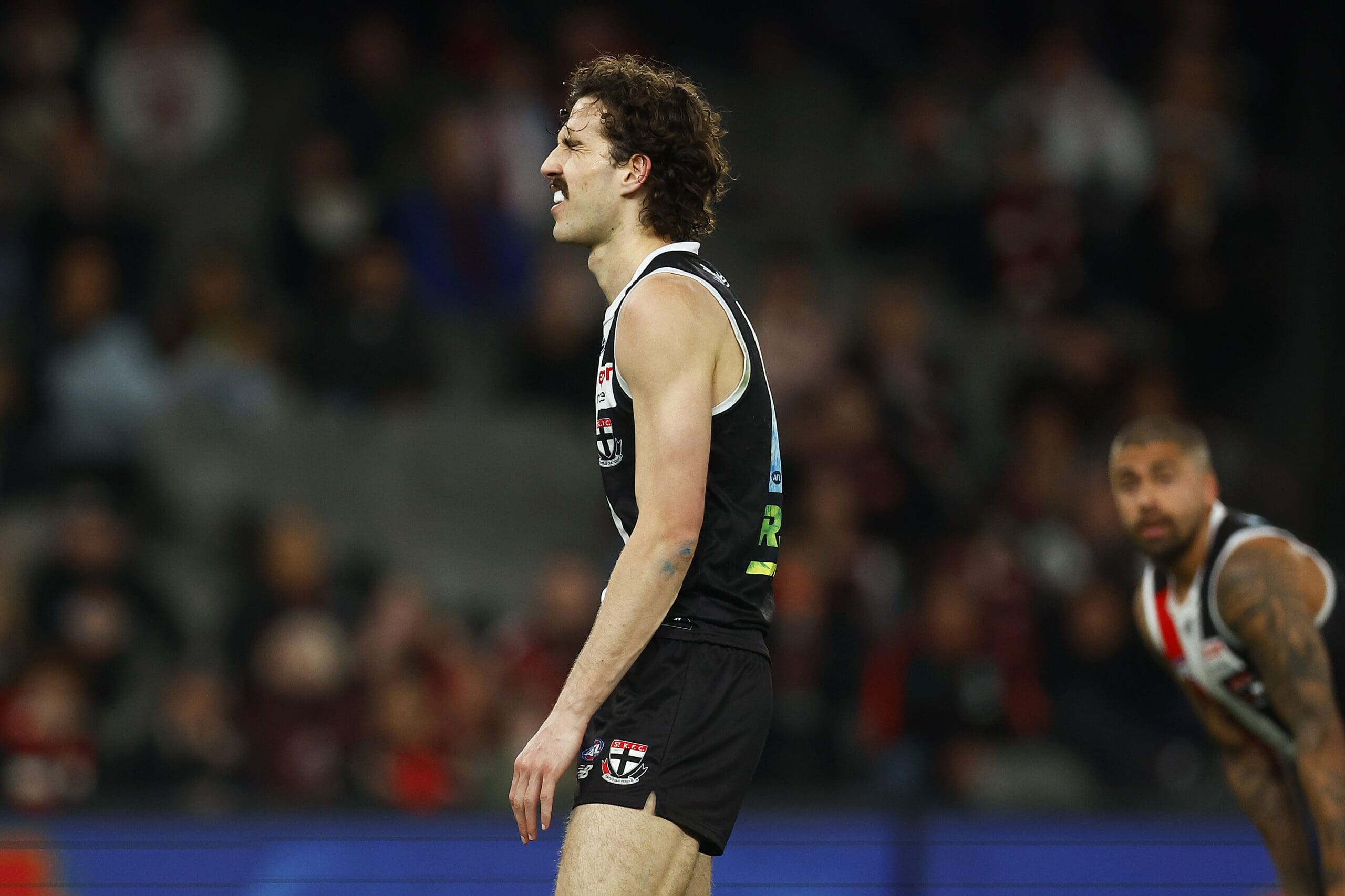 Stopping the tape at 202 centimetres, even newcomers to the game could comfortably tip King to be an elite mark of the ball. And with means of 4.31 marks per game - 2.06 of which are contested - the eye test has merit.
For context, of all AFL/VFL footballers to have played 50 games, King ranks 10th for contested grabs per game, with only Harry McKay (2.15) and Tom Lynch (2.09) hanging onto more from the game's current crop.
| | | |
| --- | --- | --- |
|   | Career total | Average per game |
| Marks | 289 | 4.31 |
| Contested marks | 138 | 2.06 |
| Marks inside 50 | 168 | 2.51 |
But like a Kintsugi bowl, King's flaws are equally as evident. Namely those that rear when facing the big sticks.
Over the course of his stop-start career, King has kicked 126 goals and 97 behinds from his 223 shots that have registered a score. Though King sits ahead of the ledger for accuracy, with only 56.5 per cent of his shots to score leading to goals, the kid that grew up supporting the club has the ability to make Sainters in the stands pucker and wince.
| | | |
| --- | --- | --- |
|   | Career total | Average per game |
| Goals | 126 | 1.88 |
| Behinds | 97 | 1.45 |
| Shots that registered scores | 223 | 3.32 |
With Ben Dixon and Jarryd Roughead, as well as goalkicking guru David Wheadon, having put in shifts to help King straighten up, the Saints have bet bottom dollars on King correcting his woes.
This investment in development cannot be understated, still, it can be offset when the Saints themselves proved too precious to take other opinions on board, as evidenced when the club barred King from working with triple Coleman medallist, and King's former high school coach, Matthew Lloyd in 2021. Never mind the request came directly from the then-20-year-old himself.
Then, as now, this was an error on the club's part. After all, there is no place for arrogance in the coaching manual. Still, while King's desire to seek help should be commended, those in the ear of the Saints' golden goose must make sure he is doing the work.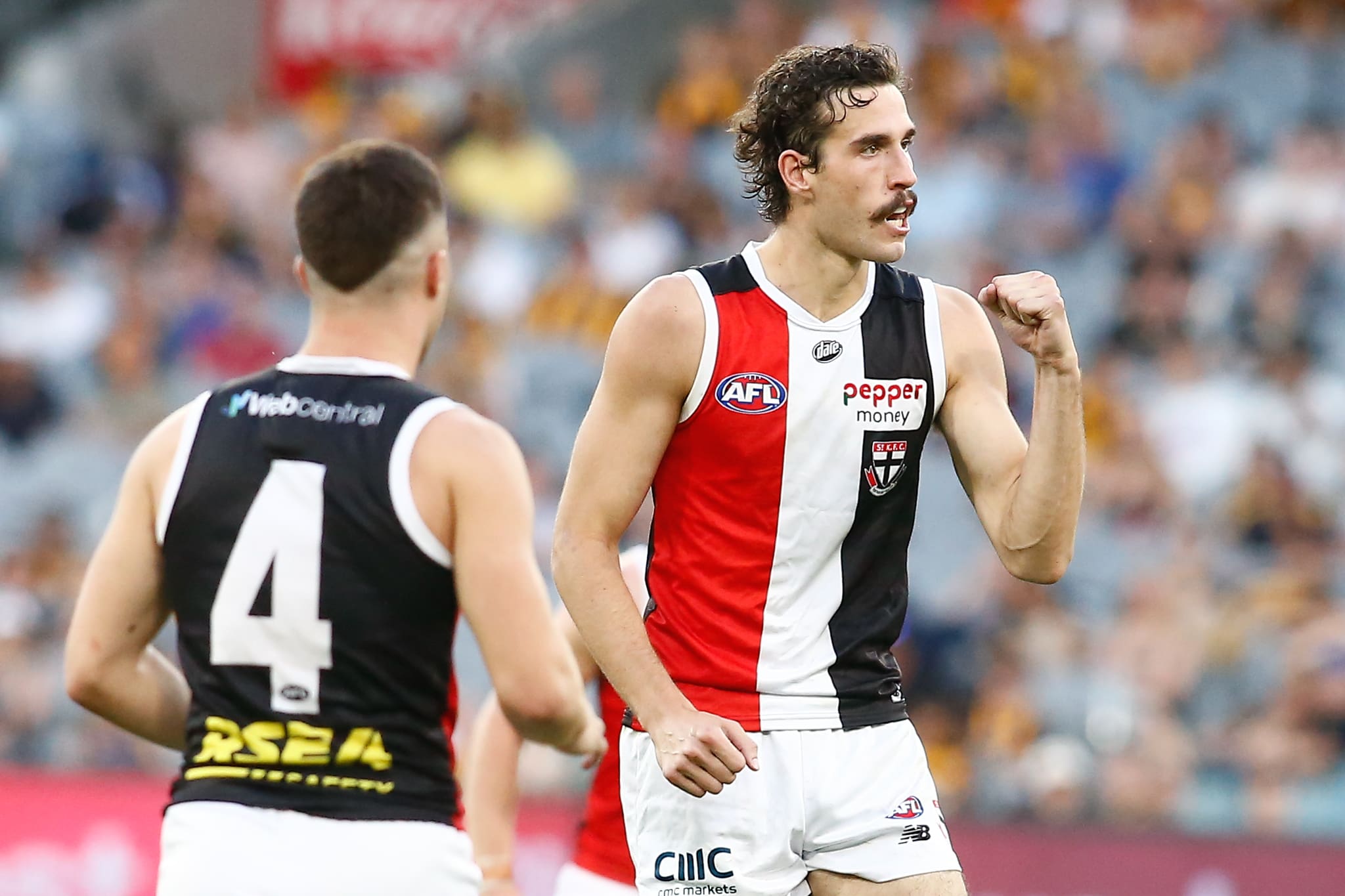 Whether fair, accurate or otherwise, footy fans have long been wont to compare players with others.
Given his height, reach and near-boundless athleticism, St Kilda's rusted-on congregation will be hoping their King can build into another version of the one that once ruled the roost at Arden Street.
However, at the minute, King's closest current comparison point is still plying his trade at AFL level, and earning ire as he does so.
With their stretched frames, neck-covering locks and penchant for fuzz on the upper lip, King and oft-maligned Lion Joe Daniher appear to share the same stylist.
But while this pair of white-boy Lionel Ritchie impersonators seem cut from the same cloth, it is on the stats sheet where the pair become football's embodiment of the pointing Spiderman meme.
Tall. Athletic. Adept in the pack and under the high ball. These descriptors apply to both parties.
Docile. Inconsistent. Noticeably wayward when faced with pedestrian set shots. Again, it's two forwards, one stone.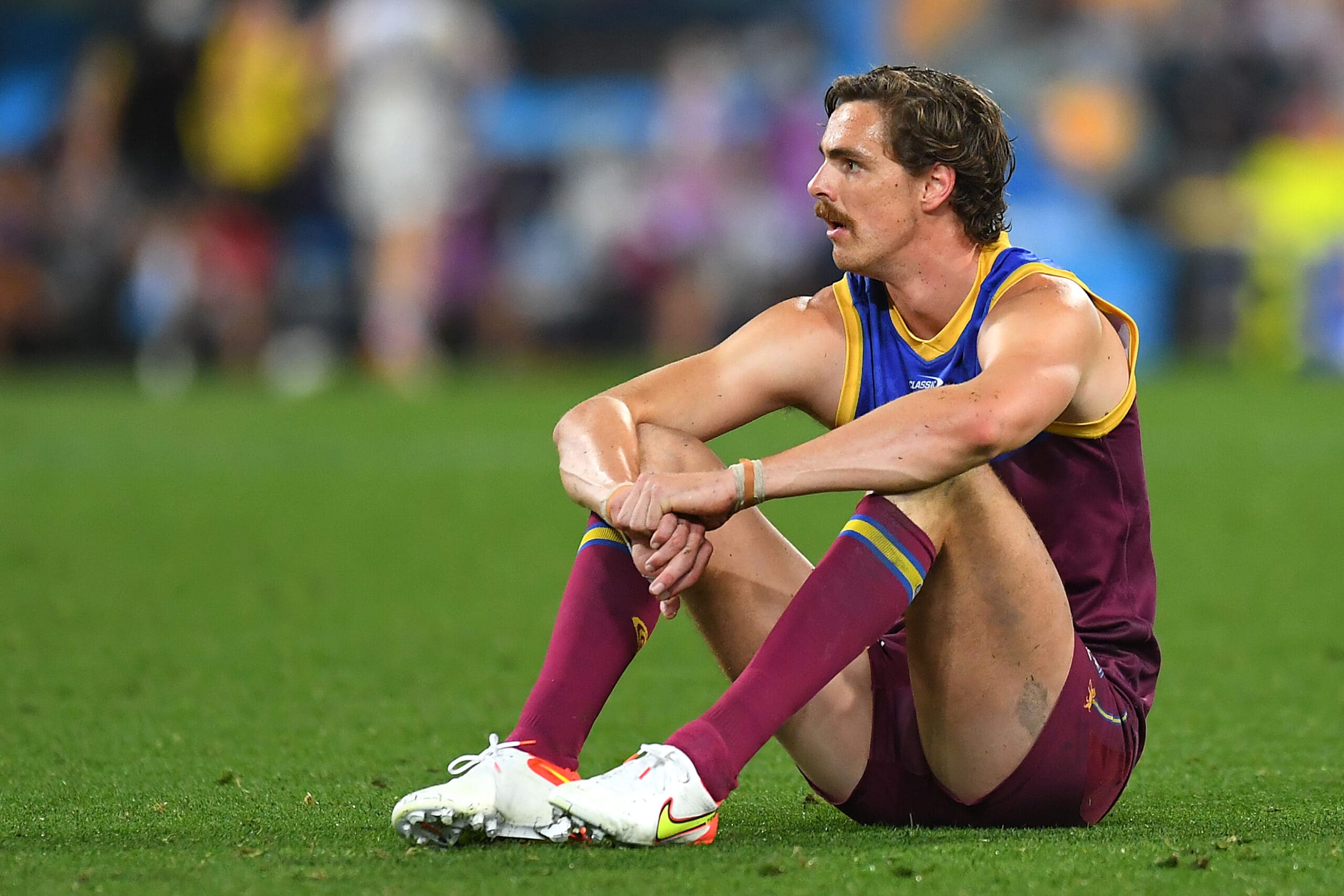 Across the course of the 2014 season, his second at the level, Daniher, then still a Bomber, sent 58.3 per cent of his shots that scored through the big sticks for the sum total of 28 goals and 20 behinds for the year.
The following summer, Essendon brought Lloyd back to Windy Hill to work with the club's blue-chip spearhead, allowing Daniher an extended window to hone what was then a raw routine.
"I am confident he is going to have days where he kicks four and five goals straight," Lloyd said of the Dons' father-son prospect in February of 2015.
"I am not saying it will be where he goes from 45 per cent over his career and suddenly jump to 65 per cent. 20 per cent won't happen straight away.
"You can't do it in-season, you have to do it in the off-season when you are not under the pressure of match day."
For all the enthusiasm, no conspicuous improvement was made to Daniher's radar across the course of 2015, with the then-21-year-old kicking 34.24 for a scored shot-to-goal rate of 58.6 per cent, creeping again to a marker of 57.3 by the end of the following season.
Yet, by June 2016, Lloyd's media commitments saw him end his official partnership with Daniher, but not before offering the youngster on the precipice one final pointer.
"The biggest issue is Joe's hand. His hand flops away and doesn't guide the ball too much. He has a light grip and he doesn't push the ball down onto his foot," Lloyd offered publically.
Even now, more than seven years on, it all sounds very familiar.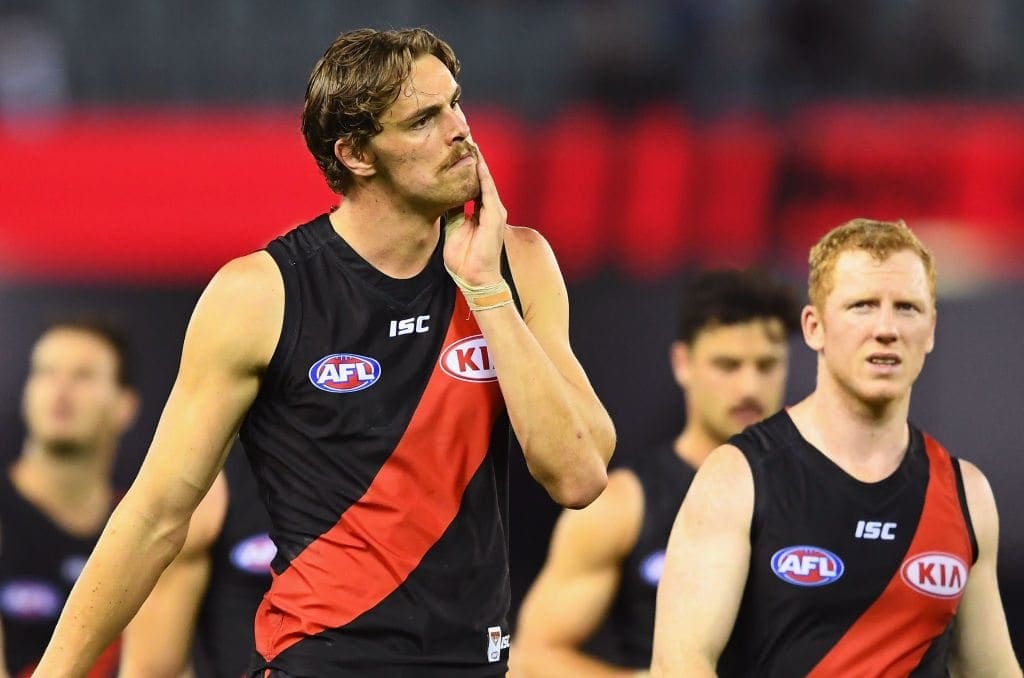 By Round 20 of that 2016 season, Essendon, on a night where Daniher went one-from-three before goal, were soundly smacked to the tune of 66 points by Geelong.
The significance? This was Daniher's 67th game at the level, the exact point that King finds himself ahead of Sunday's eight-pointer.
In the vast majority of metrics, the young Saint has Daniher covered. However, when King's career rate of converting 56.5 per cent of his scoring shots into goals is near-identical to Daniher's then-percentage of 54.6, these roots of comparison only grow stronger.
| | | |
| --- | --- | --- |
|   | Total after 67 games | Average per game |
| Goals | 89 | 1.33 |
| Behinds | 74 | 1.1 |
| Shots that registered scores | 163 | 2.43 |
| Marks | 342 | 5.1 |
| Contested marks | 109 | 1.63 |
| Marks inside 50 | 127 | 1.9 |
But what can be gleaned when Daniher's entire body of work to this point is held up to the light?
What do all of the numbers tell us of this once-touted once-in-a-generation forward?
| | | | |
| --- | --- | --- | --- |
|   | Total after 170 games | Average per game | Variance in average since Round 20, 2016 |
| Goals | 319 | 1.88 | + 0.55 |
| Behinds | 229 | 1.35 | + 0.25 |
| Shots that registered scores | 548 | 3.22 | + 0.79 |
| Marks | 948 | 5.58 | + 0.48 |
| Contested marks | 220 | 1.59 | - 0.04 |
| Marks inside 50 | 368 | 2.16 | + 0.26 |
Despite taking the most marginal hit to his contested marking rate from that August night into the present, Daniher has managed, however minute, to improve across the board.
But are these next-to-nothing spikes worth celebrating, or is Daniher's career more a cautionary tale to those that fail to cash in on raw talent and physical gifts?
Given Daniher has gone on to produce a goal with just 58.33 per cent of his shots that have registered scores - an up-turn of less than four per cent from late-2016 - and the answer becomes clear. That prospective jump of 20 per cent has gone up in smoke.
But who is that on? Daniher, or his employer?
Like most cases, the truth lies somewhere in the middle.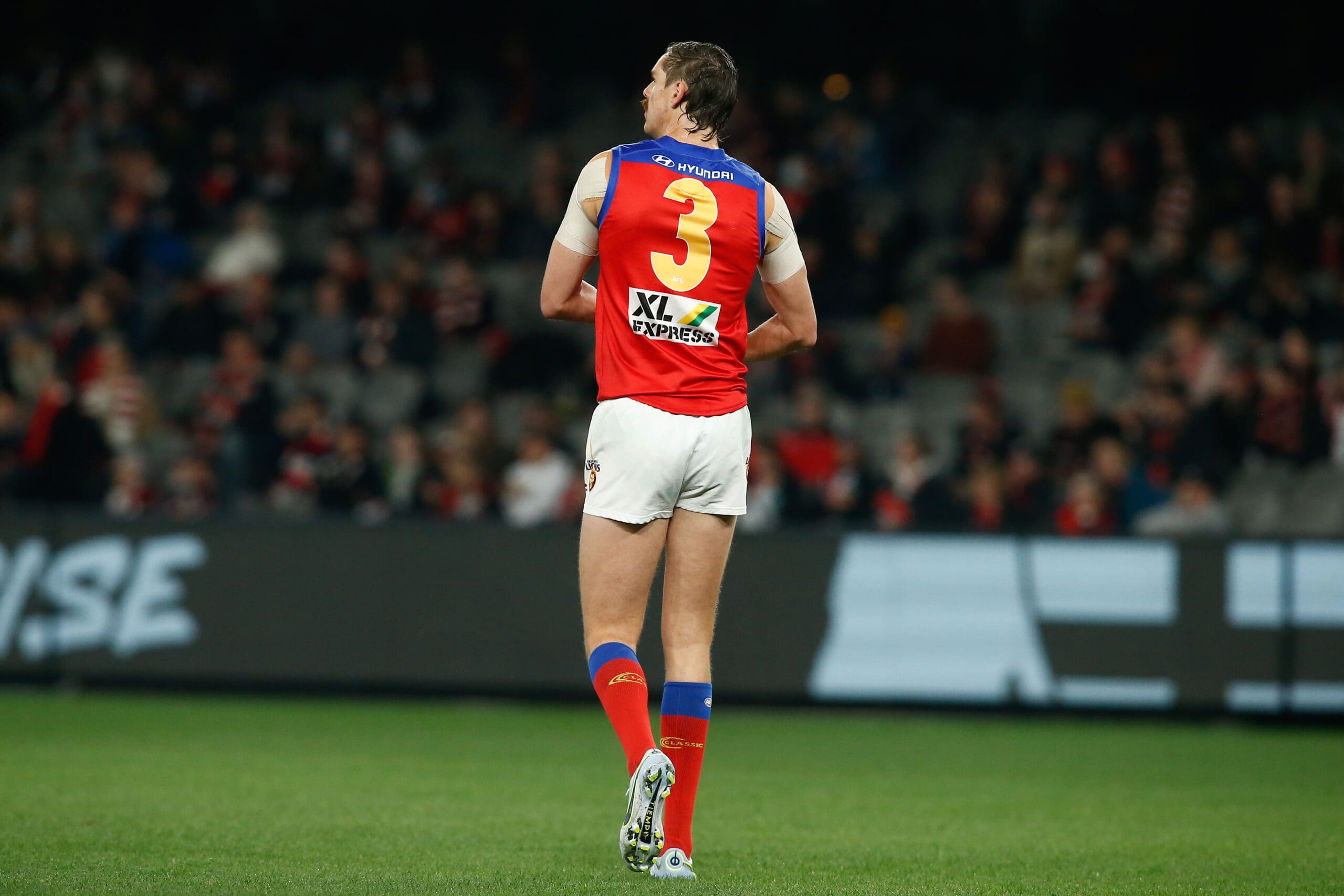 During the opening scene of the classic baseball film The Natural, Roy Hobbs, a gun young pitcher played by the all-American Robert Redford, can be seen playing catch with his father in the field of the family's backwater farm.
Tall. Athletic. Armed with a cannon for an arm. Hobbs senior understands that his son has almost every tool required to write his name in the record books, but he's short of the one thing that could carry him the distance: a firm grip on reality.
"You've got a gift, Roy. But it's not enough. You've got to develop yourself. If you rely too much on your own gift, then you'll fail."
In the face of his All-Australian blazer, the father-son selection from the first round of the 2012 draft has never evolved into the all-conquering forward many hoped he would be and he, from time to time, showed he could be.
Contracted at the Den until the end of 2025, Daniher's career is by no means over, but without any noticeable ability to drive himself - or be driven - across his decade-long AFL career, there is a lesson available to those at Moorabbin: there are no certainties in life, or in football. Not even when you have a two-metre-tall, contested-marking, tell-all-your-mates-about type of talent on your team sheet.
The maxim is true, though, tall forwards do take longer to develop than other types of players. But as the likes of Arryn Siposs, Daniel Archer, Tom Lee, Barry Brooks, Gordon Fode, Tim Allen and Gerard Cahir are sure to share, they haven't always been developed down at Moorabbin.
Sure, King may have more talent in his little finger than these seven former Saints, but it won't be enough unless he and the ever-changing crew around him make sure the work is done.
Max King is at a crossroads. It is up to him whether he becomes a name that re-writes the record books or just another kid with potential that never quite pans out.