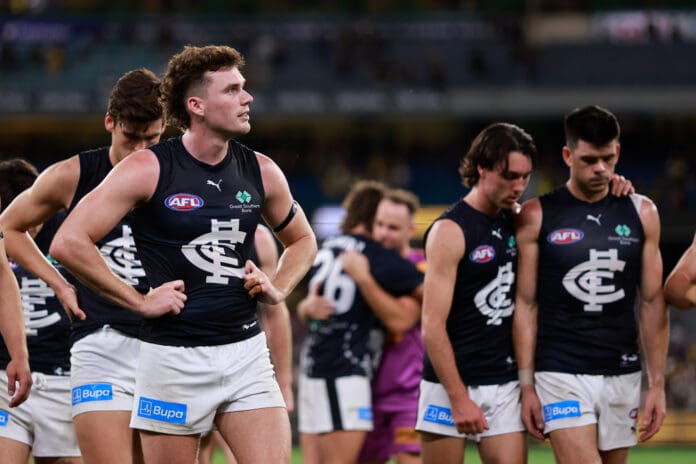 Just like that, we find ourselves on the cusp of another preliminary final weekend and as always, this year's finals series has thrown up plenty of surprises. With just three games to go, the 2023 premiership race is wide open.
Halfway through this season, you would have been called crazy had you suggested that both Carlton and GWS would be featuring this weekend. Both were more likely to finish bottom six than the top four at that stage and both have produced remarkable turnarounds.
As for Collingwood and Brisbane, they have both been consistently excellent all season long, rightly resulting in finishing top and second place respectively. They have been, and remain, the teams to beat this year.
Yet despite this, those that win straight through to a prelim have found the going tough in recent years. Since the pre-finals bye was introduced in 2016, one of every two top four teams who has won straight through to the preliminary final has failed to make the Grand Final.
On two occasions, both teams have failed to make it. That's not to say there's definitely an upset on the cards this weekend however, as on two occasions since 2016 both teams have also won through to the grand final. It merely highlights that, statistically speaking, there's a fifty per cent chance we see a surprise result this weekend.
See Also: Ben McKay reportedly nominates preferred landing spot
By comparison, in the seven years prior to the pre-finals bye being introduced, only one team out of 14 that won through to a preliminary final in week one, failed to make it through to the grand final.
The pre-finals bye has massively increased the chances of an upset result on preliminary final weekend, making it that bit more tantalising. With all of this in mind, here is why each team can and can't win this weekend.Brisbane
Why they can win
There is a feeling that this is the year that the Lions finally make the Grand Final under Chris Fagan after threatening to for years now. They are also extremely hard to beat at the Gabba, have arguably the most complete list in the competition and are playing exceptional football.
Throw in a red-hot Joe Daniher, who, after missing out on an All-Australian selection despite his 56 goals this season, responded in style against Port Adelaide two weeks ago, kicking five. He has proven a perfect recruit for the Lions and is at the top of his game going into this clash.
There's also the fact their midfield finally appears to be well-balanced enough to handle the contested pressure of finals footy. Josh Dunkley, Lachie Neale and Hugh McCluggage are able to hold their own against anyone, especially on their own deck.
While the Carlton midfield is bruising, they lack the pace and polish of this Lions on-ball brigade, which could prove the difference in the Brisbane humidity.
Why they can't
Like Collingwood, they have played just once in almost a month and may not be at their sharpest, which in a prelim, will cost you dearly. Though by now they are well-versed in preparing for finals, nothing is as valuable as real-time AFL minutes, something Brisbane will need to combat, especially early.
Jack Payne is also a huge loss for the Lions, undoubtedly the unsung hero of this backline, his absence against a team featuring this year's Coleman medallist is a worry. This season he averaged 5.4 marks per game, including 3.5 rebound 50s, and has often found himself playing the key interceptor role. He will be missed.
There's also the lingering spectre of the past few years' finals series where the Lions have capitulated under fierce pressure. Though they appear to have a hardened edge this year, those sorts of doubts can begin to creep in if things get tight, particularly in a home final coming off a week of rest.
Make no mistake, there is more pressure on this Brisbane outfit, who know that the time to win a flag is diminishing every year, while the spotlight intensifies with every failure.
Carlton
Why they can win
They are as battle-hardened as it gets right now and have shown that they are never willing to concede a game is over. Their two finals wins have gone right down to the wire, requiring guts, stamina, belief and composure, particularly late in highly pressurised situations.
They also get back Harry McKay and Jack Martin, two players crucial to their structure. McKay, staggeringly, still has his detractors, despite having a Coleman Medal to his name, and with the Lions losing Payne his presence will be paramount in stretching them.
Meanwhile, Martin has highlighted how important he is at both ends of the ground, kicking crunch goals and going back late in games to take critical intercept marks. Both will be welcome fresh legs to a group running on adrenaline
Finally, Charlie Curnow was born for the big stage and they rarely come bigger than a preliminary final, while Sam Walsh and Patrick Cripps are elite leaders who have already proven themselves in the fiery crucible of finals footy this year. If all three fire, the Blues will believe.
Why they can't
The injuries are mounting and while they have been incredible in this back half of the season, you begin to wonder how much longer they can keep it up. Blake Acres, Sam Docherty, Patrick Cripps and Jacob Weitering all looked sore after last week's bruising win over Melbourne.
Additionally, winning on the road in finals is extremely difficult and the Blues won't enjoy the benefit of the majority of support from the crowd this weekend. Couple that with the fact that the Lions are nigh-unbeatable on their home deck and this is almost the last place the Blues would want to play a prelim'.
Finally, their backline concedes far too many shots on goal and against a forward line featuring the likes of Joe Daniher, Charlie Cameron, Cam Rayner and Eric Hipwood, they are going to have their work cut out for them.
They have ridden their luck at times in this department, and any lapses in focus will be severely punished. If the Blues' backline plays like they did against Melbourne last week, the game could be beyond their reach very quickly.
Collingwood
Why they can win
The Pies have been the best team all year and at their best are almost unstoppable. Their organisation, run and carry is second to none and enhancing that will be the fact that they also welcome back superstar Nick Daicos.
Defensively, they are so well-drilled that kicking a winning score is brutally tough. Darcy Moore has captained this club superbly all season and he will be crucial to their chances. Besides his intercept work, his leadership has enhanced the likes of Brayden Maynard, Isaac Quaynor, Nathan Murphy and swingman Jeremy Howe.
Up until Round 19, the Collingwood backline were conceding just 68.5 points per game, which, until a late-season slump, had them ranked as one of, if not the best in the competition. In week one of the finals they conceded just 53 points, so all would appear back on track in this department despite the Demons' inaccuracies that week.
As the best team all year, they will also have the benefit of a home crowd, likely to be 90,000 plus screaming Magpies fans. With that sort of support, there's absolutely no doubting that they will be able to find an extra gear if and when the game is on the line.
Why they can't
They have only played one match in almost a month and evidently, a lot of rest is not necessarily a good thing. They may not be as battle-hardened as the Giants, who are full of momentum, so will need to come out of the blocks breathing fire.
When faced with high-pressure outfits, the Pies have occasionally been prone to turnovers which can hurt them given their run and gun style. The Giants bring elite pressure every week and if they bring it again tonight, the Pies may find themselves stifled.
Can anyone stop Toby Greene? The All-Australian captain is in career-best form, having booted 64 goals this season and is custom-made for the big stage. After he kicked three last week, Collingwood will need a careful plan on how to deal with him as the inspirational Giants skipper will do anything he can to will his team over the line.
GWS
Why they can win
They have all the momentum, their past three months have been box office football and they have met every challenge thrown their way. They have travelled all around Australia and won every time, indicating that this side has the sort of mental toughness to block out external crowd noise.
Their two-way gut running is a sight to behold, they genuinely never give up and are extremely hard to outwork. Throw in sky-high confidence and the fact they like to play quick, attacking football, which will match up well against the Pies, and they are a genuine chance tonight.
Finally, their stars are all firing and look like men on a mission. Toby Greene, Tom Green, Josh Kelly, Stephen Coniglio, Lachie Whitfield, Sam Taylor and Kieren Briggs are all dominating, while their role players like Toby Bedford, Lachie Ash and Jake Riccardi are in career-best form. The Giants have won 11 of their last 13 games and will absolutely fancy themselves.
Why they can't
Quite simply, they're up against the best team in the competition, who are extremely difficult to stop when at their best, at their own home ground, with 90,000 vocal and parochial fans.
The Giants have a solid forward line, however face a much tougher backline this week, marshalled by All-Australian star Darcy Moore. The Pies' defence is extremely well-drilled, tough and just a little bit antagonistic. All of this will go up a notch in the heat of finals where any lapses in discipline are punished.
Finally, can they stop Nick Daicos? The last time they met, Daicos had 41 possessions with 539 metres gained. The Brownlow Medal contender has been out of action due to injury but it's a safe bet that the ultra-professional 20-year-old will be cherry-ripe for the biggest game of his career. The Giants have struggled to contain him in the past and there's every chance Friday night will be more of the same.