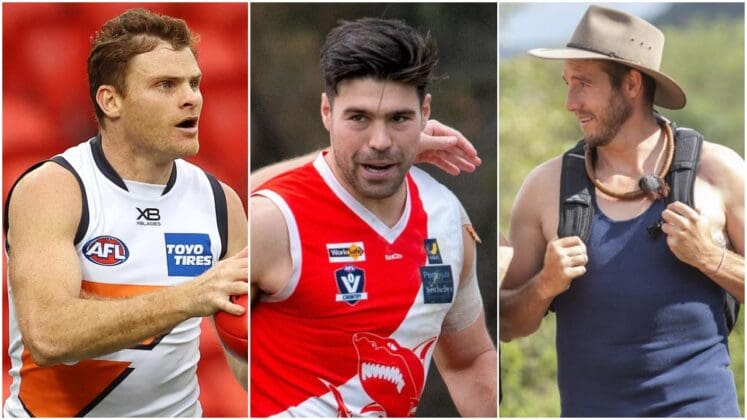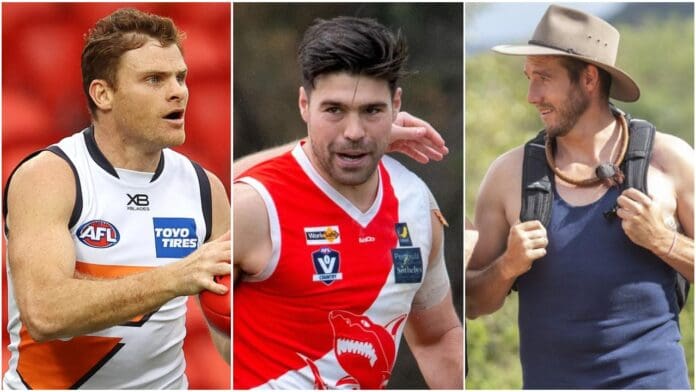 The 2010 premiership is one of the most notable wins for Collingwood. It is the only flag that their supporters under the age of 30 have witnessed, with much heartbreak before and since.
We don't have to go into that though, everyone knows the countless times of being runner-up and even prelim exits.
It marked the club's 15th V/AFL premiership and was a replay of the previous week's drawn Grand Final, the last of its kind.
The 22-man side named for the occasion is one full of characters and professionals. Join us as we take a look back and ponder the question, 'where are they now'?
SEE ALSO: GWS's first ever 22 - Where are they now?
Currently Listed
Only two of the flag-winning Pies are still playing today at Collingwood, current captain Scott Pendlebury and vice-captain Steele Sidebottom.
Neither need too much of an introduction, but here we go.
Pendlebury will go down as one of, if not the best players to pull on the black and white.
He has played the most games in club history and captained the most as well. The Norm Smith medallist of the 2010 Grand Final replay, Pendlebury is also a six-time All-Australian, five-time Copeland Trophy (best and fairest) winner and is tied for most ANZAC Day Medal wins with three.
Sidebottom, who was only in his second season when the Pies won the flag, has since become a star for the club. He is a two time Copeland Trophy winner, the latter coming in 2018.
That same year Sidebottom earned himself an All-Australian selection, came second in the Brownlow Medal count and won the Gary Ayres Award as best finals player.
Listed Elsewhere
One other player is currently on an AFL list.
This may come as a surprise to some, but Tyson Goldsack is currently listed at Port Adelaide.
The first goal scorer of the 2010 Grand Final replay, retired from AFL in 2019 after 165 games with the Magpies.
In 2020, Goldsack joined the Port Adelaide Magpies in the SANFL, captaining the side and working as a development coach.
He came out of retirement and was drafted by Port Adelaide in the Rookie Draft, but has yet to appear for the club.
He has provided valuable on-field leadership and guidance for Port Adelaide's young players in 2021.
No longer playing
Nick Maxwell
The captain of the side in 2010, Nick Maxwell continued his career for another four years after the flag.
He handed over the captaincy to Pendlebury after the 2013 season and would retire in 2014 following an ankle injury.
Later that year, Maxwell joined NRL side Melbourne Storm as a leadership development coach. Here he oversaw Storm's Emerging Leadership program and helped develop the off-field preparation and skills of young players.
In 2015, he joined the GWS Giants in a similar leadership role and in 2017, he returned to the Pies as a leadership and culture manager. He has also worked as a runner and bench assistant.
Maxwell was an important part in changing the culture at Collingwood, and move that saw them challenge for a flag in 2018.
Today, Maxwell still performs in this role at the Pies for both their AFL and AFLW sides.
Nathan Brown
Nathan Brown was playing fullback for the Pies when they won the premiership, but he almost didn't play.
In the prelim win against Geelong, Brown managed only two disposals and was subsequently dropped for the decider.
First choice fullback, Simon Prestigiacomo was a late out due to injury, and Brown found himself back in the team for both grand finals.
After the 2010 flag, Brown stayed at the Pies before moving to St Kilda as a free agent at the end of 2016.
He retired in 2020, after 183 games (130 with Collingwood).
This year, Brown was inducted as a life member at the Pies.
Nathan Brown has been inducted as a Life Member. 🤝

"I'm so glad I ended up at Collingwood." pic.twitter.com/mhR1PVIWMf

— Collingwood FC (@CollingwoodFC) February 2, 2021
Alan Toovey
Alan "Possum Eyes" Toovey, a cult figure amongst Pies supporters, found 2010 his highlight year, playing a crucial role down back, culminating in a flag.
Toovey retired in 2016 after 159 games and was inducted as a life member the following year.
It's Monday, but to us, it's Toovesday. Congrats to our newest Life Member, the recently retired Alan Toovey #piesagm pic.twitter.com/x8WkT8fqlA

— Collingwood FC (@CollingwoodFC) February 27, 2017
Catching up with the Pies in the afterglow of his induction, Toovey revealed he travelled a lot in his time after footy, and was moving to NSW.
Héritier Lumumba
Instrumental in Collingwood's 2010 season and grand final victory, Héritier Lumumba also found himself awarded with an All-Australian selection that year.
Following 2010, Lumumba remained a Pie until 2014, when he parted ways with the club after issues with club and management.
He was also AFL's first multicultural ambassador.
Lumumba then played for Melbourne until 2016, when he retired due to concussion symptoms after 223 games (199 at the Pies).
As for what he's done since playing, it is well documented.
Lumumba has expressed his vocal fight in standing up against racism and continues to do so today.
In 2017, a documentary titled Fair Game, was released about his life and his experience with racism in footy.
In this, Lumumba revealed the racism he endured while at Collingwood, which was brought to light again in 2020.
There is a lot to this story to share in this type of article, but essentially, it lead to the Do Better report on Collingwood leaking, which found the club guilty of systemic racism.
Lumumba is understood to be currently living in Los Angeles, United States of America.
Ben Reid
Ben Reid had a good story for the 2010 season. He only played eight games prior to the season in his three-year career. Reid managed to remain in the team that year, playing 21 of a possible 26 games.
In the grand final replay, Reid injured himself but played on. It was later revealed he played through a fractured fibula.
Reid would find himself playing good footy for a couple of years, and was an All-Australian centre-half back in 2011.
His later years were plagued with injury, retiring in 2020 after 152 games.
Recently, Reid was named the senior coach for Ovens and Murray league team the Wangaratta Magpies for the next two seasons. Reid has also been playing for the team, kicking 26 goals in seven games, but the season has  since been cancelled.
Earlier this year, Reid was inducted as a life member.
Ben Reid has been inducted as a Life Member. 🤩

"Thanks to the footy club in general, it's been unreal." pic.twitter.com/WLQIfofGre

— Collingwood FC (@CollingwoodFC) February 2, 2021
Heath Shaw
"He came up behind him like a librarian. He never heard him!"
Heath Shaw gave Nick Riewoldt nightmares with this smother!

Re-live some of the best finals moments: https://t.co/SbvIjYJkpB pic.twitter.com/4vXXu0AvUV

— AFL (@AFL) September 28, 2018
Arguably the most famous moment of the game, and one of the best finals moments ever, was credited to Heath Shaw.
Following 2010, Shaw continued to be a star player.
He was traded to the Giants at the end of 2013 for Taylor Adams, while at the Giants, Shaw may have played his best footy.
He became a key part of the Giants' young side, and was a dual All-Australian (2015, 2016).
Shaw also won the club's best and fairest in 2015 and would finish up his playing career in 2020, after 325 games, 173 at Collingwood and 152 with GWS.
Shaw joined EDFL side East Keilor this season before it was called off.
Today, Heath Shaw can be found co-hosting the Heater and Daisy Show on 7plus, alongside with former teammate Dale Thomas.
Sharrod Wellingham
One of the team's best in the 2010 decider, Sharrod Wellingham kicked two goals while also notching up 20 disposals.
At the end of 2012, he was traded to West Coast, playing a vital role in their 2015 season that saw them finish runner-up.
Wellingham was delisted in 2017, ending his career at 171 games (92 for the Pies).
After footy Wellingham worked in advertising and marketing, and today, is a fleet manager at Audi Centre Perth.
Last year Wellingham, alongside four of his other premiership teammates, were given life memberships at the club.
Five members of the 2010 premiership team - Dale Thomas, Tyson Goldsack, Jarryd Blair, Sharrod Wellingham and Darren Jolly - have received life memberships at our AGM.

Get around some of their highlights from a famous day in our club's history. pic.twitter.com/nV00LckMed

— Collingwood FC (@CollingwoodFC) February 26, 2020
Dane Swan
Another Collingwood great, who was already a star by 2010, further cemented his legacy afterwards.
That year capped off his third straight Copeland Trophy, his second All-Australian selection (five total in career) and an AFL MVP award.
Following 2010, Swan won a Brownlow in 2011 and two ANZAC Day Medals (2012, 2014).
Swan retired in 2016 due to a severe foot injury suffered in the opening game of the season.
After footy, Swan has pretty much been everywhere.
He was runner up in the 2017 I'm A Celebrity...Get Me Out of Here! reality show and was inducted as a Pies life member.
Swan has also made some suburban and country footy appearances from time to time.
In 2021, Swan joined the Jase & PJ radio show as a weekly guest, a role he has since been relived of.
Ben Johnson
Ben Johnson played a key role in the grand final, being able to nullify long-standing rival Stephen Milne in both games.
Johnson was the only player remaining from Mick Malthouse's first Collingwood game, Round 1 2000, and one of two players who also played in the 2002 and 2003 deciders.
He would retire in 2013 after 235 games, with his individual highlight being the 2006 ANZAC Day Medal.
After his playing career, Johnson moved into a commercial job with the Pies for three years.
Nowadays, Johnson is a business development executive at Blustar Global Logistics, a partner for AIG Security & AIG Just Traffic.
He is also head of corporate sales at Keyts Cleaning Services.
This year, Johnson joined EDFL side Roxburgh Park Magpies, yet another former flag Pie joining another Magpie team.
Alan Didak
The last man holding the ball when the final siren sounded. The 2010 flag capped off a career best season for fan-favourite Alan Didak.
He was the Pies' leading goal kicker that year, earned his second All-Australian selection and was a hero of the premiership win, kicking two goals.
Didak was the other player alongside Johnson who suffered heartbreak in two consecutive grand finals in 2002 and 2003.
Didak was delisted in 2013, ending his career with 218 games and 274 goals.
After footy, he was awarded life membership in 2015 and was inducted in the Collingwood Hall of Fame in 2017.
VIDEO: Funny. Emotional. Cheeky - https://t.co/0SS8GjGKYI Alan Didak presents his Hall of Fame acceptance speech #gopies pic.twitter.com/CZGjHkf0CN

— Collingwood FC (@CollingwoodFC) March 15, 2017
Didak would own his own wine company, INDI Wines, and currently a consultant at Multigroup Logistics.
Travis Cloke
Travis Cloke's inaccuracy nearly proved costly for the Pies in the drawn grand final, and it seemed to have impacted him the following week.
Cloke had a quiet grand final, with only eight touches and a behind.
However, he was quite the player when up and about, being a club champion at 20 years old, and would show it in the years that followed 2010.
Cloke would be the Pies leading goal kicker from 2011 to 2014 and earned himself dual All-Australian selections (2011, 2013).
At the end of 2016, Cloke requested a trade to the Western Bulldogs, which was granted, but he would only manage 10 games before retiring in 2017.
Cloke played a career 256 games for 452 goals.
Cloke returned to the Magpies full-time at the end of 2019, working in pathways and development, the VFL program, and also coaching specialist body and marking training with the senior players.
Last year, Cloke was laid off due to COVID cost cuts.
Luke Ball
The St Kilda star who moved to Collingwood at the end of 2009 after the Saints lost that year's decider.
Ball was one of the Pies' best on grand final day (25 disposals), and is one of the only players to have played in four consecutive grand finals with two clubs, 2009 (St Kilda), 2010 draw and replay and the 2011 Pies loss.
In 2012, Ball was elected president of the AFLPA, but his on-field fortunes simmered.
Ball had an injury plagued final three years at the Pies, retiring in 2014 due to a back injury after 223 games (81 at Collingwood).
Following his career, Ball had stints in umpiring, match review and football operations, before moving to Essendon in 2018 to oversee the VFL program and manage development.
Ball was another casualty of COVID cost cuts, losing his job after two years.
As of this year, Ball is an account manager at Partners Wealth Group and was recently one of five panel members who helped decide on the Pies new senior coach Craig McRae.
Dayne Beams
Playing in a premiership in his second season, Dayne Beams would go on to have a noteworthy career.
Beams' breakout year was 2012, which correlated with the injury of Ball, where Beams stood up to become one of the competition's elite midfielders.
The year capped off with a Copeland Trophy, an All-Australian selection and making the 22under22 team.
At the end of 2014, Beams requested a trade to Brisbane to be closer to his ill father and to play with his younger brother Claye Beams.
This trade saw Collingwood receive Jack Crisp and pick five (Jordan De Goey).
Beams would stay at Brisbane for four seasons, where he won a best and fairest and captained the side.
Beams was traded back to the Pies for two first-round draft picks following the 2018 season.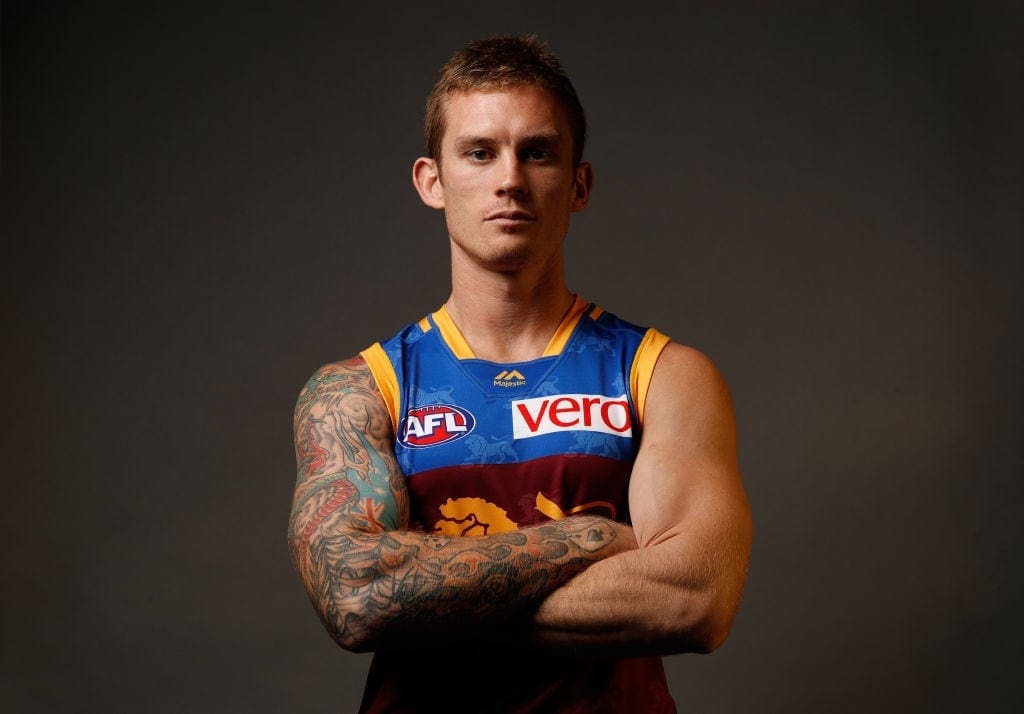 However he only managed nine games in 2019, before retiring in 2020 after battling a gambling and prescription drug addiction.
Beams played 177 games, 119 with the Pies.
Following his career, Beams has found himself enjoying art, as seen on his Instagram, and just recently was revealed to be a contestant on reality show Big Brother VIP.
Beams was also given Collingwood life membership earlier this year.
Dayne Beams has been inducted as a Life Member. 🙌 pic.twitter.com/cqc6JIbDBJ

— Collingwood FC (@CollingwoodFC) February 2, 2021
Chris Dawes
Collingwood's starting full-forward on the day, Chris Dawes kicked two goals during the grand final.
Dawes remained at the Pies before being traded to Melbourne in 2012.
At Melbourne, Dawes highlight was being the leading goal kicker in 2014.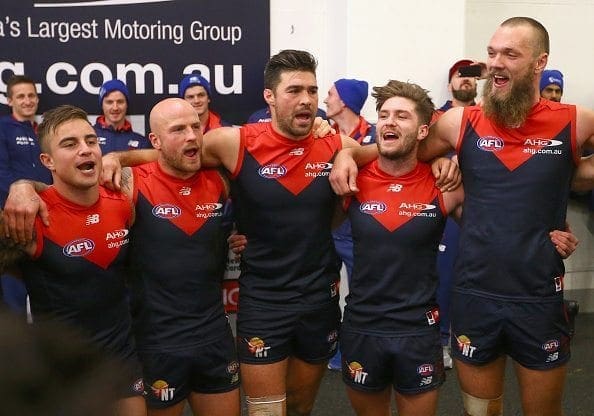 He was delisted at the end of 2016, after 121 games (71 at Magpies).
After AFL, Dawes signed with Sorrento in the Mornington Peninsula Nepean Football League in 2017, while also working as a relationship manager at Heritage Finance.
Today, Dawes lives in New York, USA, where he works as a manager at Michael Page, an employment agency.
Darren Jolly
Comprehensively beating Saints tall Ben McEvoy and all others who competed in a ruck contest on the day, Darren Jolly was one of the Pies' best on the day.
The 2010 flag was Jolly's second, winning a premiership with Sydney in 2005.
His first two seasons at Collingwood actually mirrored his first two at the Swans. A premiership followed by a grand final loss.
Jolly was delisted in 2013, after 237 games at three clubs (71 at Pies), having first played for the Demons.
Following footy, Jolly is well known for competing on reality show The Block with now ex-wife Deanne. They competed on two seasons, winning in 2015.
More recently Jolly was given life membership at Collingwood last year, where he opened up about his personal life and struggles during a speech.
Darren Jolly spoke with raw emotion at the Collingwood AGM about his post-footy struggles after receiving his Pies life membership.

Catch up with the full speech here 👉 https://t.co/uzD69fFhBq pic.twitter.com/QmL4CyRa4p

— Triple M Footy (@triplemfooty) February 27, 2020
Dale Thomas
Dale "Daisy" Thomas was a fan favourite, especially among kids, during his days at Collingwood.
Thomas was one of the Pies best in the premiership win, with 27 disposals and a goal, and finished third in the Norm Smith Medal count, behind Sidebottom and winner Pendlebury.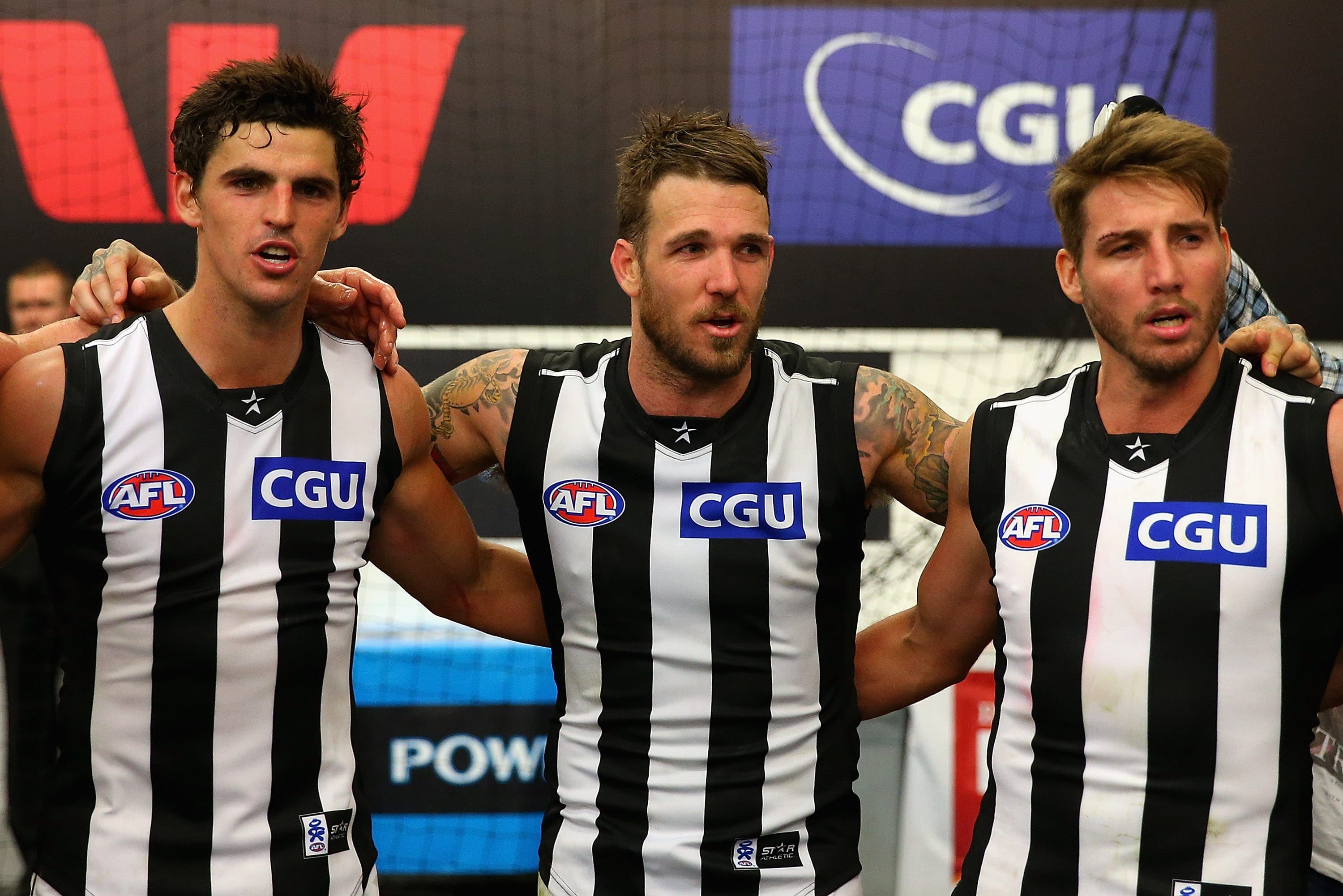 Following 2010, Daisy remained a key part of the Pies team, winning All-Australian honours in 2011, before moving to rival Carlton at the end of 2013.
Thomas retired in 2019 after 258 games, 157 at Collingwood and 101 at the Blues.
He is one of few players to play 100 games for both teams.
After retiring, Thomas was a contestant on the 2020 edition of I'm a Celebrity...Get Me Out of Here!, yet another flag Pie competing on reality tv.
Today Daisy can be seen and heard across several AFL media circles, including Triple M and Pointsbet, while also co-hosting the Heater and Daisy Show with Heath Shaw.
Little Tilly Thomas joined Heater & Daisy to talk all things Collingwood and Carlton 😂 pic.twitter.com/uYGf9JoVxm

— 7AFL (@7AFL) September 6, 2021
Jarryd Blair
Winning a flag in his first season, Jarryd Blair was the second youngest player on the day behind Sidebottom.
Blair was a consistent name in the side until his last two seasons, falling out of favour and just playing 14 games (two in 2018).
He was delisted in 2018, which garnered significant media attention later on as Blair was a feature name in the ABC documentary Collingwood: From the Inside Out.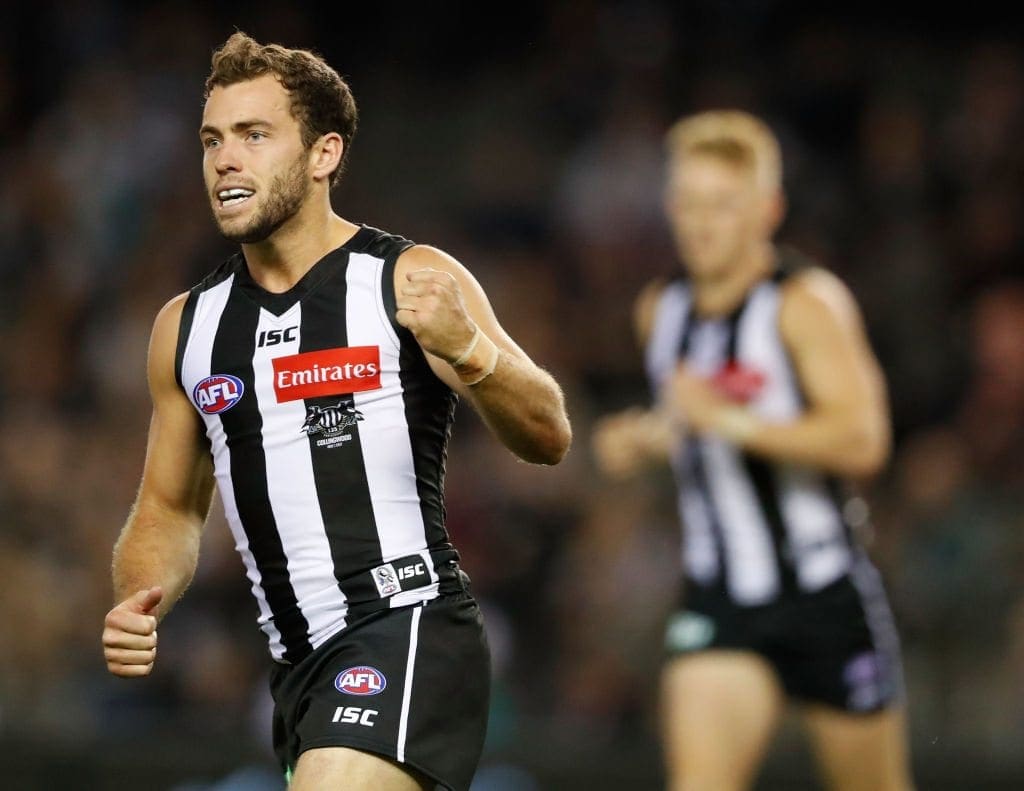 The film followed coach Nathan Buckley, Blair, Adam Treloar and Brodie Grundy during the Pies' 2018 season.
Today Blair finds himself working in operations and business development at IDIG Developments.
Brent Macaffer
Probably one of the more obscure players to win a premiership, Brent Macaffer only had three seasons where he was regularly in the team, including 2010.
Macaffer was drafted in the 2006 draft, but didn't debut until 2009.
He played over 20 games in 2010, 2013 and 2014, but only a total of 13 outside of those years, including no games in 2012 and 2015.
Macaffer retired at the end of 2016, and would play in the Northern Football League for Eltham in 2018.
In 2019, Macaffer was given life membership at the club.
From a rookie to premiership player, Brent Macaffer was honoured with @CollingwoodFC life membership tonight.

Watch the highlights from his memorable career. pic.twitter.com/DTI13qRrXl

— Collingwood FC (@CollingwoodFC) February 13, 2019
Leigh Brown
Winning a premiership at his third club after 10 years in the competition, Leigh Brown was an important part of the Pies push to the premiership.
He was named "Mr Fix It" for his variety of roles that year.
Brown retired at the end of 2011 after 246 games, 63 at Fremantle, 118 at North Melbourne and 65 at Collingwood.
Brown moved into a coaching role, becoming the Demons' forward line coach before coaching in the TAC cup and youth football.