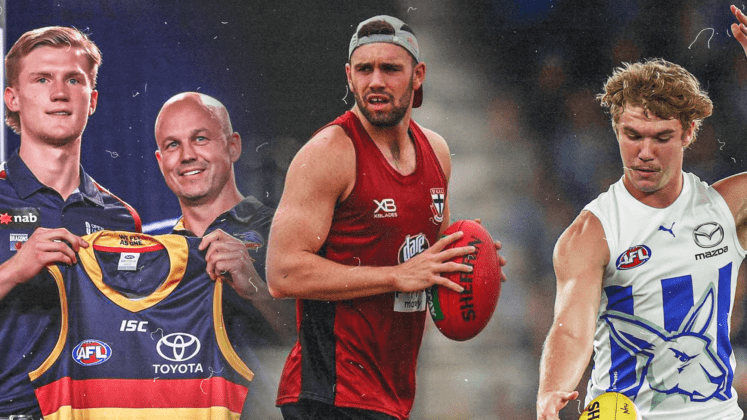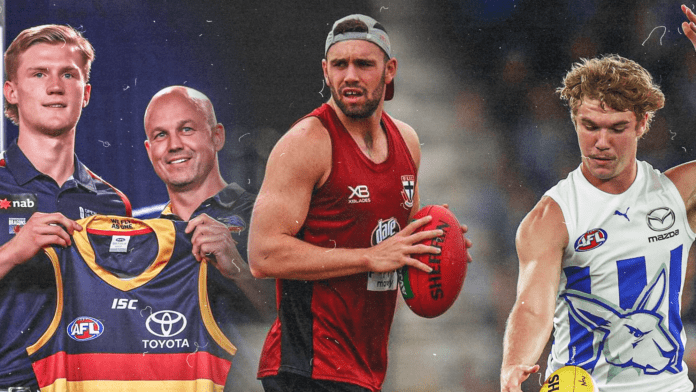 Bare-armed but clad in suit pants, one by one, they filed upstairs for their mugshots.
Each resplendent in their new colours and cradling a Sherrin bearing their name, these teenagers from as far west as Dunsborough and everywhere south of Coorparoo were shifted like magnets on a coach's whiteboard.
This way, please. That way now. Strike a pose, thanks. The cost of a pound of flesh had begun to sink in.
It was not, however, enough for kids these days to be simply seen. No, they must also be heard.
One by one, each still holding their personalised pills close, the teenagers selected with the first 13 picks of the 2022 AFL Draft stepped up to the lectern and put their minor media training to the test.
While some proved eloquent and others even loquacious, sheepish grins proved di rigueur, buttressed by the usual 'ums' and 'ahs' and capped off with more shoe-gazing than a Verve gig. The massive weight that comes with massive expectations was plain to see on each set of toneless shoulders.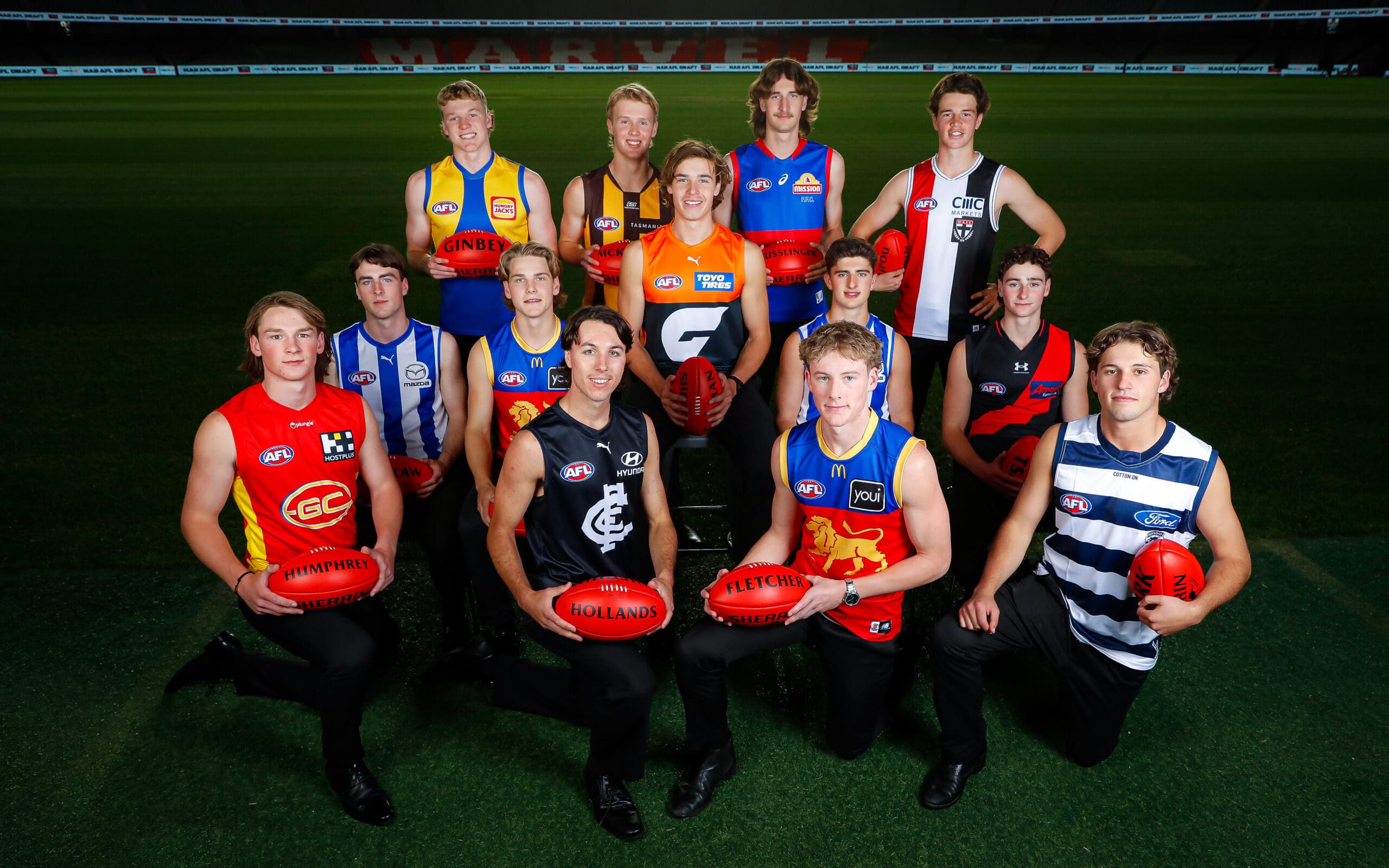 For what it's worth
Between the year-round spruiking and the opening night of the uber-manicured event beamed into lounge rooms right around the country, it isn't hard to see why footy fans get carried away with the potential of draftees.
The draft is a time when the hopes of cellar dwellers, reigning premiers and every other side in between spring eternal as the wins and losses columns sit clearer than an outback horizon.
Yet, as history has proven, many of these talented teens have not, and will not, be any side's messiahs. No, they are just kids with potential at this stage. Nothing more.
Though fans hold the highest of hopes that their early picks will fledge to become guns, prize-winners, premiership players and future captains, what is it that the one-eyed mass can expect from these kids? What has history shown to be fair and reasonable markers?
SEE ALSO: Is it possible to have too many first-round draft picks?
Between the dawn of the 2010 AFL Draft and the close of 2022's opening round, 275 players have seen their league careers commence as a result of being selected with a first-round draft pick.
And while it is true that players from this group have combined to claim three Browlows, a trifecta of Colemans, a pair of Norms and nine of the past 13 Rising Star Awards, the vast majority of the collective have failed to set the footy landscape ablaze, or in many other cases, even offer a flicker.
After all, for every Greene, Petracca and Bontempelli selected, there are many more understudies and future cast-offs picked up around them.
Of these 275 players selected, only 135 - 49.1 per cent - still call their first clubs home heading into the 2024 season, with many either moving clubs or out of the league entirely.
And it is here, amongst the wheeling, the dealing and the devastating exit interviews, that the sum value of a first-round draftee can be seen as clear as crystal within the mire.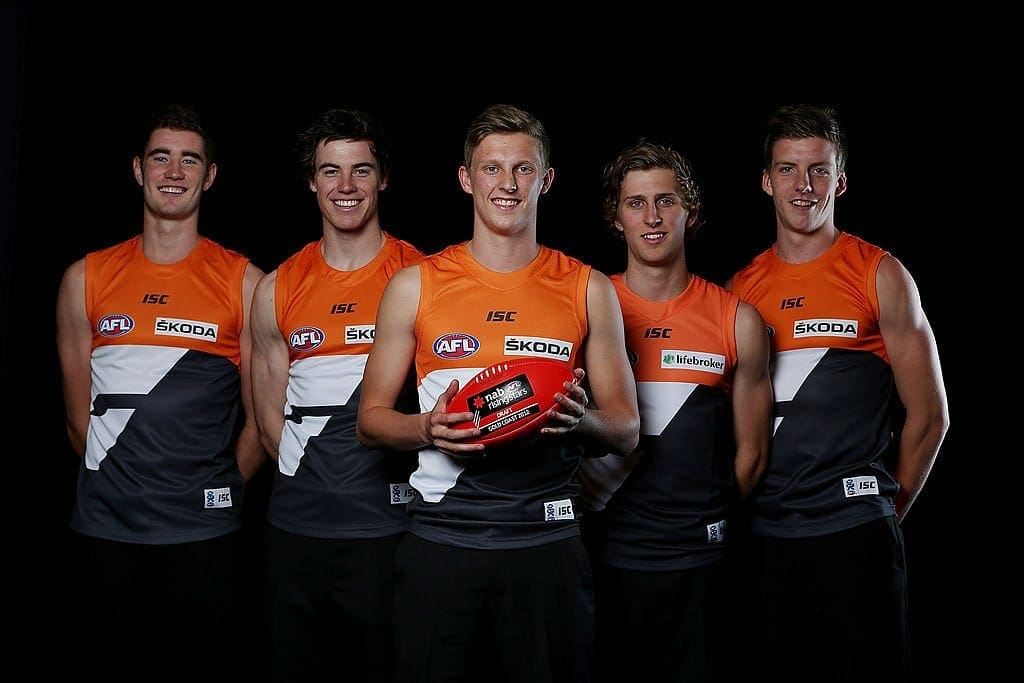 Movin' on out
In this age of the sponsored trade period and its round-the-clock rumour mill, there is no greater currency than a first-round pick.
Not only do they represent the credit used to select the best and the brightest names every November, but they also act as the marker of quality for names on the trade table.
Should a list manager trade a first-rounder for a player, they are likely to be adding a player with a solid CV that will likely add polish to their new roster.
Should they trade two or more for another name, then they have traded their club's future on an out-and-out gun, someone who has runs on the board and warrants their price tag.
And, of course, vice versa. No list boss worth their salt would entertain any conversations regarding any of their contracted players without first asking for a King's ransom of firsts.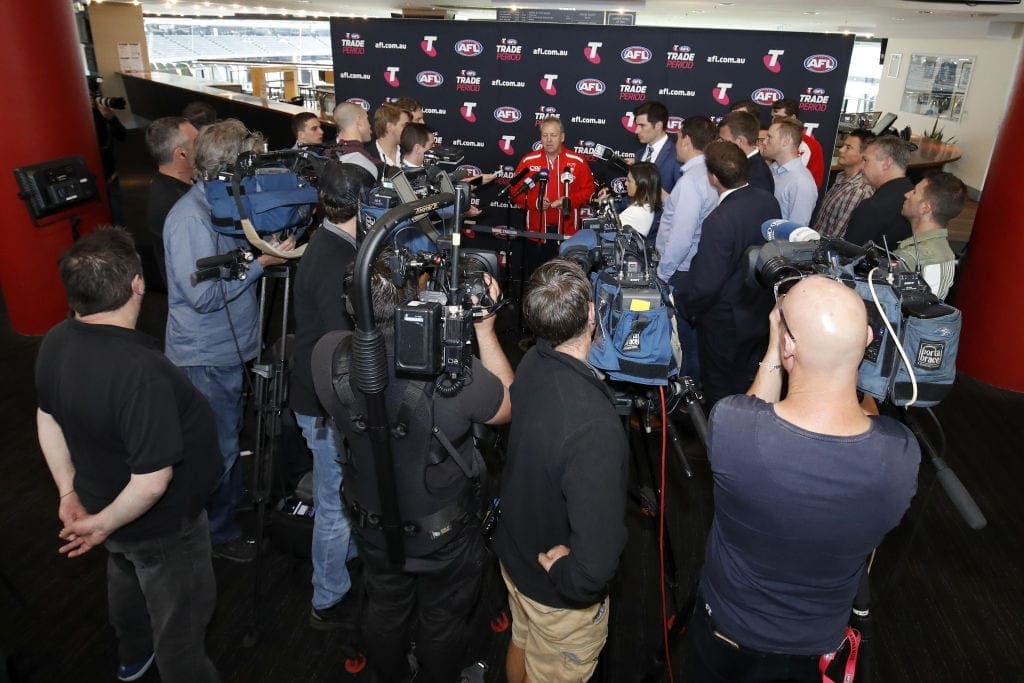 Yet, in a superb show of irony, it is often former first-round draftees who are moved out in an effort to gift their former clubs another bite at the apple.
But while these early picks act as the currency to barter, buy and sell, what exactly are clubs getting once they take them to the draft, and after all is said and done, are they getting bang for their buck?
Between the dawn of the 2010 AFL Draft and the close of 2021's opening round, 103 of the 275 players selected with first-round picks - 37.45 per cent of the whole - have made tracks from their first clubs, either traded out, delisted and re-selected or having exercised their rights as free agents.
Of this ever-growing group on the search for greener pastures, players selected with first-round picks average their first move from their first club after just 52.4 games.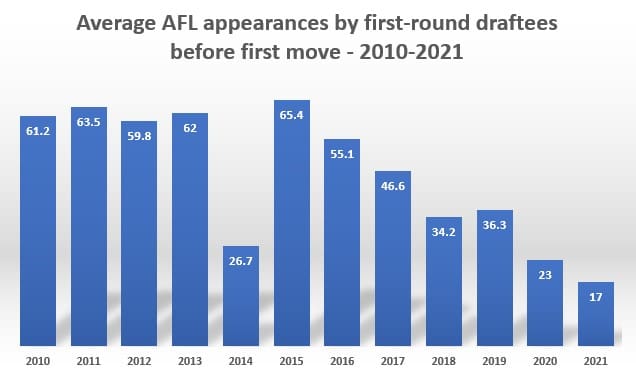 It should also be mentioned that these players average only four seasons with the clubs that originally drafted them, meaning almost 40 per cent of first-round draftees have either been cast off or have opted out, in most cases, by their 22nd birthday.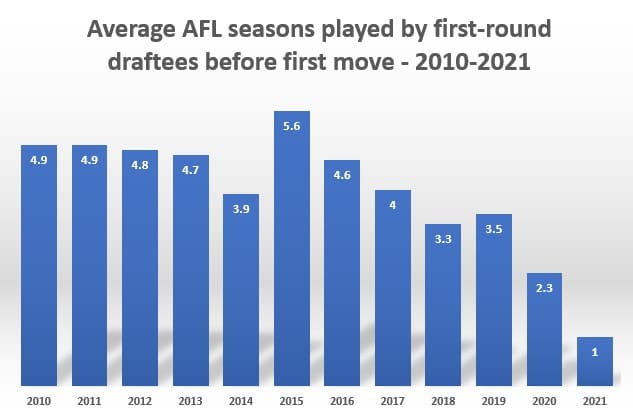 As each of these graphs shows, there appears to be a trend of clubs cutting bait with these youngsters earlier on, with 14 former first-rounders exiting since 2018.
What, though, can we chalk this up to? Is it merely coincidence, or are there stronger ties in play?
Homeward bound
While it is true that some young players are eventually shown the door after failing to live up to early billing, others call their own shots, requesting trades when it suits them, irrespective of their employer's needs, wants and demands.
To the naked eye, there appears to be a growing trend of good young players requesting moves home, whether that be back across state borders or to clubs already within their states of origin that provide more familiar surroundings.
However, do the numbers actually support this theory?
Of the 103 first-round draftees that have made off-season moves since the 2010 draft, 54 - 52.4 per cent - made the move home, joining clubs in and around their old stomping grounds at the first time of asking.
Although a high-profile player or two has kept the pot stirred of late, these figures have remained extraordinarily stable throughout the past decade and change.
Between 2010 and 2015, 75 players left their original clubs, with 39 making moves home - 52 per cent of the whole.
And between 2016 and 2021, thanks in large part to Izak Rankine, Luke Jackson and Jason Horne-Francis, exactly half of the 28 players moving clubs made moves back home.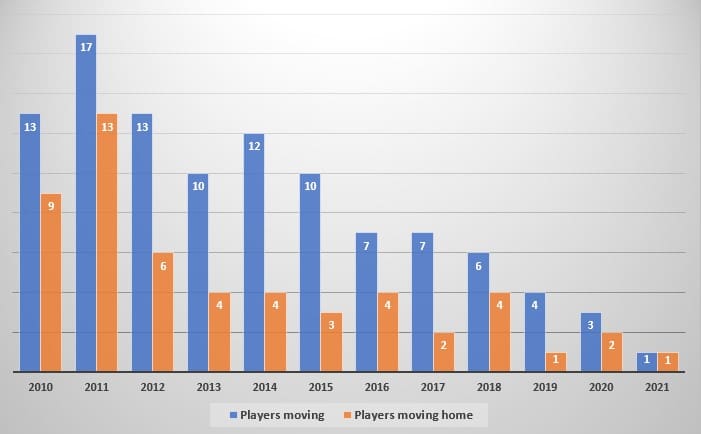 And with 17 of the 103 players to be traded, re-listed or make tracks as free agents moving strictly within their states of origin, it means that just shy of 70 per cent of first-round draftees that have changed clubs between 2010 and 2021 are now plying their trades for teams within their home states.
So clear is this trend, certain clubs have begun drafting far more from within arm's reach in an effort to avoid losing guns to homesickness.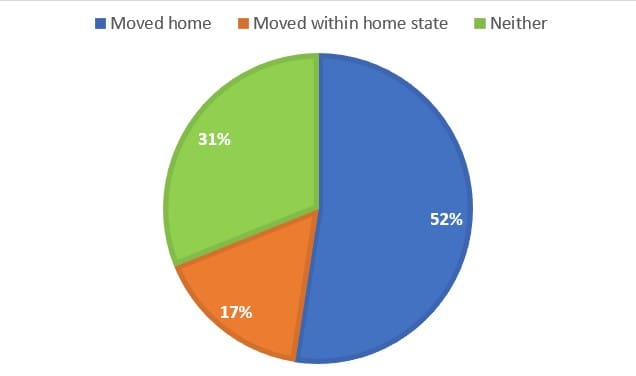 Shifts in the landscape, such as free agency, have seen players, and their management, earn a far greater say in where they play their football than their contemporaries from yesteryear.
However, for so many others initially drafted around them, some of whom they even shared a locker room with, this is a luxury that was just never afforded.
This is the end
As mentioned, there numerous ways in which players can make their way from one club to another.
Yet, there is also a fleet of ways in which players can find themselves without a club at all.
Some, in the end, didn't fit what their original side was after. Others, it sometimes seems, never really wanted to fit in. A plethora of others just weren't up to snuff; rated too highly from the outset, perhaps. And for the luckless, injuries made up their minds for them.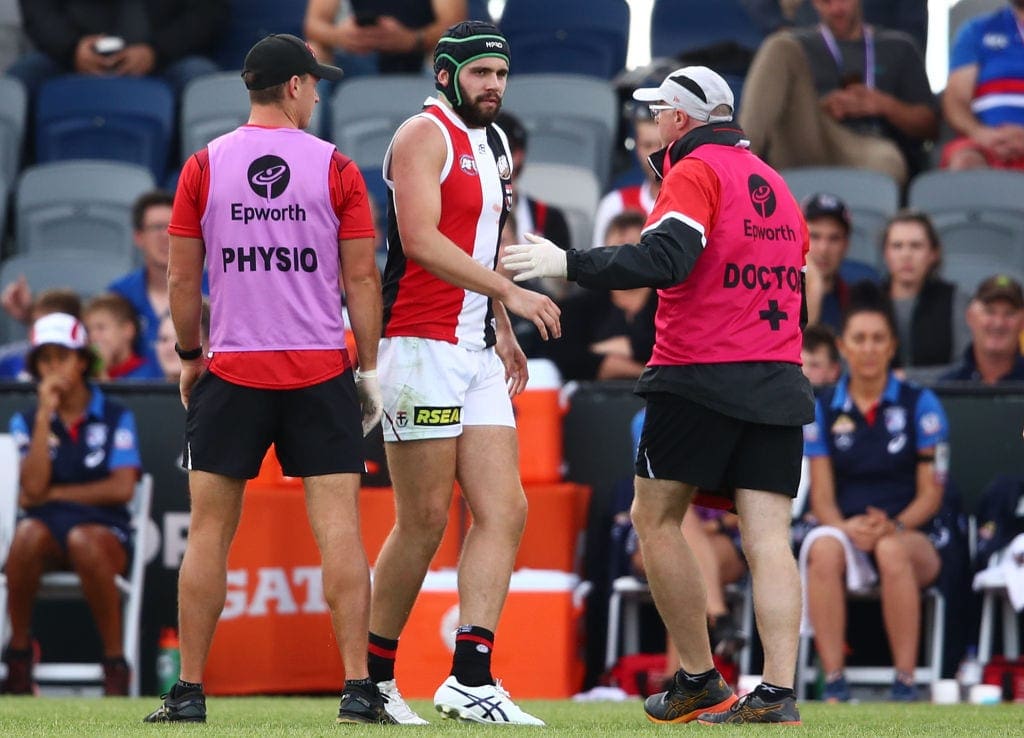 Like any kind of lottery, trackside punt or country pub chook raffle, the AFL Draft is somewhat of a gamble, with no clubs ever concretely certain as to what it is they are drafting.
Between the start of the 2010 AFL Draft and the close of 2019's iteration, 81 players taken with first-round selections have found their way out of the league, meaning that 60 per cent of players who are no longer listed by their original club are no longer listed anywhere in the league.
And as time progresses, the point at which these former big league prospects find their dreams dashed has continued to creep unnervingly closer.
Prior to clubs welcoming a new draft class next on Monday, these once-touted talents have found themselves seeking alternative employment after an average of just 53.7 AFL games.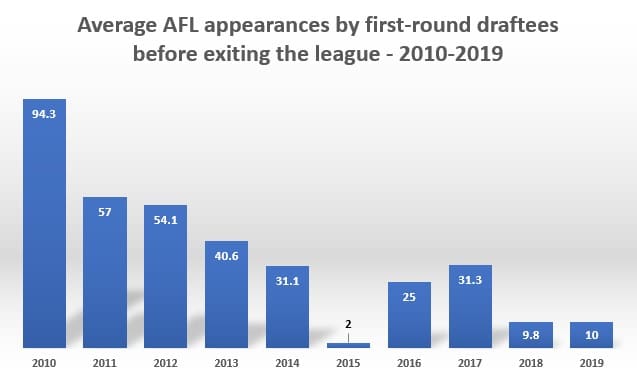 And as highlighted below, careers that once lasted an average of 6.9 seasons for those drafted between 2010 and 2014 have begun to close at a rate of 4.4 since 2016.
Of course, the proximity to the present plays a role in this stark decrease, and with so many careers still active, there is still plenty to play out.
Still, with 2018 first-rounders Ely Smith and Jez McLennan failing to even earn a single senior appearance between them - an unwanted feat not matched since Lucas Cook in 2010 - one doesn't need to look far to see fresh bait being cut.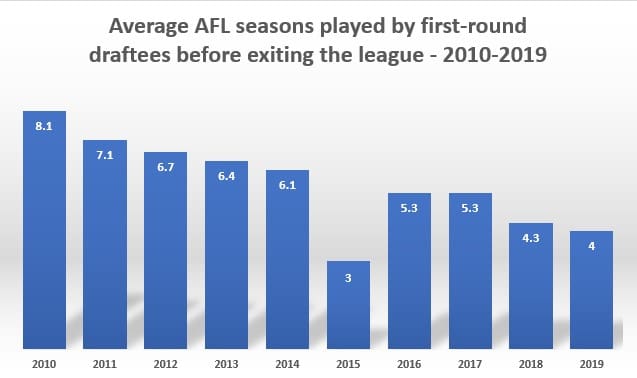 With the rookie, pre-season and mid-season drafts, as well as the pre-season supplemental signing period available, many of these once-highly-touted talents can theoretically earn a second chance at their AFL dream after being delisted by their original clubs.
However, only four names have ever earned another call-up via these means: Harley Bennell (2019 SSP), Paddy McCartin (2021 SSP), Liam Stocker (2022 SSP) and Sam Durdin (2022 Mid-Season Draft).
This means that for players that are picked early only to be dumped even earlier, you have a greater than 1 in 20 shot at landing an AFL lifeline, or about the same odds as landing the meat tray at the Noojee pub in late September: pretty good, but far from a sure thing.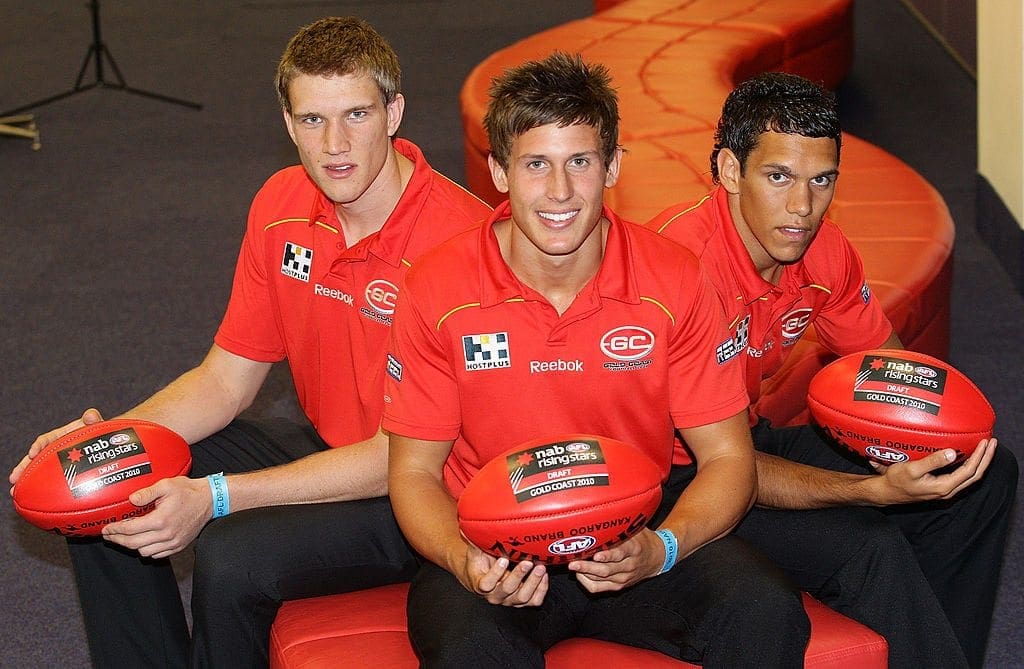 Of the 21 teenagers who had their dreams realised last November after being selected in the draft's opening round, nine of them are yet to make 10 or more senior appearances, five of whom are still to make their AFL debuts.
But while Jedd Busslinger, Matthew Jefferson, Edward Allan, Jacob Konstanty and Darcy Jones each wait for their opportunity to first feel the respective roars of the Docklands, 'G or Showgrounds, they are another year older and another year closer to the end.
Their sheen has unfairly begun to dull, with so much already made of this year's draft crop, and that familiar weight of expectation already transferring into a burden.
So before this month's draft, remember that while it is the most wonderful time of the year, a time of mock drafts, untethered comparisons and boundless dreams, for the sake of your sanity and the joints of these draftees, please, temper your expectations, teenaged shoulders aren't built to carry so much.