What do you call a group of South Australians?
Is there a collective noun for Croweaters available?
Is it a string? A series of South Aussies? Or, given the plethora of churches stamped across the state, does a congregation or a chorus better fit the bill?
For a time, the answer appeared obvious.
Under the scathing eye of Malcolm Blight, the Adelaide Crows lived up to their own spruiking, becoming not only the pride of South Australia, but earning the respect - if not admiration - of the nation on the whole.
A murderous troupe, Blight's pride crossed into Victoria with chips on their shoulder before leaving with cups in their laps in back-to-back Septembers.
The shared ethos of Blight's sides was evident.
Defiant. Multifaceted. Resilient.
These pillars were at their most palpable during the 1997 AFL Finals series when the Crows came from behind in three consecutive weeks, eventually slaying the Saints on AFL Grand Final day, even without their deity, Tony Modra, at full forward.
The DNA of these premiership units was also clear to the naked eye. Blight's teams not only knew one another but they were familiar with their surroundings. The sort of players that wouldn't baulk at a pie floater when on offer.
These teams were led by South Australians. They were stumped with South Australians. They were coached by South Australian royalty. These were virtual state sides.
Adelaide entered its history-making 1997 season with a 44-man squad. Of this group, 30 were homegrown or had played SANFL football prior to being drafted, making up 68.2 per cent of Blight's list.
With stars like Darren Jarman, Shaun Rehn, and Mark Ricciuto running it back in 1998, this majority inched out to 68.9 per cent in a season capped with the club's second straight cup.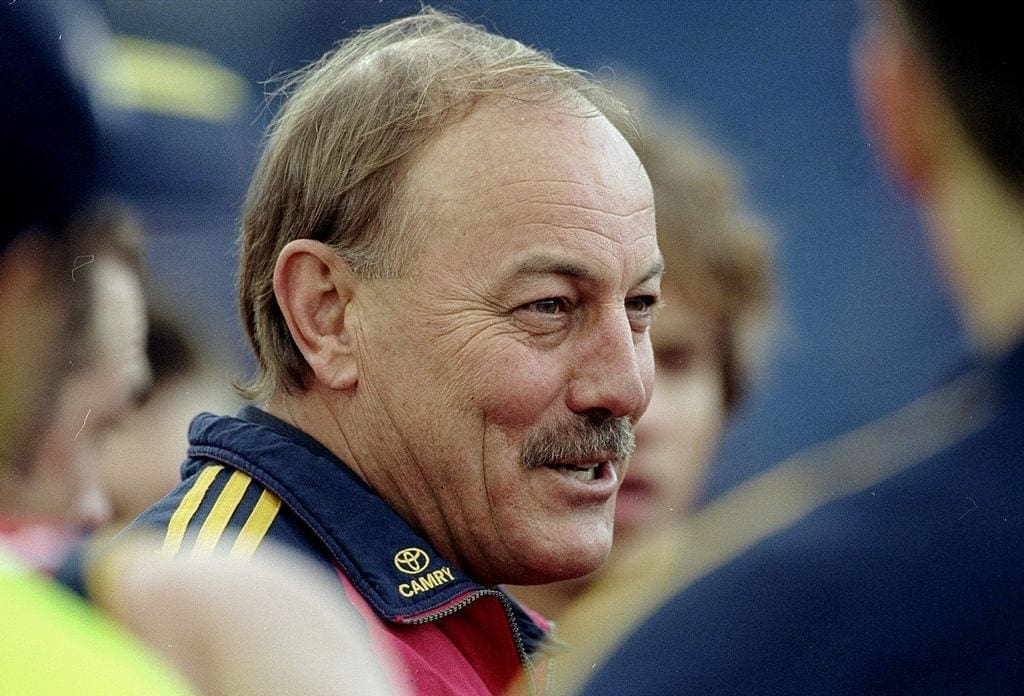 In the aftermath of these premierships and into the club's post-camp era, this narrow, yet sound, recruitment policy was deviated from, with the football department casting a wider net as opposition sides ramped up their own raids of Croweater territory.
Even at the Crows' contemporary zenith, a lack of local flavour was stark. Though far from an altering factor, it is worth noting that of Adelaide's 2017 AFL Grand Final side that ran out of legs against Richmond, only five of the day's 22 had South Australian roots.
But, like the return of frittatas and deviled eggs, everything old appears new again in the Festival State, with local produce now back on the menu.
The revamp began in December of 2020, following the arrival of fringe Giant, Jackson Hately, ironically at a time when South Australia's borders resembled an iron curtain.
The pivot gained momentum in the pair of off-seasons to come after Jordan Dawson and Izak Rankine returned home on healthy deals.
If Dawson's departure from Sydney in 2021 added weight to the reprisal, Rankine's opt-out at Carrara all but confirmed it. Any seeds of doubt were roasted during the last fortnight with Dawson announced as Rory Sloane's replacement as Adelaide captain; a promotion that saw the Sturt product become the face of a club with a dusted-off blueprint.
SEE ALSO: Every AFL team's best 23 for '23 - Adelaide Crows
Entering the 2023 season, 19 of Adelaide's 45-man roster can lay claim to being born in the state or bred in the SANFL. While still a far cry from Blight's 'Locals Only' squads of the late 90s, 42.2 per cent of the Crows' current crop are as South Australian as stobie poles.
And, when considering just those with contracts beyond the end of the season, this figure expands marginally to 44.4 per cent.
"I think South Australia is just a magnificent place to live. I hope we can keep it a secret," Crows head coach Matthew Nicks told The Adelaide Advertiser in the wake of Dawson's elevation.
"It is nice to have that, that young South Australian footballers want to come back."
After taking the reins as head coach in October 2019, Nicks, along with list boss Justin Reid and recruiting manager Hamish Ogilvie, enacted the ploy to bring the SANFL's brightest to West Lakes.
Since parting with Eddie Betts, Hugh Greenwood, Sam Jacobs, Josh Jenkins, and Alex Keath during the 2019 trade period, Adelaide has brought a total of 31 players on its list via all forms of draft, free agency, and the trade table.
Of this incoming group, 14 were born and raised in South Australia, representing 45.2 per cent of the whole.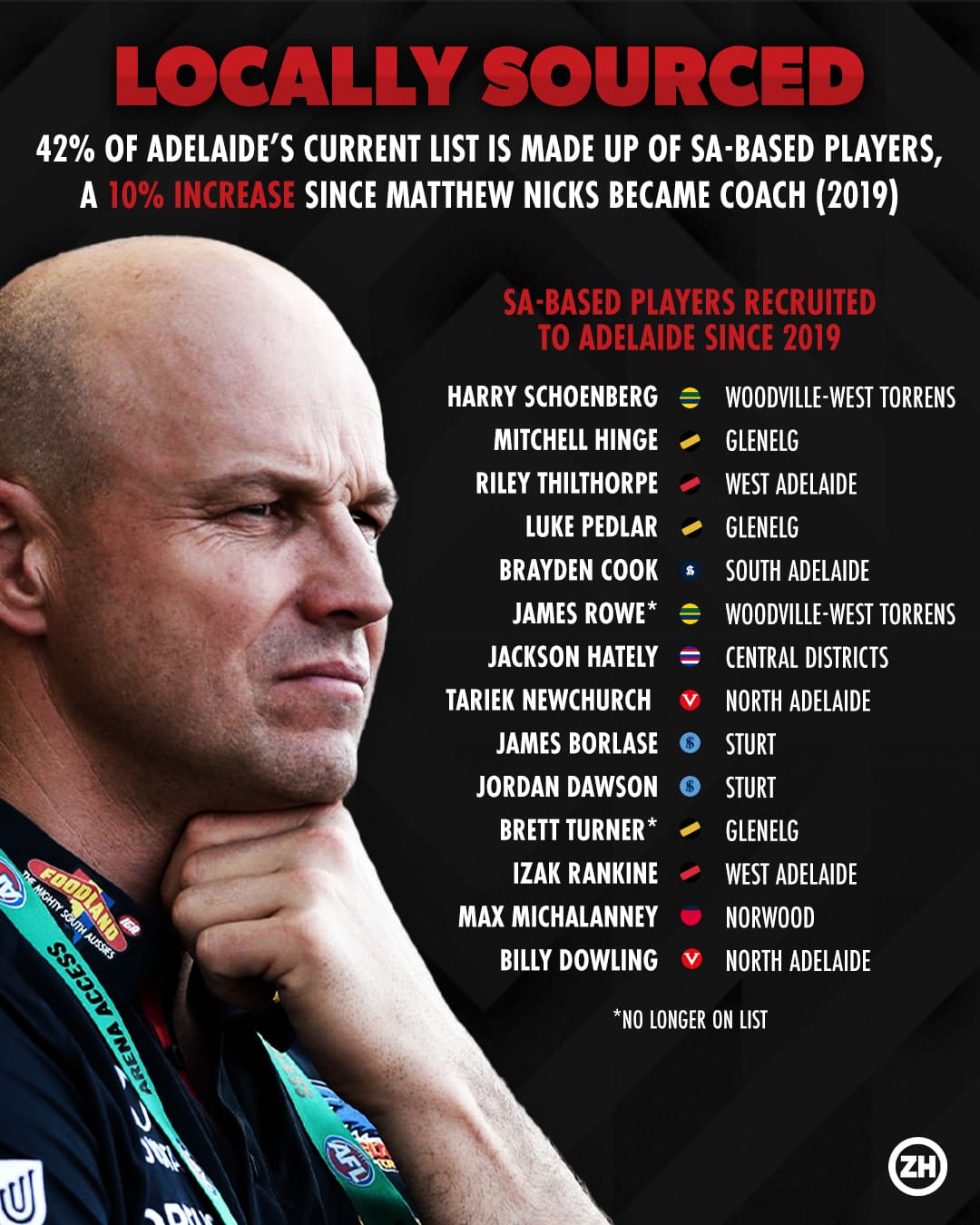 In the four years prior to Nicks' ascent to the top job, Adelaide took a scattergun approach when luring talent, casting a wider net across borders and age brackets.
Between 2015 and 2018, Ogilvie scouted and Reid recruited 28 players, only nine of whom (32.1 per cent) already called South Australia home - a figure that has seen a 10.4 per cent spike throughout the Nicks era.

This shift back to tried and true means might not be a coincidence, but according to the architect himself, the Crows won't be shopping solely at Foodland in future off-seasons.
"I think if you look at our list and look at the balance of South Australians to interstate players we'd probably be adding in that space," Nicks added.
"We will pick the best talent regardless of where they are born or where they grew up but someone who is familiar with the state and understands what comes with playing footy in South Australia, it can only benefit."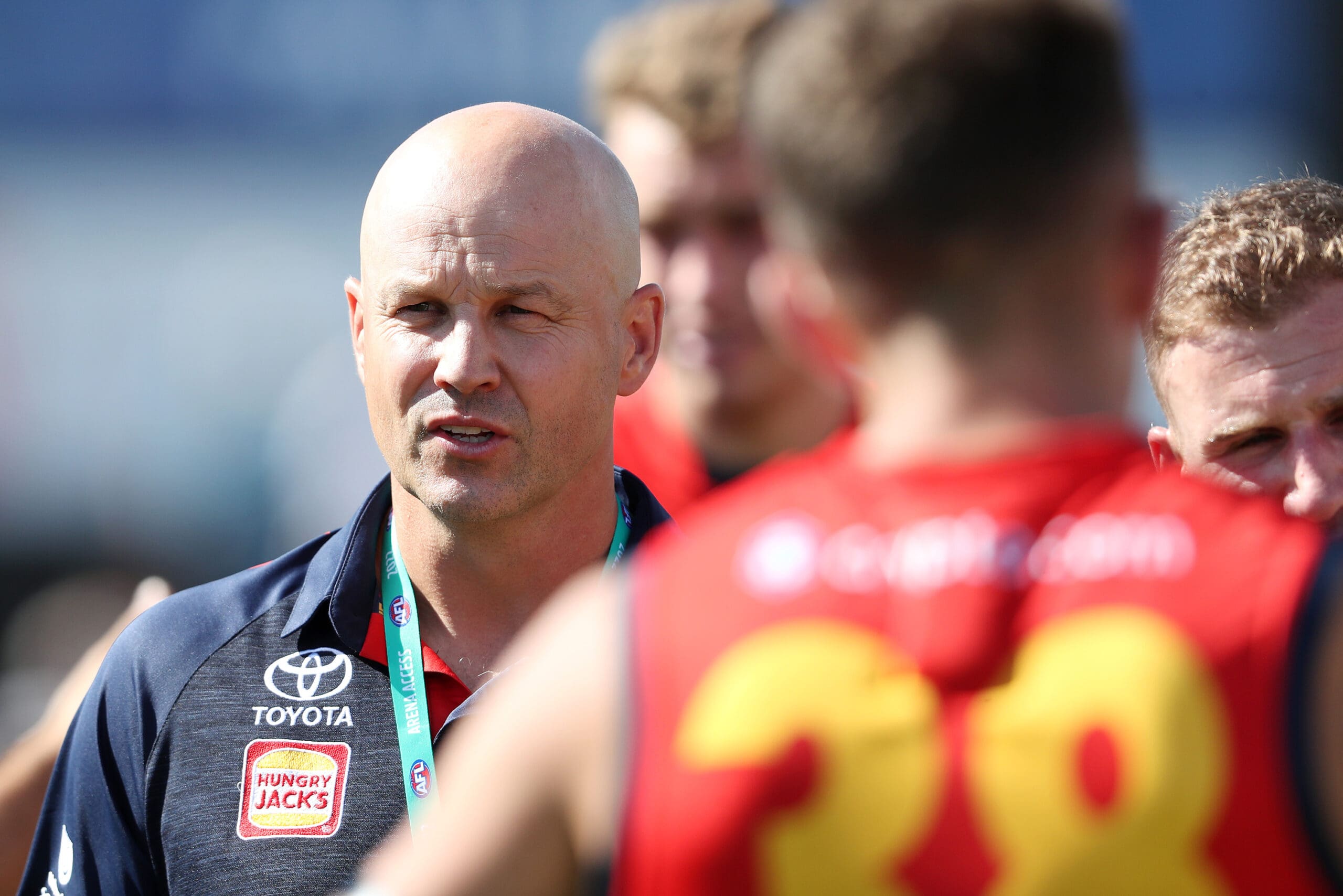 On the surface, it makes sense for Nicks and company to have Blight's numbers in their headlights. Aside from Adelaide's trifecta of AFLW cups, Blight's silverware is all that is left sitting in the Crows' cabinet.
But even if there remains some commonality between the contemporary coach from Belair and the moustachioed legend who grew up in the shadows of Alberton Oval, neither can lay claim to having devised the scheme.
By circumstance or design, that title lies with one of Blight's most talented state teammates.
During Adelaide's inaugural season in 1991, Graham Cornes led a 52-man list through their paces and to a respectable ninth-placed finish. The Hall of Famer's early stamp carried extra weight as only six of his charges had played any AFL football prior to 1991.
Still, the configuration of Cornes' roster is sure to have filled him with pride, given the entirety of the group, to a man, were proud South Australians.
In the wake of Cornes' departure in 1994, Tasmanian Robert Shaw kept pace with the dictum, guiding a list of 42 in 1996, 85.7 per cent of whom first cut their teeth in the SANFL.
But even after thinning the pool ahead of 1997, cutting stalwarts Andrew Jarman and Tony McGuinness, as well as retiring then-captain Chris McDermott, Blight's sides still act as the benchmark and replicating images of he and Port Pirie's Mark Bickley on the dais still the aspiration.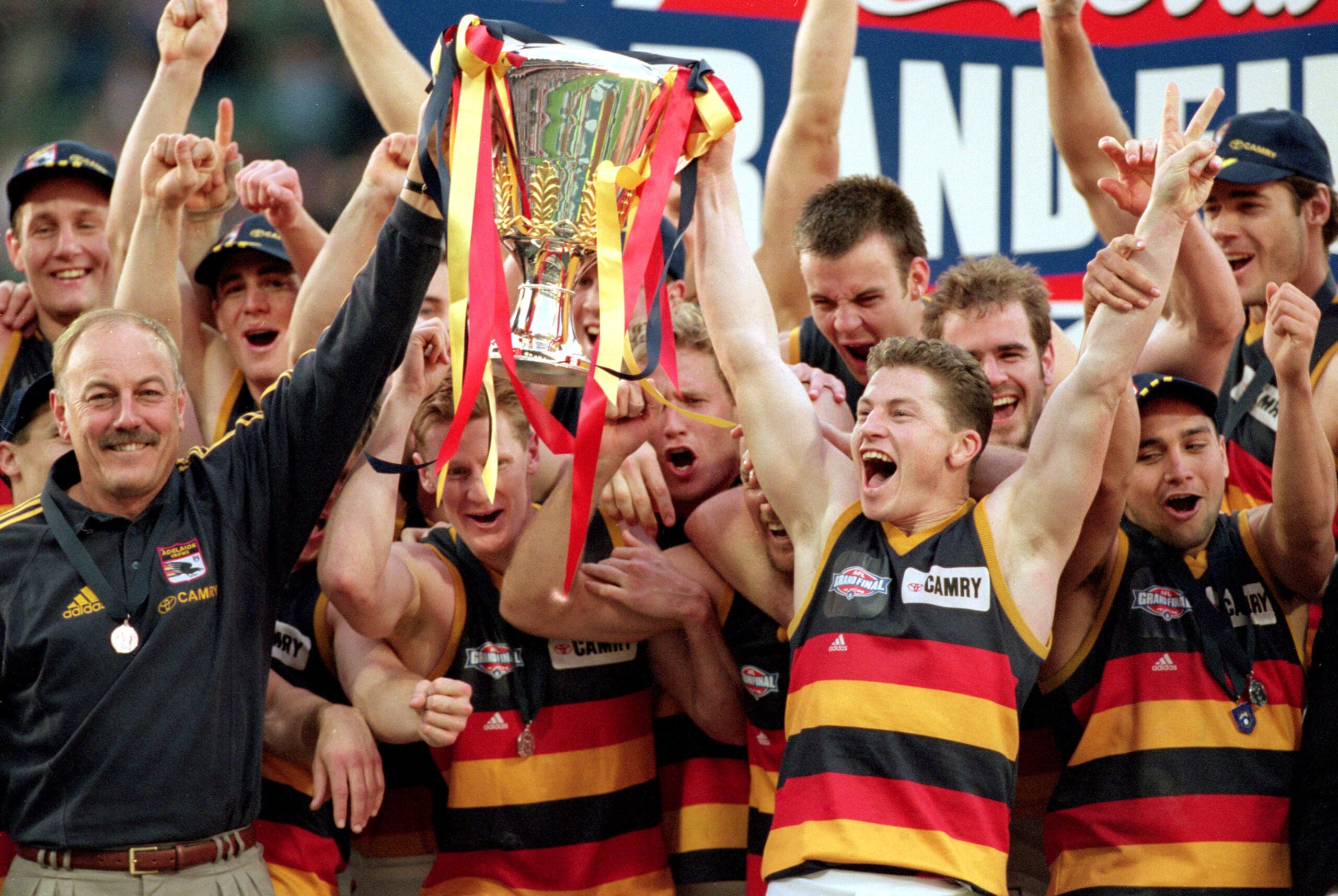 As a student of Ron Barrassi during the 70s, Blight developed a sharp tongue of his own, using it to famously lash ruckman David Pittman after going kickless in early 1997.
And though Nicks was captured by Amazon cameras reading his engine room the riot act, today's coaches are wary not to pull this rein too often. After all, their stables are far more empowered than they were a quarter of a century ago.
While the phrase 'go-home factor' has only gained momentum within the last decade and change, the practice has been in play for some time.
For Victorians, the notion kicked off with a bang, as Silvio Foschini and Paul Morwood opted not to follow South Melbourne to Sydney, crossing to St Kilda during the 1982 season with the aid of the Supreme Court.
For South Australians, the inverse was initially true, with the SANFL's player retention plan of the late 80s and early 90s stemming the tide of stars crossing over the border, chasing the lure of big contracts and shiny cars.
This point of pride bore fruit after national expansion, as the ilk of McGuinness (Footscray), Greg Anderson (Essendon), Bruce Lindner (Geelong), Mark Mickan (Brisbane), and Danny Hughes (Melbourne) all made their way back home ahead of the 1991 season.
However, by the time the Southern Expressway had opened, the Crows had another paddle to contend with at auction.
Up Tapley Hill Road, Port Adelaide fished well with their own baited hooks, reeling Matthew Primus (Fitzroy), Shayne Breuer (Geelong), Shane Bond (West Coast), Adam Heuskes (Sydney), and Brownlow Medallist Gavin Wanganeen (Essendon) to Alberton.
In recent years, the paddles have been put away, with a stream of SANFL products such as Bryce Gibbs, Orazio Fantasia, Junior Rioli, and Jason Horne-Francis requesting trades back home.
But as the Crows continue to welcome proven talents back to the capital, sole reliance on recruiting the homesick still requires buffering.
"There is a lot that goes into it, it isn't just the go-home factor," Nicks said of Adelaide's process when speaking to locals.
"I think it is a real credit to our recruitment and list managers that they are able to do the work to get these players back and prove to them that this is the footy club to be at."
Following a 2022 season in which total player payments rose by more than 10 per cent across the competition, and the average player wage grew to $406,000, the player empowerment era has solidified at least one truth: cash is still king.
So, while Rankine's choice to come home over the off-season can be spruiked as a boon for Nicks' recruiting plan, it certainly didn't come at a discount, with the West Adelaide product set to earn a mooted $800,000 per annum for the next three years.
Yet, with Rankine's mercurial skills set to complement Darcy Fogarty, Shane McAdam, Josh Rachele, and Riley Thilthorpe in the forward half, these are pretty pennies that the Crows were happy to pay now that any 'go-home' concern has been satisfied.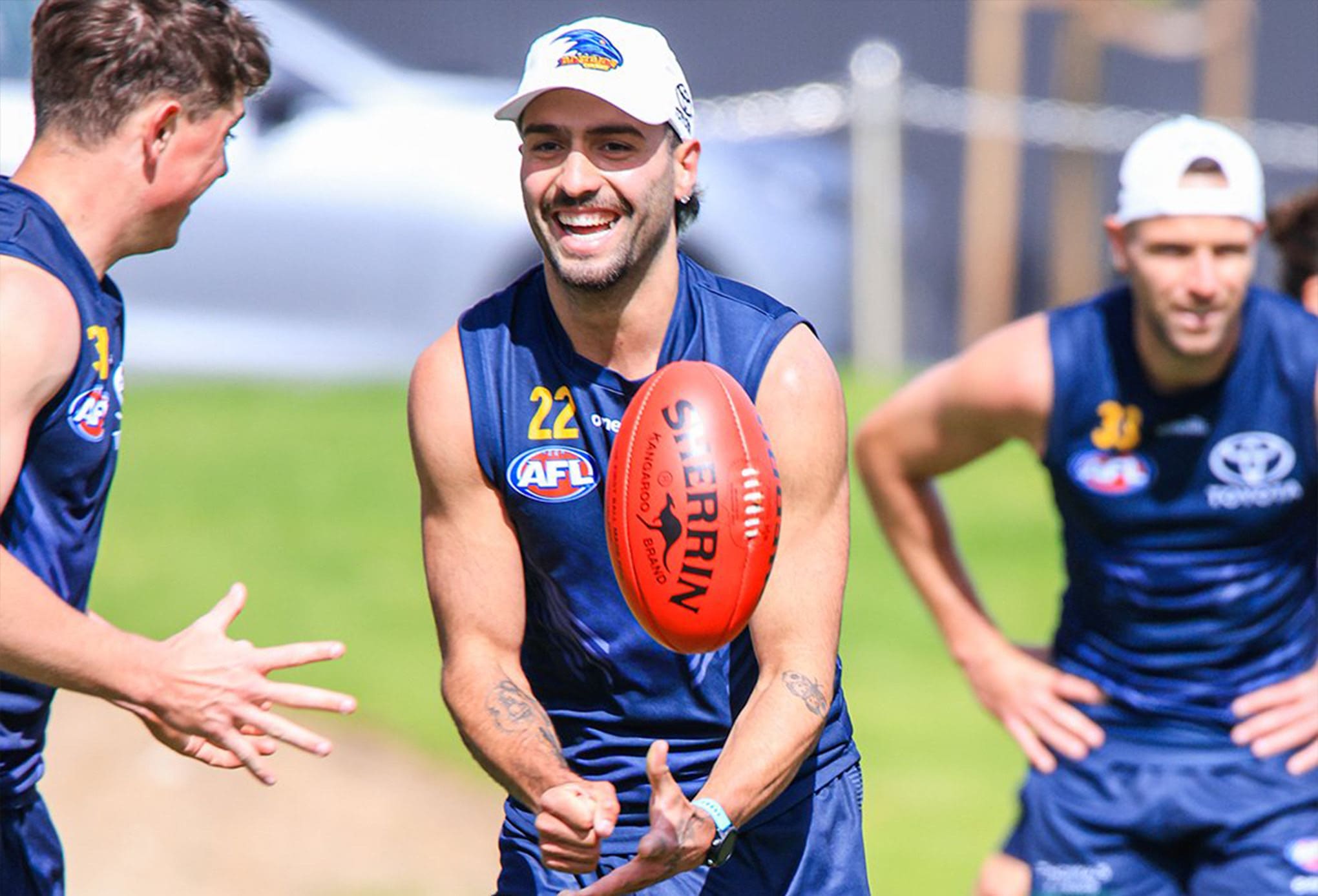 If Rankine's commitment acts as the plan's current peak, the announcement last week that Dawson would lead the club in 2023 is the wider advertisement.
This is, once again, a team for South Australians, led by South Australians, on and off the field.
And with captaincy hopeful Tom Doedee an eligible free agent, as well as interstate veterans Matt Crouch, Paul Seedsman, Rory Sloane, and Taylor Walker all out of contract at season's end, another opportunity to add more native talent will soon present itself.
SEE ALSO: The out-of-contract target your club should be scouting in 2023
Aside from being home to seven Brownlow medallists, a trifecta of Norm Smith winners, and a pair of league-leading goalkickers, South Australia is also known for producing some of the globe's best red wine.
Even Lionel Messi has lined up to imbibe, ditching Argentinean malbecs in favour of the Barossa Valley's finest.
@penfolds The picture's priceless. Greatest ever footballer, Lionel Messi, enjoying a bottle of South Australia's finest wine the Penfolds Grange. pic.twitter.com/Wj1ZAFsyg9

— srdele (@srdele) January 2, 2020
However, unlike the late-80s products that crossed the border, helping clubs like Carlton and Hawthorn sweep all before them during the back half of the 80s, South Australia's recent vintages have not been for sharing. They are cellared up for good now.
Having incrementally improved across each of Nicks' three seasons in the coaches box, Adelaide's collection of talent is almost set for uncorking. Though still in need of further cask aging, a quick sample of the Crows' current roster provides a clear identity:  full-bodied, tannin-rich, with overpowering local notes.
While best left cellared for a few Septembers yet, once mature, collectors elsewhere will be kicking themselves they didn't invest earlier.
While their basement is still a smattering short, Adelaide's current crop of homegrown talent is starting to draw parallels with the golden years of the past.
Whether or not Nicks and Dawson will ever share the dais like Blight and Bickley is still to be written, but what is known is that the choice to look local has evoked pride in a fanbase that has missed the feeling for some time now.
Though there is no collective noun for a group of South Australians, there is for a group of wine bottles: a pleasure. It works.