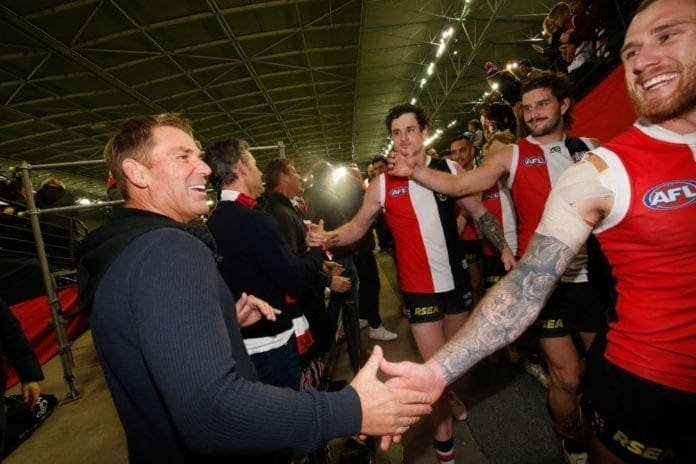 Shane Warne is open to having an active role at St Kilda, with the Saints fan hoping to have an involvement with the club in some capacity, possibly as soon as next year.
Warne is a good friend of Saints president Andrew Bassat, and the two have previously discussed the possibility of the cricketing legend playing a more prominent role down at Moorabbin.
And it seems like a concept that the 49-year-old would certainly be open to.
"I'm a good friend of Andrew Bassat, let's just put it that way," Warne said.
"There's no official role or anything.
"I did have a chat with Andrew Bassat at the start of this football season, talking about possibly (being) on the board or having a bigger role and impact at the St Kilda footy club, but with the World Cup and the Ashes on this year – when I'm spending a lot of time in England – it wasn't the right time."
Speaking on AFL360 on Tuesday night, Warne said that getting more involved with the Saints is definitely part of his intentions.
"Who knows, I'll have a chat with Andrew when I get back from England and when I'm over in England during that time," he said.
"Who knows about next year but I'd love to be more involved with the St Kilda footy club."
Warne was pictured in the St Kilda change rooms after their win over the Bulldogs on Sunday afternoon, stood alongside fellow Saints fan Eric Bana.
The Saints face Melbourne this Saturday afternoon, as they look to make it two from two under caretaker coach Brett Ratten.