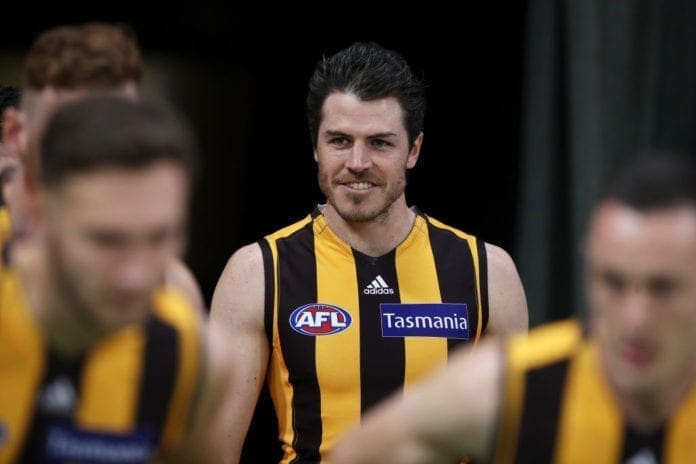 AFL journalist Damian Barrett believes free agent Hawk Isaac Smith will be at the Demons in 2021.
The triple-premiership wingman, who turns 32 in December, is weighing up offers from Geelong and Melbourne, while Hawthorn remains keen to re-sign him.
Speaking on AFL Media, Barrett believes the fact that Smith has gone this long without re-signing with Hawthorn signals he is likely to depart the club.
"We only can refer to history when we look at players like Isaac Smith," Barrett said.
"When it gets to this stage of a calendar year, coming into grand final on Saturday. We know that the trade (talk) starts long before that, we know that it officially ramps up and transactions are done as of the Monday after the grand final.
"History says that when players like him are still yet to make up their mind, they're clearly leaning toward going.
"As we've known, Melbourne is interested. You've (Callum Twomey) reported that Geelong also has registered some form of interest. It's the three clubs: stay at Hawthorn, go to Melbourne, potentially go to the Cats.
"I'm leaning toward him going, just the way I'm reading it Cal, to be a Demon in 2021 and beyond."
Smith has played 210 games for Hawthorn after making his AFL debut in 2011.
Free agency runs from October 30 to November 6.