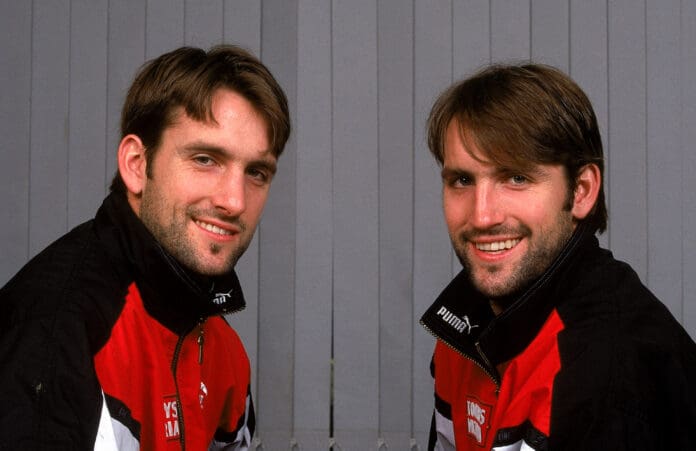 It's something every pair of twin brothers must have discussed at some point. The old trading places and see if anyone notices. The temptation would always be there and when it comes to footy, the possibilities are endless.
There have been countless famous twins to play AFL/VFL football and while it's sometimes easier to tell them apart, often not even their own teammates will know who's who.
The story of the Lord brothers from Geelong is a fine example of just how twins can wreak havoc. Playing against Richmond, Alistair Lord, leading the Brownlow at the time, was reported for an incident involving Richmond player Basil Moloney.
It transpires that Stewart Lord had actually committed the offense, almost costing his brother dearly. The Lords, and Geelong, maintain that the report against Alistair was deliberate, with unsubstantiated claims of a Richmond bias on the umpires' behalf. In the end, Geelong fought 'tooth and nail' to clear Alistair, who ended up a Brownlow Medalist that year.
The flip side is the opportunity and temptation for a pair of twins to get up to some mischief.
This is where we pick up our story involving the Wakelin twins during their time at St Kilda.
SEE ALSO: Stewie Loewe a Bomber? It nearly happened...
Speaking to Unpluggered Podcast, former Saint and Port Adelaide premiership player Darryl Wakelin opened up about the one time the twins strongly considered a legendary swap.
"Probably the one and only time we seriously considered it, and we were nearly gonna try and pull it off.. [was in the] '98 season, I'd been reported for charging against West Coast... [and] Shane had done an ankle." Wakelin said.
With Darryl's suspension looming and Shane set to miss a few weeks, the pair sensed an opportunity.
"I got suspended for 2 weeks and he had an ankle injury out of that game. There was a few discussions behind the scenes that I would actually play in the number 12 jumper and play in his place because I was fine, I was fresh.
"I had come off the game against West Coast, unfortunately, I was suspended at the time and there was quite a strong discussion to say 'who really would know?'"
The reality, it seemed, was that no one would have been the wiser. According to Darryl, there were plenty even within the four walls of Moorabbin who wouldn't have cottoned on.
"The reality was, no one would know, I mean half my teammates didn't know the difference between us!"
In the end, common sense prevailed, with the brothers opting not to pull off the audacious swap. Though, it seems, there is some regret at not attempting to write themselves into footy folklore.
"It was a serious consideration, I'm not sure how the conversation ended up, but I think we saw the common sense in it and decided not to. In hindsight, it would have been a great story to be able to tell. It certainly would have gone down as a legendary story."
How close the Wakelins actually came to going through with it remains up for debate, however, the wry grin on Darryl's face as he relayed the story suggests it was more than just a discussion.
What might have been?
Darryl and Shane Wakelin combined to make 204 appearances for the Moorabbin men before both departed Linton Street for Port Adelaide and Collingwood respectively at the cessation of the 2000 season.
In May of 2005, the pair eclipsed the previous high watermark set by the identical Febey brothers of Melbourne to become the competition's most capped pair of twins.
Watch the full interview on the Unpluggered Podcast Youtube channel or listen to Unpluggered on all major podcast platforms.