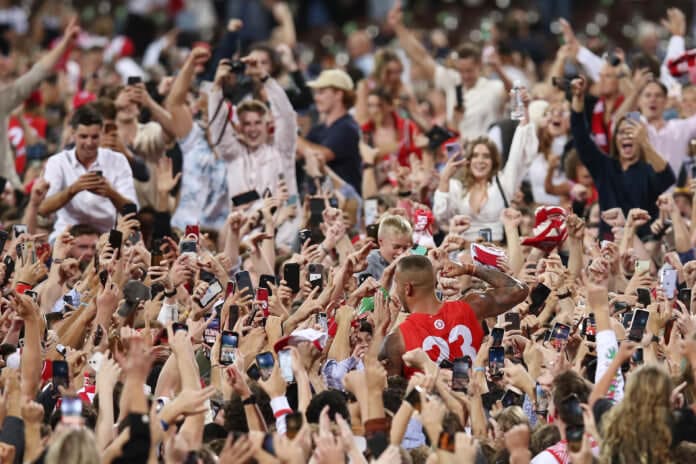 Lance Franklin will go down in history as one of the greatest footballers to ever lace up a pair of boots.
The 354 gamer has called time on his career, one full of accomplishments that most players can only dream of. A two-time premiership player with Hawthorn, eight-time All-Australian, including a captaincy role in 2018, four-time Coleman Medalist, and a leading goalscorer at both Hawthorn and Sydney a combined total of 13 times.
And at the age 35, 'Buddy' kicked his 1000th AFL career goal, an achievement only accomplished by five other players - Tony Lockett, Gordon Coventry, Jason Dunstall, Gary Ablett Sr and Doug Wade.
The man has one of the lengthiest and most impressive highlight reels ever. It's almost impossible to cut his moments down to a handful but here are five that seriously stand out.
5. The day that 'Buddy' arrived
In just his third AFL season, Franklin had made huge strides in his career early. In year one, he kicked 21 goals, in year two he kicked 31. In 2007, 'Buddy' finished on 73, a massive jump and solid sample size of what was to come.
The AFL world was given a show in Franklin's first AFL final: an elimination final in 2007 against the Crows at what was then the Telstra Dome. Adelaide was in control for most of the day, leading by 14 points going into the final term. Up until three-quarter time, 'Buddy' had kicked four goals in a valiant effort.
In the final term, Franklin kicked three goals, none better than the game-winner. The 20-year-old took a mark 50 metres out on the left forward flank, a position most would pass from. Franklin, however, had other ideas. With only seconds remaining, the blossoming spearhead slotted the goal to win the game and tally up goal number seven.
He had truly arrived as a genuine superstar of the competition and proved it on the big stage.