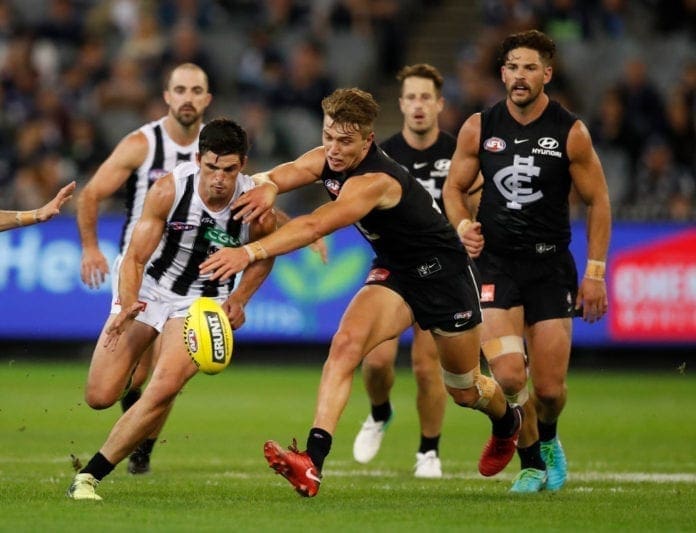 It's hard to believe almost 20 years have gone by since Carlton or Essendon appeared in a Grand Final. Brisbane kicking off their treble of premierships in 2001 ended a three-year period of dominance from the red and black who lost just 10 home and away games across the 1999-2001 seasons. Fast forward to 2019 and the Bombers, Pies and Blues have won a combined one premiership.
Taking out the eight premierships won by interstate sides since 2000, who realistically won't make a challenge for the coveted 17th premiership, the past two decades have been abysmal for the powerhouse Victorian clubs.
Essendon hasn't won a final since 1969 without Kevin Sheedy coaching the side, Carlton has won five spoons and Collingwood - despite 11 attempts in the finals - have won only once, in a replay.
So where do we sit in the rat race for number 17?
Collingwood appear to sit as the best shot of going to the top of the mountain, with Carlton and Essendon looking as close as each other to a premiership. Hawthorn remains an outside chance, and I think ruling out Melbourne and Richmond is more than fine considering since 1980 the combined tally is one between them.
That makes it a four-horse race for #17, and a closer examination will look as to how close the teams really are.
Hawthorn (13 premierships)
Statistically, the most successful team of all-time having won 13 premierships in only 94 seasons. They average a premiership every seven years and have won 13.83% of all seasons played. Looking at their current list they have plenty of emerging talent in a team of aging stars.
The modern golden generation of Hawks is all but gone with Roughy departing at season's end, and Grant Birchall likely to follow very soon. However, the Hawks' midfield led by Jaeger O'Meara and Tom Mitchell has got plenty of life to it, with the rise of young James Worpel.
Despite having the oldest list, Clarkson seems to have found the diamonds in the rough yet again with late draft talent and crafty trades giving the Hawks a bright future. Oliver Hanrahan, Mitch Lewis and Worpel look to become house-hold names in a few years with Paul Puopolo, Isaac Smith and James Frawley all set to exit sooner rather than later.
They sit as an outside chance needing four premierships to get to 17 but having won four of the last 10 you wouldn't put it past them. With no real high draft picks for over a decade, a very hard schedule and continuous trips to the finals the Hawks aren't meant to be competing for a finals spot again, but with the greatest all-time coach they are catching up to the others.
Collingwood (15 premierships)
If they are going to do it, you would think they need one in the next two years. Having lost in 2002, 2003, 2011 and 2018, the Magpies are proving their name as the greatest losers of all time. With the best record of any club in history, only not having a winning record against two sides (Eagles and Lions), the Magpies need to start converting their chances to reign supreme in our great game.
Having lost a staggering 27 Grand Finals including the most recent, the Pies are well positioned for another tilt. Despite a horror run with injuries, the club is well-run with a host of talent and plenty of cash to spend. Their long-time stars are still playing well and a crop of great footballers under 25 is shining through at Collingwood.
They are the closest of the four sides but if they enter 2021 without a number 16, write them off entirely. They have the best list and Nathan Buckley is being recognised for his work, so Adam Treloar, Steele Sidebottom and Scott Pendlebury need to find something fast before the opportunity slips away.
Carlton (16 premierships)
In my lifetime as a fan of the AFL, Carlton has been dead awful. The most dominant team before the turn of the century with some ease has never truly recovered from the salary cap dilemma of 2002. Having won more wooden spoons than finals games in almost 20 years, the Blues have been on the re-build for too long… but are we finally seeing some change?
With Jacob Weitering, Liam Jones, Patrick Cripps, Harry McKay and Charlie Curnow as the spine and a host of young stars such as Rising Star-to-be Sam Walsh running on the outside, Brendan Bolton's 'green shoots' are starting to put points on the board. Six wins in 2018 with four losses under a goal has been a radical improvement and being the favourites for Stephen Coniglio could see the Blues return to the finals in 2020.
With the third youngest list in the competition and some key injuries to return next season, the Blues are emerging as a dark horse after almost 25 years without a premiership. They will need a few trips to the finals but is this the young core to finally get it done?
Essendon (16 premierships)
Let's just avoid the weekend to leave the band-aid on a little longer for Bombers fans. The Bombers since the drug scandal have been excellent. They have built a strong core around Zach Merrett and Dylan Shiel with high draft picks Andy McGrath and Darcy Parish being future leaders of the club.
You would think they will return to the finals in 2019 but with the strength of the top six, the Dons aren't looking at silverware this season. Like Collingwood, they have a very talented list with some emerging stars but still have limited finals experience and haven't won a final in a very long time.
They would appear as close as Carlton to a premiership, as without having experience in the big games you would assume the Dons still have a few years to go. That would make it beyond 20 years since a flag for the Bombers… the longest drought in their successful history.
Our Pick
Maybe Collingwood has a slight edge over the other three, as they appear to be the closest but 2020 could see this race completely turn on its head if the others rise as they are expected.
So who's your pick for number 17?