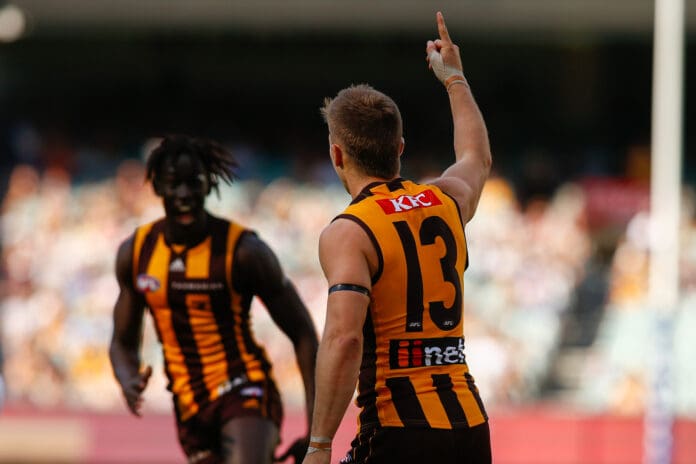 Sir Doug Nicholls round hosted entertaining bouts that delivered both upsets and previews of potential September action.
Carlton continued to look the goods as they held on to triumph over a surging Sydney outfit off the back of a Curnow bag, while mediocre play for Melbourne continues to be an echelon above everyone's best footy.
Here are 20 thoughts and opinions from Round 10:
1- Kick it to Charlie. A six-goal haul doesn't even describe how disruptive Charlie Curnow was against the Swans on Friday night. He was grabbing everything, from on the lead to big pack marks, nothing was off-limits as his mere presence was enough to make the Sydney defenders antsy and serenade the big Blue with free kicks. A true match-winning performance was made all the more impressive given that his partner in crime, Harry Mckay, is still healing up.
2 - Double damage for Kennedy. An ill-timed attempt to impact a contest with Blues defender Sam Docherty left Swans veteran onballer Josh P. Kennedy immediately clutching at his hamstring. The act was violent and out of character for the Swan, whose actions sparked a brief melee. The incident was symbolic of the game's tone, Sydney kept fighting but Carlton continued to eat the pressure on their way to a gutsy victory.
3 - The barrel that buried Port. The Power came to play when they suited up to face Geelong at the Cattery, matching the veteran team's intensity en route to a slim halftime lead. Yet, a horror third term for the Alberton-based side was capped off after Geelong star forward Jeremy Cameron marked the ball outside 50 on the 3/4 time siren and uncorked an absolute bomb from outside the arc to ignite the crowd and open a backbreaking 26-point lead.
Jeremy Cameron has absolutely LAUNCHED this one.

📺 Watch #AFLCatsPower LIVE on ch. 504
or stream on Kayo: https://t.co/kmgDv4vOVd
✍️ BLOG: https://t.co/LufoTtAyDE
🔢 MATCH CENTRE: https://t.co/FRTSmZyHcB pic.twitter.com/2kTWr6DaNu

— Fox Footy (@FOXFOOTY) May 21, 2022
4 - Close but not close enough for the Power. Geelong has been struggling for form all season as they've failed to maintain consistency week to week, making them a vulnerable target for a resurgent Port Adelaide, who had rattled off four straight wins. Now sitting at 4-6, Port are still alive for a September birth but face an uphill battle as they're set to face Essendon, Richmond, Sydney and Gold Coast in their next four games.
5- Dogs continue to keep their finals dream alive. Gold Coast has been in hot form over the past few weeks as they've been able to down the Swans and Dockers in consecutive games, making them a looming threat to an already underperforming Bulldogs outfit. However, although wasteful in front of goal, the Footscray-based side were able to dominate large portions of play which ultimately proved the difference as the game was always on their terms. Despite the 2021 runners-up being a game outside the eight, they're playing far from their best footy. Although September remains a feasible feat the Dogs will likely get bounced early if they can't work their way into form.
6 - Joel Jeffrey goals in reverse. Not only did the young Suns forward manage to put in a star-making performance in Ballarat, but he also did so with style. Jeffrey managed to snag five majors in only his sixth game at the top flight and none was more spectacular than his over the head classic. Great stuff.
This goal from Joel 🤯#AFLDogsSuns #AFLDeadly pic.twitter.com/jyOZkxf4CF

— Gold Coast Suns (@GoldCoastSUNS) May 21, 2022
7 - Can the Dees go undefeated? Melbourne cruised to a casual 47-point victory against rivals North and never looked phased despite the latter's relentless effort. The reigning premiers sit atop the ladder at 10-0 and appear seemingly unphased by all opposition to date, all while maintaining their ruthless edge. Simon Goodwin's men, on current form (which doesn't appear to have left second gear), should give an undefeated season a fair-dinkum crack if their current brand can hold up during the second half of the season.
8 - North came to play. Saying that the Casey Demons would give the Kangaroos a run for their money, maybe even a cheeky belting, wouldn't seem too blasphemous given the latter's lacklustre form over the past several weeks. Yet, North managed to put forth what may have been their strongest performance of the season, in terms of effort, against Melbourne. They were assertive with their ball movement and consistently looked inside for the shortest avenue to goal as they managed to remain in touch throughout the majority of the first half, until ultimately getting outclassed by the more mature side in the end. These were good signs for a young club in what had been an otherwise disappointing season to date.
9 - Bad kicking is bad footy. The Adelaide Crows had enough control of their encounter with St Kilda to put the game away well before the final term blitz that saw them lose by 21. Kicking 9.15 is appalling...The Crows appear to be a side who are better than their record but then again Saturday night sums up why they sit in 15th at 3-7.
10 - Saints are set for September. St Kilda were able to keep in touch all game thanks to the brilliance of power forward Max King, who booted six majors, and a vintage performance from speedster Brad Hill in his 200th game. It wasn't pretty by any means as things were far from ideal but these wins, without your star midfielder in Jack Steele, are what defines a finals team.
11 - Just because you play in a tough team doesn't make you a tough man. Tom Lynch's late hit on Matt Guelfi was lazy, dumb and far from tough. The Tigers are an aggressive outfit that relentlessly hunts their opposition but Lynch's actions reflect a faux bravado that is absolutely useless in today's game...but Mason Redman's elbow to Tiger's onballer Dion Prestia was pure thuggery and beyond comprehensible. Absolutely disgusting. If things weren't already rocky at the Bombers, who are as soft as they come, then they're about to get worse if this standard of footballing practice isn't disciplined internally.
12 - The premiership window remains open at Tigerland... Olympus appeared to be proverbially falling for Richmond after an injury-plagued 2021 translated to a very flat start to this season. However, the Tigers now appear to have regained their best form and are playing footy on their terms as they seemed primed to threaten come September. The dynasty is not dead yet.
13 - Giant win wasn't a surprise. GWS was playing West Coast and they won... Not much else to say here then the result was exactly as expected, even with an assortment of Giants missing, they got the job done easily. The most exciting thing about this game was the positional changes that interim coach McVeigh implemented throughout his side.
14 - Impending fire sale in Perth. West Coast really needs to bite the bullet and just get rid of absolutely every player of value on their list so that they can stockpile picks and build from the ground up. Injuries don't suffice for stupidity and a lack of effort on and off the football field. This club is a holistic mess that needs a reboot desperately.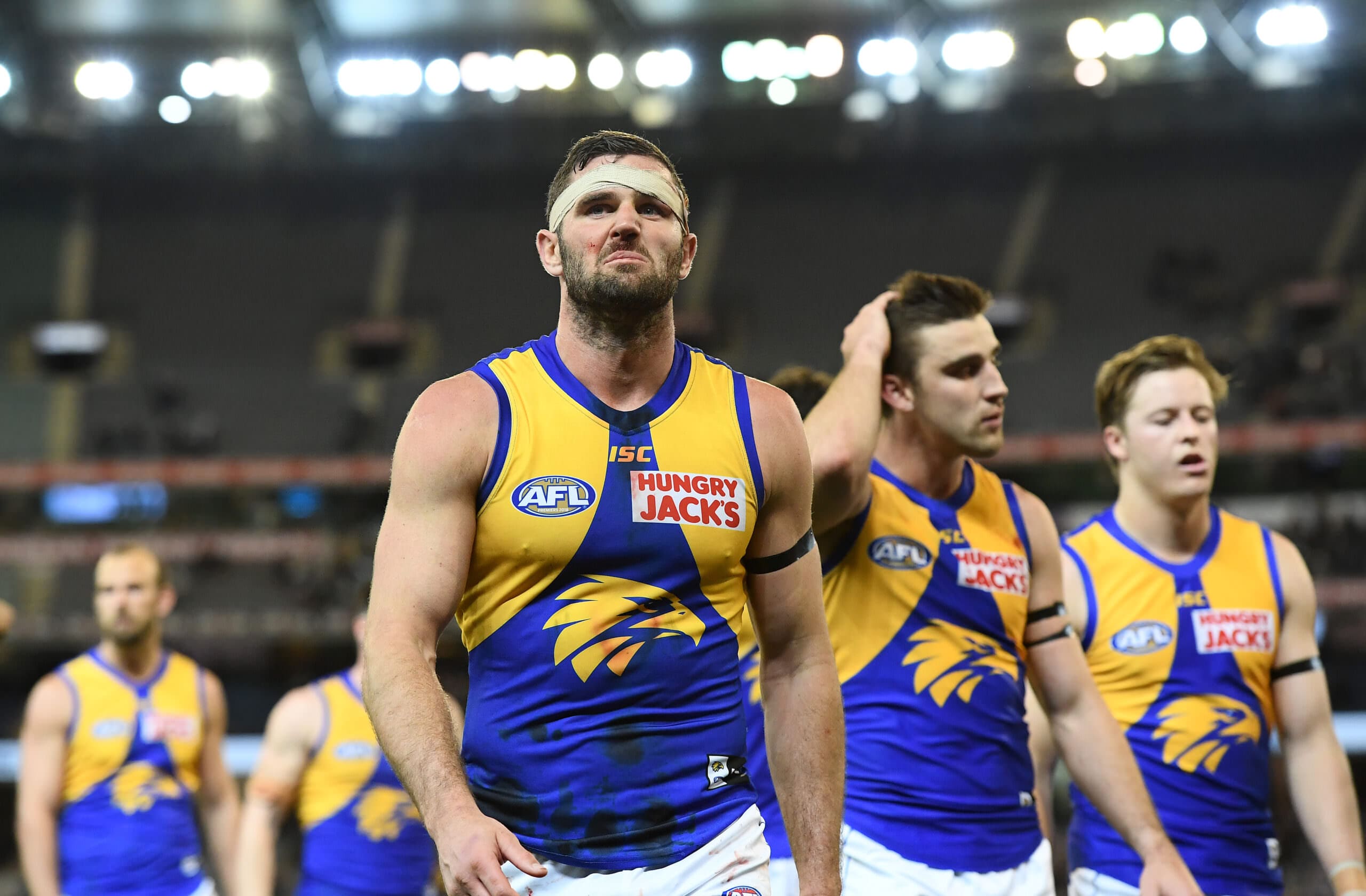 15 - This is footy. Brisbane and Hawthorn played perhaps the most exciting game of football to date this year and it served as a reminder of how electrifying an Aussie Rules clash can be. Goal for goal, scoring run for scoring run and a result that was separated by a kick. What more can a fan want.
16 - What rebuild? Hawthorn are currently 4-6 with a couple of big scalps under first-year coach Sam Mitchell and sits two games outside of the eight. In fact, two horror fourth quarters against the Swans and Bombers are what cost them these games. Add in some solid performances against top four sides, Carlton and Melbourne, and this Hawthorn side has essentially managed to bypass the rebuild process with solid coaching and recruiting as they appear capable of winning games against any club.
17 - Chink in Freo's armour exposed. Fremantle plays a very controlled brand of footy that relies on its defensive structure to force turnovers where they can quickly transition forward for scores. While this has been largely successful to date in 2022, their general playstyle is controlled and uncontested, which conversely is where their largest weakness lies. Collingwood managed to play to their strength, with high pressure and direct advances to goal, which suffocated the Dockers' methodical movements and also bypassed their supremely organised defence. What emphasised this area of concern for Freo was that they didn't change their game plan to adapt to the wet conditions on Sunday night, in turn exposing their lack of ability to aggressively create scoring plays while highlighting how to move the ball against them.
18 - Craig McRae has a plan. Collingwood had cooled off recently after an impressive start to the year that saw new coach Craig McRae completely revamp their attacking philosophy. Despite several poor losses in recent weeks, McRae's men never leave a game wondering as they've displayed a knack to grind out contests even if the result appears bleak. However, Collingwood pulled off an almighty upset against the top four Dockers in Perth and sit at 5-5 as they remain in touch with the top eight, despite the abundance of youth in their side.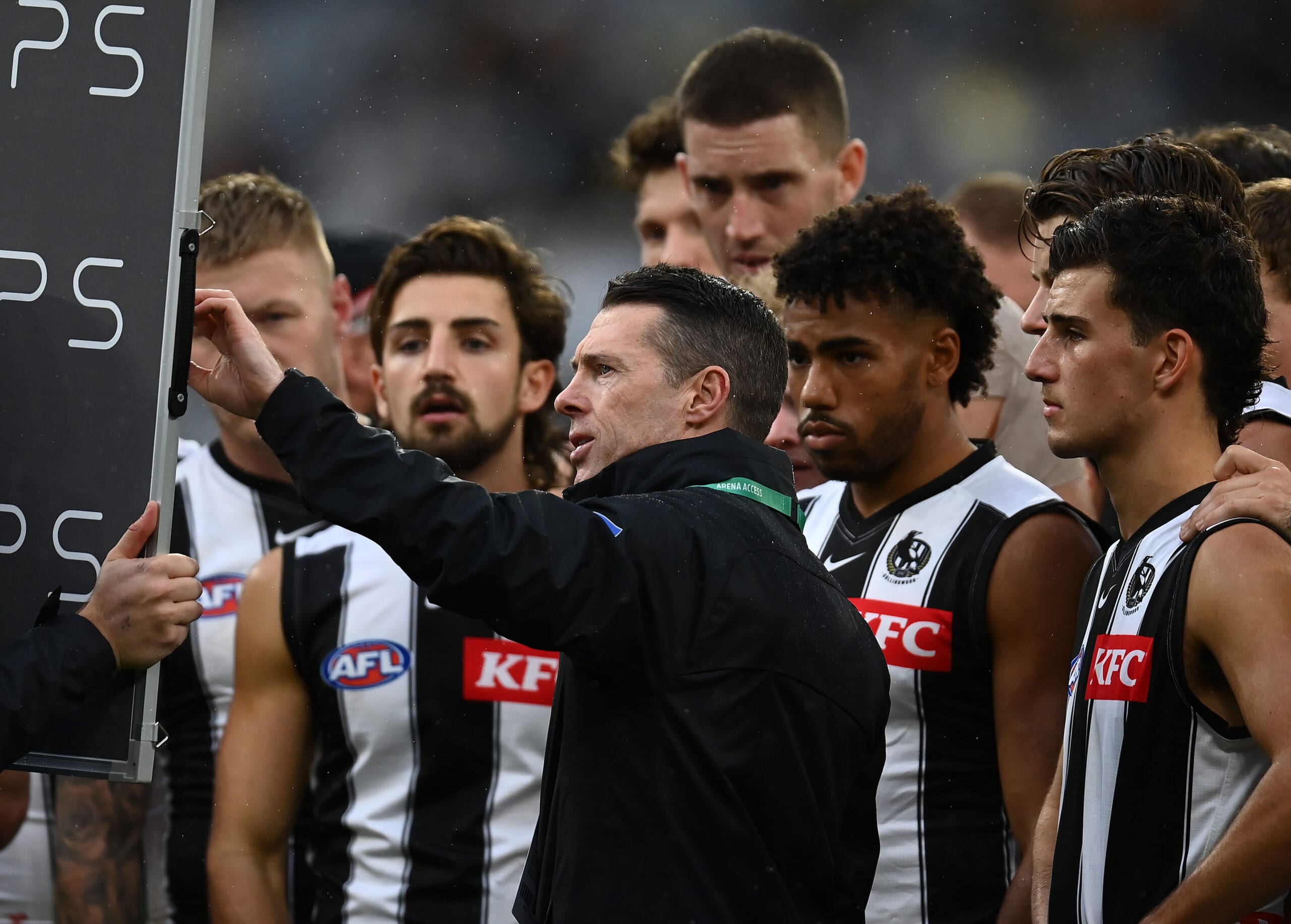 19 - Thank you 'Walla'. The Bombers bid farewell to Anthony McDonald-Tipungwuti late last week as the small forward announced his shock retirement from footy. He stood with his now-former teammates during the opening ceremony of the Dreamtime clash in what seems all but certain to be his final time on the MCG turf. Result aside, it was a fitting send-off for a tremendous footballer.
20 - The finals picture is far from clear. two games separate sixth from 13th on the ladder with an assortment of established and up-and-coming sides fighting for a spot in September. Anything can happen over the coming months, especially given the rollercoaster that 2022 has proven to be thus far.