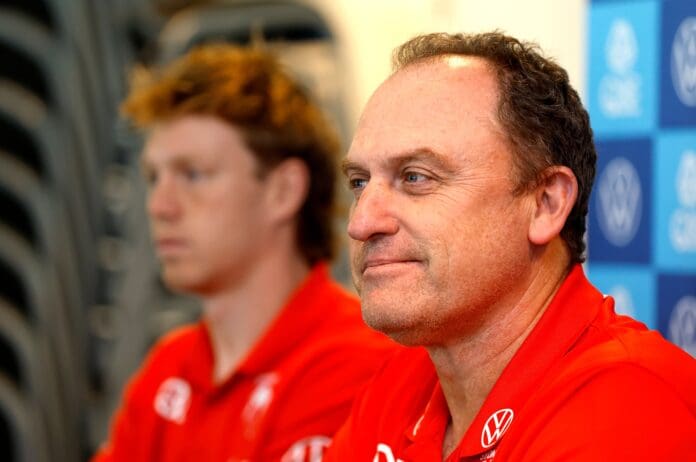 The Sydney Swans are open to trading their two first round picks (14 and 17) in order to move up or down in the draft.
Currently, Sydney hold picks 14, 17, 42, 69 and 80, with the intention to use three of them in next weeks draft.
They have made it known in recent weeks that they would like to move up in the draft to the top 10 but are now seemingly happy with moving a pick down if the deal is right.
"We're certainly open to that (trading down pick 14 or 17)," Sydney national recruiting manager Simon Dalrymple told the Herald Sun Footy Podcast.
"You need to be flexible and agile so we would certainly be similar to moving the other way in going forward to try and get into the top group. We're open for discussions around that as well."
Moving down in the draft seems very plausible with 7NEWS' Mitch Cleary reporting that the club have put the two first round picks on the table, hoping to build its hand for next year's draft.
Sydney's list management team has in the last 24 hours ratified a decision to put its picks 14 and 17 on the trade table to clubs wanting to get into this year's #AFLDraft first-round.

Clubs have been told the Swans want strong assets in next year's draft @7NewsMelbourne

— Mitch Cleary (@cleary_mitch) November 25, 2022
If they are to retain picks 14 and 17, it could see Victorian key defender Josh Weddle and South Australian ruckman Harry Barnett taken at the club, with Dalrymple confirming  interest in them.
"Josh has really come on in the last 12 months. He's a fantastic athlete and a real pro off the ground," he said.
"(Barnett) is a pretty solid, well-developed player who has shown a real capability to impact aerially and has played some senior footy. He's not a ruckman that would need to put on a lot of weight.
Two other players Sydney could be interested in drafting are Tasmanian rebounding defender Lachlan Cowan and Victorian mid-sized forward Brayden George.