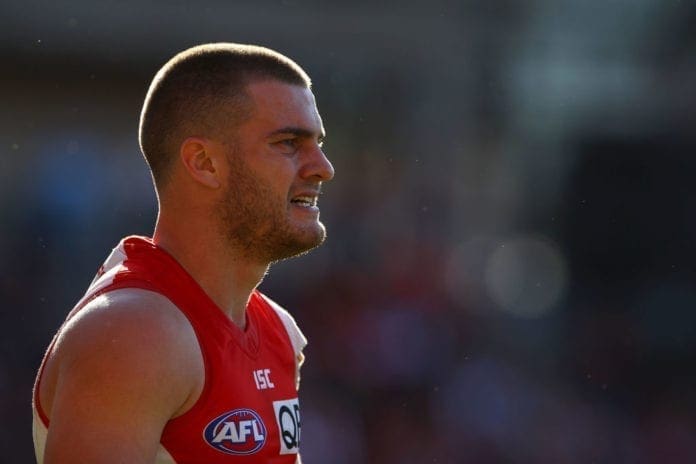 The Sydney Swans have posted a financial net loss of over $6 million in 2020, with the club required to gain assistance from the AFL via a $1.5 million loan.
The Swans saw a major fall in membership numbers this year, falling to 48,322 from 61,912 the year prior, with the club delegating half of their $6,100,236 loss to the lack of crowds and home matches.
Despite the drop off in following, 98 per cent of members who signed on prior to COVID-19's impact on the league retained some part of their membership, playing a major helping hand to the club.
Sydney chairman Andrew Pridham said that the Swans faithful were a key reason in the club not facing further losses.
"If it wasn't for the commitment of our members, our financial position would have been much worse," Pridham said in a club statement.
"While we have recorded a sizeable loss, we have realised the full burden of the pandemic this year.
"The club will exit the season with a loan repayable to the AFL of $1.5 million, and while that's significant, it ensures we can continue to offer important programs such as our QBE Sydney Swans boys and girls Academy, to provide opportunities and pathways for local talent.
"The reality of the Sydney market that we operate in is that despite taking prudent measures throughout the year, there are high costs that are necessary to ensure our team can continue to train and play.
"Everyone from our board to our executive team, wider staff and playing group have worked incredibly hard to keep the club going through some very difficult circumstances this season."
The net loss is Sydney's first in nine years and follows the recorded losses for both Geelong and Collingwood.
The Magpies posted a loss of $1.8 million, with the Cats being hit with a $2.6 million loss.
Geelong chief executive Brain Cook said the club was originally expecting losses of a greater scale.
"In April we anticipated a potential loss of $10m," he said.
"To finish the year where we have is an incredible achievement."