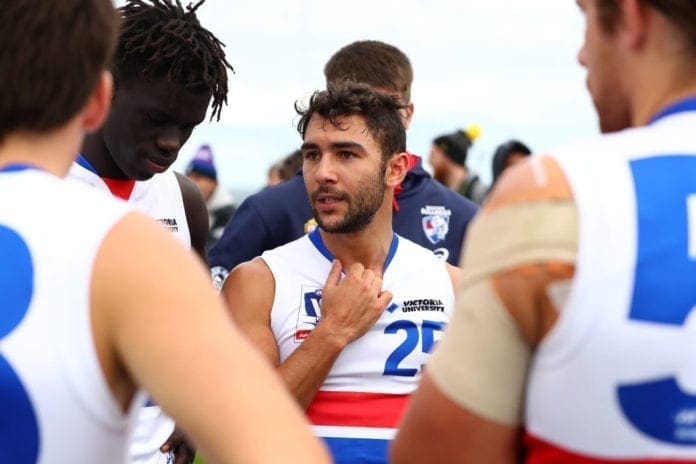 VFL
Port Melbourne 8.10 (58) def. by Footscray 15.17 (107)
A slow start saw Footscray end the opening quarter with 1.3, but another four goals in the second term kick started the dominance for the rest of the game. After holding Port Melbourne to only one point in the third term, the Dogs went on to win by 49-points.
After suffering a partial ACL tear 106 days ago, veteran player Dale Morris made his return to football and finished the game unscathed. The defender moved well, gathering 11 disposals as well as five rebound 50s.
After recording 30 disposals and two goals in a best on ground performance, Toby McLean places himself in a good position for a senior recall. Also standing out was Ban Cavarra. The mature-age recruit slotted four goals down forward whilst also collecting 17 disposals.
Other notable mentions include Rhylee West and Will Hayes. West continues to perform consistently in another 20 disposal and six tackle display, while Hayes finished the day with 19 disposals and a goal.
Footscray are tasked with the mission of defeating Richmond next round. They host the top side at VU Whitten Oval on Saturday afternoon.
Casey Demons 12.12 (84) def. Box Hill Hawks 7.8 (50)
The Casey Demons and Box Hill battled it out in atrocious winter conditions on Saturday afternoon. Casey was dominant from the opening quarter and led at every break, before going on to defeat Box Hill by 34-points.
Braydon Preuss asserted his dominance in the ruck with an outstanding 64 hitouts as well as 17 disposals and six marks.
"Preussy's contest work was brilliant." Casey Demons head coach Sam Radford told Melbourne Media.
Jay Kennedy Harris also had an outstanding performance; the leading goal scorer for the game snagged three goals from his 24 disposals and continues to play his way into senior side contention. Corey Maynard (23 disposals and 13 tackles) and Oscar McDonald (19 disposals) both played well after returning from a few weeks off.
Round 14 will see Casey Demons host the Northern Blues as they look for back-to-back wins.
Unfavourable conditions and hungry Demons saw the Hawks fall short by 34-points at Casey Fields. Harrison Jones shone despite the loss, leading the way with 29 disposals on top of eight tackles and a goal.
Mitch Lewis continues to work towards senior selection and his performance this week puts him one step closer. The big man had 17 hitouts, 16 disposals and a goal. Harry Morrison and Teia Miles continued their fine form with Morrison recording 23 disposals and eight tackles after being omitted and Miles gathering 20 disposals.
Box Hill looks to redeem themselves this week when they host Geelong on Saturday afternoon.
Northern Blues 8.10 (58) def. by Geelong 10.12 (72)
Difficult conditions saw the game go back and forth between the Blues and Geelong. In the end Geelong got the better of the Blues, defeating them by 14-points at Ikon Park.
The Blues weren't able to come away with a winning result seeing them slip to 5-5 after 13 rounds. Despite the loss, positives can be found through the likes of Darcy Lang and Jarrod Garlett. Lang emerged as the leading ball-getter with 25 disposals along with eight tackles. Garlett played up front this week, the versatile player booted three goals from only seven disposals.
Despite the wet conditions, Hugh Goddard and Josh Deluca found plenty of the ball, finishing with 21 and 20 disposals respectively. Alex Fasolo was also influential, recording 20 disposals, five marks and a goal.
The Northern Blues now turn their attention to Round 14 where they will face the Casey Demons who are hungry for another win.
With weather conditions at their worst in the final term, Geelong was able to make the most of minimal opportunities and secure the win over the Blues.
Scott Selwood finished among the Geelong's best with 21 disposals, nine tackles and a goal. Equally impressive was youngster James Parsons, who also emerged as one of the best with his 26 disposals.
A had knock for Ryan Abbott saw him watch the second half from the sidelines, leaving the ruck work to big man Zac Smith. Smith finished with 29 hitouts and two goals from his 13 disposals.
Geelong will travel to face Box Hill this round, with both sides looking to continue to climb higher within the top eight.
Collingwood 9.7 (61) def. North Melbourne 6.6 (42)
Collingwood have won consecutive matches for the first time in the 2019 season after defeating North Melbourne by 19-points on Saturday afternoon.
Leading at every break, Collingwood made use of their time up forward and converted their pressure on to the scoreboard.
Ben Crocker shone up forward, finishing with three goals from 15 touches. Veteran Tyson Goldsack also hit the scoreboard with a goal as well as 15 disposals and five marks.
Tim Broomhead, who badly broke his leg last year, remained unscathed and finished the game with 18 disposals, six tackles and a goal.
Collingwood look to continue their momentum this week when they travel to face Werribee on Saturday afternoon.
Missed chances were the cause of North Melbourne's defeat, falling to Collingwood by 19 points.
Jamie Macmillan and Paul Ahern were prolific for the Roos, finishing with 33 and 30 disposals respectively. Macmillan also laid eight tackles whilst Ahern contributed a goal to the scoreboard.
Also among North Melbourne's best was big man Tom Campbell. The ruckman finished the day with 26 hitouts, 26 disposals, five tackles and a goal.
North Melbourne will have the opportunity to make up for missed opportunity when they come up against Sandringham on Sunday.
Sandringham 7.11 (53) def. by Richmond 10.8 (68)
Sandringham was held scoreless in the opening term whilst Richmond blazed away with six goals. Despite the slow start the Zebras worked their way into a two goal game at three quarter time, but a thrilling last quarter saw Richmond hold on to the lead and win by 15-points.
After 123 consecutive AFL matches, Jack Newnes was demoted to the VFL side.  The strong defender responded well to his omission with 21 disposals and a behind. Fellow defender Nathan Brown was also strong across the back line with 18 disposals and seven marks.
New recruit Jack Mayo performed well scoring 1.1.
Sandringham will hope for a stronger start when they face North Melbourne this week, as both sides look to redeem themselves from Round 13 losses.
Despite asserting their dominance in the opening term, the Zebras soon caught up, but the Tigers were able to hold their own and secure the win.
Jacob Townsend, Jack Higgins and Maverwick Weller all hit the scoreboard in the Tiger's 15-point win. Townsend starred with three goals off the back of 19 disposals whilst Higgins and Weller scored two and one goal respectively with both players gathering over 20 disposals each.
Patrick Naish had 19 disposals whilst youngster Liam Baker finished the day with 18 disposals and a goal of his own.
Richmond are 10-1 going in to Round 14 and look to secure another win when they face Footscray at Whitten Oval.
Werribee 13.9 (87) def. by Essendon 16.3 (99)
A big first half from both sides saw Essendon lead by 10 points at the main break. The battle continued in the second half as Werribee closed the gap but Essendon were too strong and held on to win by 12-points.
A 12-point victory was celebrated alongside David Myers 30th birthday. The veteran midfielder finished the game with 21 disposals.
Will Snelling was picked up during the mid-season draft and has since been influential. Snelling finished with 20 disposals against Werribee and booted the match-winning goal late in the final term, helping his team get over the line in a nail-biting fourth quarter.
Zac Clarke (33 hitouts and 14 disposals) and Michael Hartley (23 touches and two goals) were both impressive in Essendon's 12-point victory.
Essendon come up against Coburg this week on Sunday afternoon at Piranha Park.