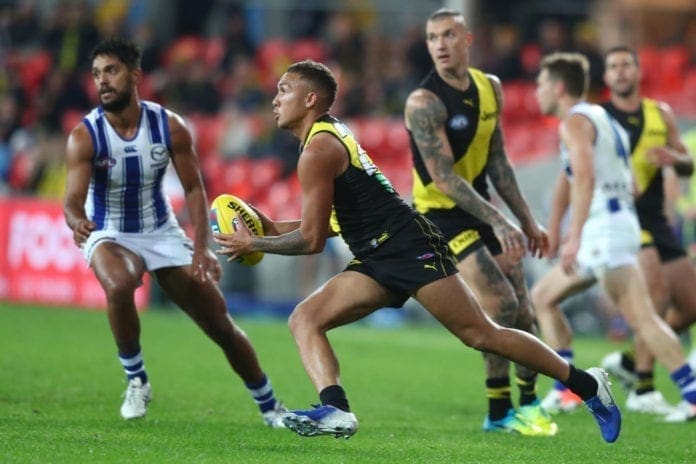 Emerging star Tiger Shai Bolton has signed a contract extension that will see him at the club until 2023.
Tigers fans had been holding their breath this year when reports of a contract impasse lead to fears Bolton might look to leave Tigerland.
However, the club has today officially announced that the prized midfielder has signed on for at least another two years.
https://twitter.com/Richmond_FC/status/1423071293109243904
Hailing from South Fremantle, Bolton was touted as a top-15 prospect in the 2016 draft, before slipping to pick 29 on draft day.
Bolton said he was thrilled to sign on the dotted line and commit to the Tigers for the next two seasons.
"I am happy to be at Tigerland. I have been so excited to be staying here (because) I love all the boys here," he said.
"We have got a very good Indigenous culture at Richmond as well, and I think it is getting even better. I just love it at the place."
Bolton said the playing group is still very united as they loom to get the Tigers into the finals and defend their crown.
"The playing group in general, we all have a brotherhood," Bolton explained.
"We take football seriously, but it is kind of a different thing at Richmond, where we have a tight group and have fun with each other.
"We make football fun and that is why I like it at Richmond."
Playing as a small forward in an already stacked Richmond forward line, Bolton only managed nine games during his first two years in the league.
However, the 22-year-old seized an opportunity in the middle and has since emerged as one of the leagues most damaging young midfielders.
Bolton has now kicked 52 goals from a 64 game career that already includes winning back-to-back premierships. In 2021, Bolton has averaged over 20 touches and a goal in what has been his most impressive season.
RELATED: Every club's most improved player in 2021
The youngster's ability to break lines with superior speed and skill had him regarded as one of the most in-demand trade targets in the league.
The securing of Bolton's signature will likely now buoy the Tigers as they race to earn a spot in the finals.
Bolton is set to run out against North Melbourne on Saturday in what looms as a must-win game for the club.