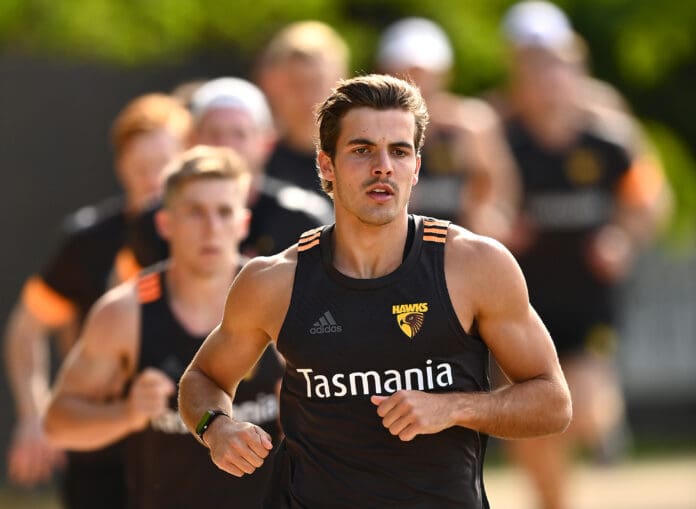 A spate of star players from a series of Victorian AFL clubs are reported to have been in close contact with Covid positive Hawthorn youngster, Finn Maginness as early as last week.
The collection of players including Jordan Ridley, Andrew McGrath, Taylor Adams, Brayden Maynard and the McKay twins were reported to have undertaken a mixed-club training session.
The father-son Hawk was also said to have been an attendee at the open-air session that took place at Boss James Reserve in the Melbourne suburb of Hampton.
RELATED: Rival AFL stars come together to get head start on pre-season
This latest development comes in the wake of an announcement on Wednesday afternoon that Maginness had tested positive for the infectious disease and is currently isolated away from the Hawks' Waverley Park base.
While the aforementioned group of players from at least five AFL sides had shared close contact with the 20-year-old, Fox Sports has claimed that none will be required to isolate given Maginness had shown no symptoms prior to Tuesday of this week.
Maginness had attended training at Waverley on Monday of this week but was said to have shown no outward signs of infection.
However, the aspiring midfielder had taken himself for a test the following morning after reporting to have felt under the weather.
RELATED: Young Hawk tests positive to Covid-19
As reported by The Herald Sun, the club's Mulgrave headquarters will remain closed until each attendee from Monday returns a negative test result.
As stated on Wednesday afternoon, each member of Hawthorn's AFL playing roster has either received a pair of jabs for the airborne virus or is in the process of scheduling their second.