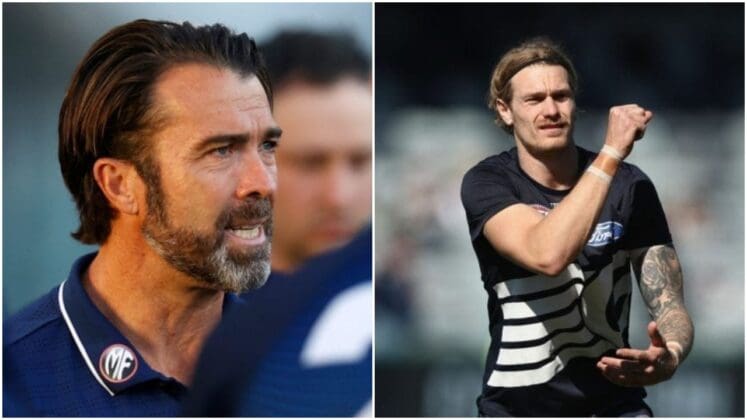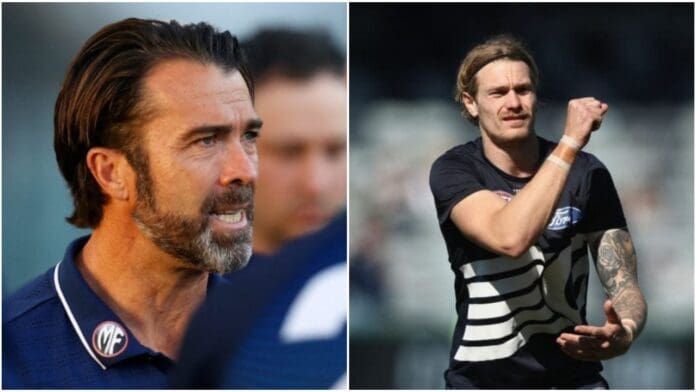 Specialist exercise physician Dr. Peter Larkins has come under fire for his tweets made in relation to Geelong defender Tom Stewart's leg injury.
It comes after Larkins labelled Stewart's attempt to begin running at training as "delusional".
Can't believe Ch 7 commentary team are suggesting Tom Stewart is an option to return for 2021 finals - no concept of what LisFranc surgery recovery entails

— Dr Peter Larkins OLY (@doclarkins) September 3, 2021
Only if he returns too soon…. Admire his motivation, but history is against him if true LisFranc injury https://t.co/r25oWKI2v4

— Dr Peter Larkins OLY (@doclarkins) September 4, 2021
Geelong coach Chris Scott has been left to defend his club's medical staff, telling the media on Wednesday that Larkin's comments - even as a medical professional - were throwing 'haymakers' from the 'cheap seats'.
Scott fiercely hit back at any suggestions that the Cats were trying to rush Stewart back on to the field prematurely.
"Tom (Stewart) is on a program that was laid out by the very best medical experts and anyone who questions that, especially when they're a level below that expertise, doesn't really know what they're talking about," he said.
"Someone in the medical profession who hasn't had the opportunity to look at the situation in detail, throwing haymakers like that from the cheap seats I think is highly unprofessional."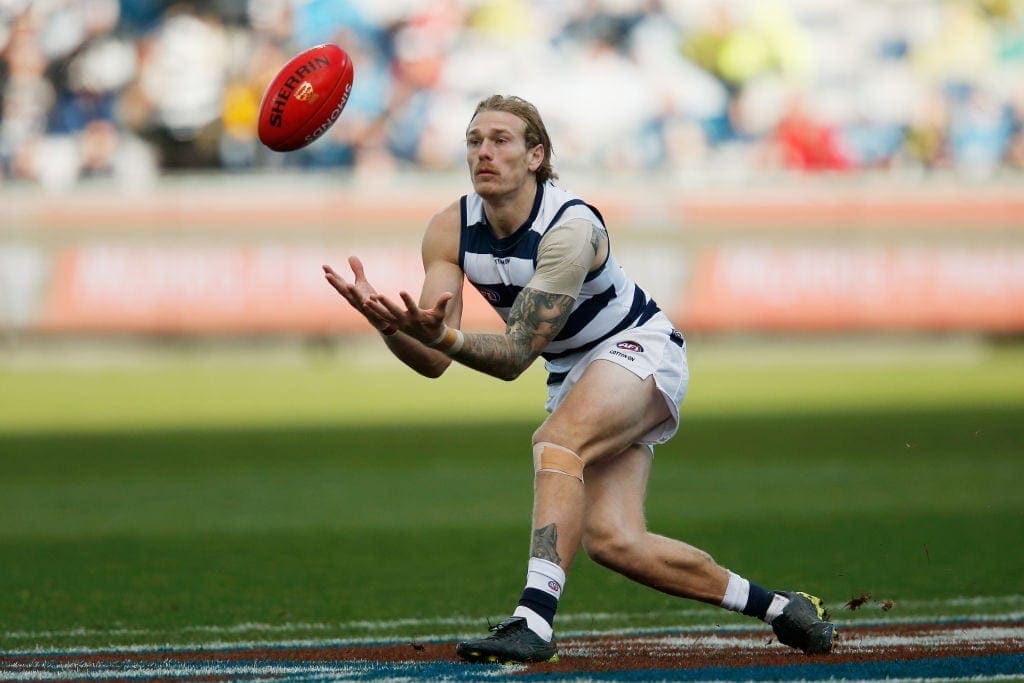 Stewart is still recovering from a Lisfranc joint injury suffered earlier in the season, but remains hopeful to make a miraculous return for the Grand Final should Geelong defeat Melbourne this Friday night.
Earlier in the week, Dr Larkins told SEN Afternoons it would be an "extraordinarily" high risk to let Tom Stewart return to play this season and that it may jeopardise his playing future.
"The danger is the particular type of material that's been used to stabilise all the joints in the middle of his Lisfranc injury will break, so he'll snap the repair and therefore require revision surgery," Larkins said.
"Once you start doing revision surgeries in the middle of people's feet… You really start a cascade of problems in the future, so they've got to bear that in mind."
Preliminary final week 🗓 #GeelongStrong pic.twitter.com/V56VJlJAEM

— Geelong Cats (@GeelongCats) September 7, 2021
This weekend the Cats will play in their 11th preliminary final in 15 seasons, and look to advance to the Grand Final for the second year in a row.
RELATED: Legacy on the line, can Geelong avoid catastrophe
One selection change has already been forced as a result of Brandan Parfitt's hamstring injury, but there is not yet any clear indication on which player will replace him, with the decision likely to come down to either Quinton Narkle, Sam Simpson, Zach Guthrie, Luke Dahlhaus or Shaun Higgins.
Scott flagged in his press conference that Parfitt's replacement has already been identified, however the Cats coach will keep his cards close to his chest before Thursday's selection.