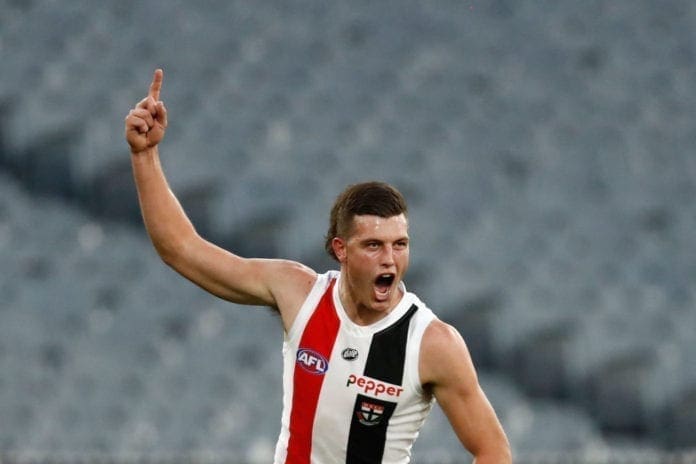 St Kilda head coach Brett Ratten announced on Wednesday that the club's star ruckman, Rowan Marshall, would return from injury this Friday night.
When asked about where the second half of his influential rucking partnership was at in terms of selection, Ratten was succinct in his response.
"He's [Marshall] in the team, that's where he's at. He'll play, which is exciting," he said.
"He's probably underdone slightly, but he's a quality player and we need him to play.
"He's put his hand up and [is] ready to go."
Marshall WILL play on Friday according to Ratten and Billings is good to go too. @zerohanger

— Ed Carmine (@ed_carmine) June 23, 2021
Although the Moorabbin men have been without the Kiwi-born big man since Round 9 following another foot injury, Ratten explained that with the 25-year-old set to play alongside his tap-work teammate, Paddy Ryder, Saints' fans can expect a more dynamic version of their side this weekend.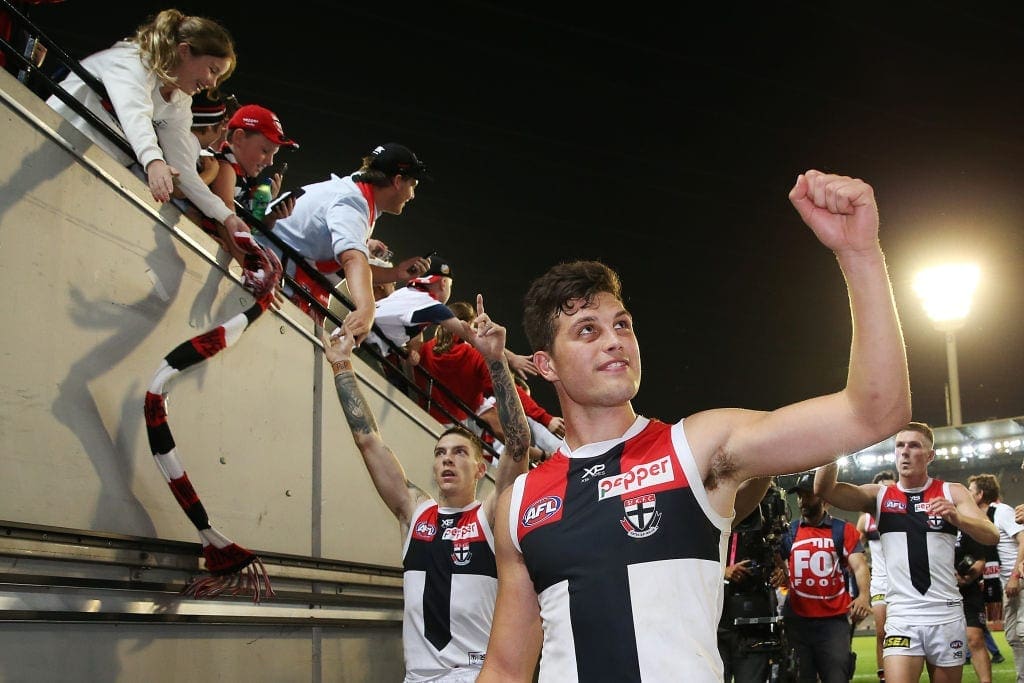 Ratten also stated that Marshall's return would also have the added benefit of aiding the progress and output of his young spearhead, Max King.
SEE ALSO: King inks new deal
"I think it's not just what that combination do in the ruck, but what 'Ro' and Paddy can do for Max as well. It helps our structure forward of the ball and makes us more threatening," Ratten said.
"When you have those two down there it brings [Dan] Butler and [Jack] Higgins and these types into the game which is critical."
Despite missing the Saints' heart-breaking loss to the Crows in Cairns before the bye, leaders Seb Ross and Tim Membrey are also set to return to face the Tigers.
Ross trained with the main group on Wednesday morning, but Membrey's day was proving to be slightly more unorthodox, awaiting the birth of his first child.
Ratten explained that Tim Membrey is currently at Sandringham hospital awaiting the birth of his first child. @zerohanger

— Ed Carmine (@ed_carmine) June 23, 2021
When quizzed for the reason as to why the former Swan wasn't among those on the track at Linton Street this morning, Ratten cracked wise with reporters.
"I actually went out for dinner with Tim last night and said 'what's going on? Can we hurry this process up a little bit?' and then this morning we were about to go into a meeting and the phone went off and it's finally happening," he said.
OPINION: 'Caro' comments on 'parenthood vs football' are irresponsible and dangerous 
"They're [Membrey and his partner, Emily] at 'Sandy' [Sandringham] Hospital now, and hopefully everything is going smooth, but there's a baby on the way."
The head coach also divulged that although he took no part in this morning's match simulation after twisting his knee earlier in the week, Jack Billings would also be fine to face Richmond at the MCG on Friday.
However, a pair of former Swans in Dan Hannebery and Zak Jones are still a few weeks away from selection contention.
Zak Jones expected to return at around the Round 17 mark.

However, Ratten stated he may come back through the VFL.@zerohanger

— Ed Carmine (@ed_carmine) June 23, 2021
Jones looks likely to return from injury by Round 17, but could be tasked with a comeback through the club's aligned VFL side, Sandringham.
The tough nut hasn't laced up the boots since Round 8, when the Saints bested the Gold Coast at Carrara by nine-points.
SEE ALSO: AFL trade news: Saints urged to cut ties with star duo
Communication, and the lack thereof so far in 2021, appeared to be a theme for St Kilda over the bye week, with Ratten expressing a desire for the bar to lift in this area.
"I think the break has helped people re-energize, but it's something that has been missing for a while, that communication," the 1995 Carlton premiership midfielder said.
"You were able to see it against Adelaide in the last quarter. We went inside our shell and didn't communicate like we did for three-quarters, and then we pay a price for it.
"There has been an emphasis on our communication, and the level of communication too."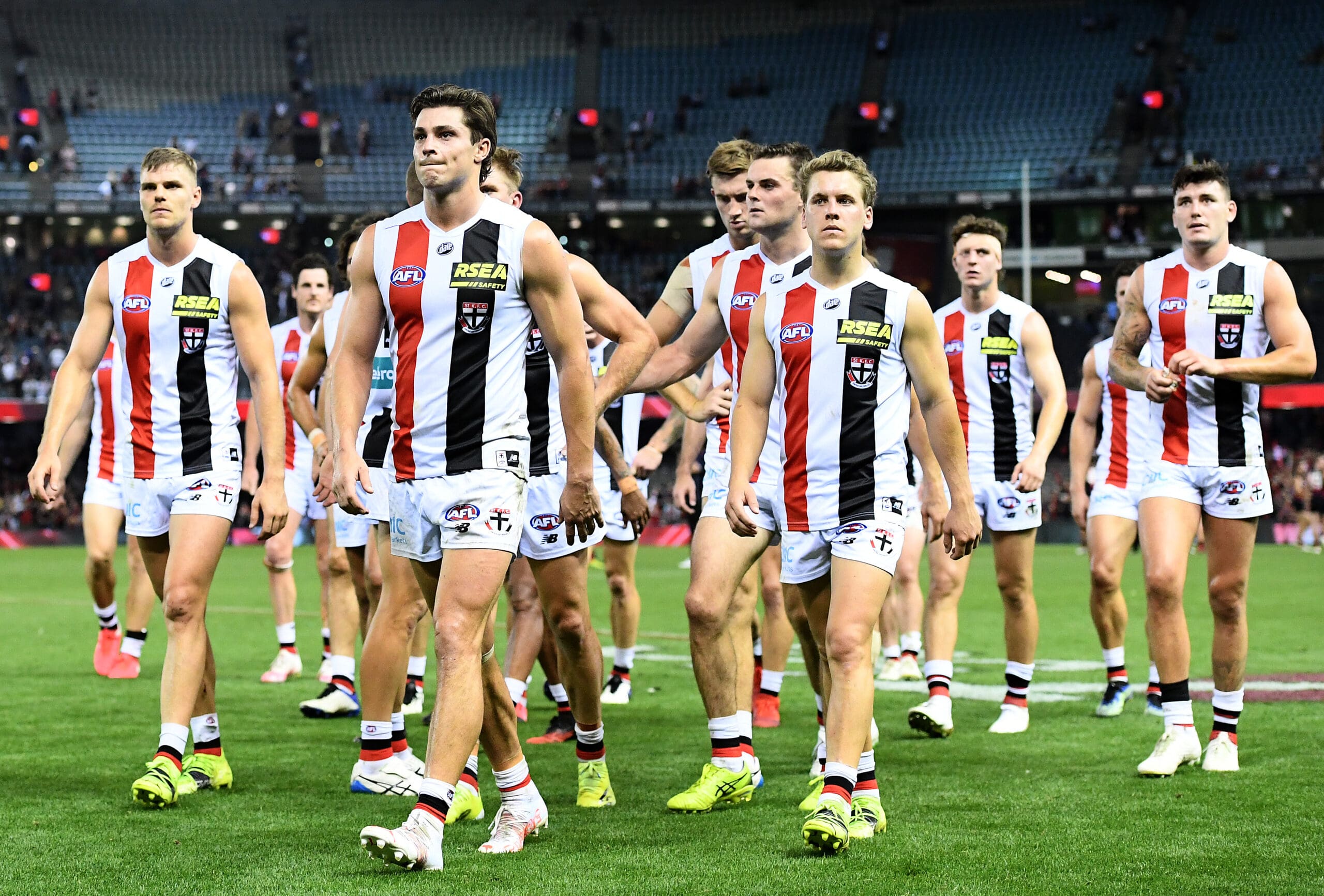 Ratten also expressed that his side's effort to gain the four-points available to them each week has been lacking, but professed that if this desired level of communication is lifted, then positive results should start coming the Saints' way.
He also expounded that in spite of the the club's current 5-8 record, it wasn't all doom and gloom for the out-of-form outfit.
"I don't think we're missing the fun aspect of it," he said.
"There's a balance of fun and seriousness as a football team. Communication is there to make sure that we are supporting our teammates and what is going on around them, and making sure they can do what they have to do in the next play.
"It is serious, and we want it to be serious because we want to win, but there's elements of fun and having a laugh too."
SEE ALSO: AFL trade news: King names ideal landing spots for Saints pair
Even though his side fell to the Tigers by the length of several straights earlier in the year, Ratten imagined that if the margin is to be narrowed - or even erased - on Friday night, his players will need to get their hands dirty at stoppages.
"To be beaten by something like 10-0 in centre bounces in the third-quarter, good luck trying to beat Richmond when we're giving that much territory and opportunity to [Jack] Riewoldt and [Tom] Lynch and these blokes.
"It really will start around the contest for us and that's where we're going to have to be good."
Marshall and his Saints will take on the Tigers at the MCG in Round 15 at 7:50pm AEST, Friday night.