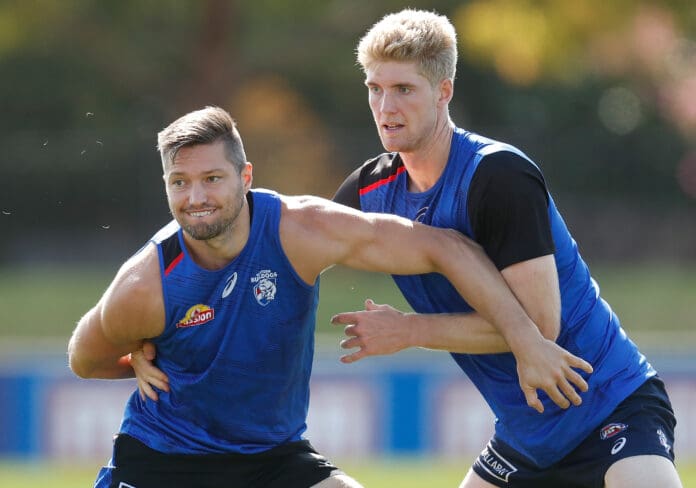 The AFL has often worried about the future of 'traditional ruckmen' in our sport.
In 2017, the ruck nomination rule was brought in to prevent the 'third man up' and to protect the role of the ruckman.
As teams grew more skilful and better coached, experts began to question the validity of a clumsy two-metre plus big-man.
Players like Richmond's 191cm-tall Shaun Grigg were used as extra midfielders whose job was to halve a ruck contest rather than to win it.
Midfields began learning how to curb the influence of an opposition ruckman who was dominating the hit-outs.
As recent as this year, Collingwood's Brodie Grundy was criticised for failing to translate aerial dominance into a genuine midfield advantage.
For a moment it seemed that the old-fashioned big-man who roamed from contest to contest could be going out of vogue.
But it seems the opposite has happened this season...
Instead, the use of dual ruckmen has emerged as a powerful point-of-difference within the league.
Lately, two ruckmen would battle against each other for the majority of game time. A tall-forward would occasionally pinch-hit in order to relieve the first-string tall of his duties.
But a clear trend is now emerging; two is better than one.
In 2021, we have seen repeatedly that fielding two recognised ruckmen can pose a significant advantage over oppositions.
In the first round of the season, the Bulldogs deployed this tactic to devastating effect. Stefan Martin and Tim English took turns bullying Brodie Grundy for every minute he was on the field.
The plan exhausted Grundy, who limped just 11 disposals, whilst the Bulldog duo combined for 29, including two goals.
The Dogs had traded for Martin over the off-season with an aim to assist the younger English. Despite injuries, they are 6-0 when the duo play together and 7-4 when they don't.
Port Adelaide have tried out similar tactics throughout the year with varying degrees of success. Port are 5-1 when Scott Lycett and Peter Ladhams play together, and are 7-4 when they don't.
The pairing of physical older ruckmen with a skilled younger counterpart is a combination we're starting to see often.
Last weekend, Toby Nankervis returned to the Richmond side and made an immediate impact.
Nankervis bashed and crashed in the ruck, allowing Mabior Chol to play up forward. Chol, who had struggled with sole rucking duties, capitalised and kicked a career-best four goals.
The two-metre duo exposed Brisbane for size and played a key role in their upset win.
SEE ALSO: Young Swans following footsteps of drought-breaking Dogs
Elsewhere, Melbourne have stuck with both Max Gawn and Luke Jackson all season and it has quietly been paying dividends.
Gawn has relished the presence of another tall, putting together one of his best seasons to date.
Melbourne now have the luxury of reducing Gawn's midfield minutes without exposing themselves in the ruck. Meanwhile, the talented Jackson is eased into AFL level whilst his body still develops.
In the most physically demanding position on the ground it makes sense to halve the workload.
After losing Lycett and Tom Hickey in recent years, West Coast have clearly lost a midfield edge.
Although a brilliant player, Nic Naitanui only spends 67% of time on the ground. In last week's loss to North Melbourne, the big man looked too fatigued to reach a contest where his opponent Todd Goldstein kicked the sealer.
The benefit of a second ruck in the side is allowing burst players like Naitanui to prolong their influence deep into games.
In the AFL however, there would be no bigger advocate for dual rucks than St. Kilda.
SEE ALSO: Rival club enters race for in-form Saints midfielder
Their breakthrough 2020 season was partly on the back of a winning ruck combination.
Rowan Marshall and Patrick Ryder work perfectly in tandem; whilst one takes the ruck duties, the other draws a key defender up forward.
They are prototypes of the modern-day ruckman.
And their craft in front of goal highlights the growing need for rucks to get involved in general play.
Few opposition teams can cover Ryder and Marshall for size when they are both on the field. The influence they have is so profound that, over the last 20 games, St. Kilda are 7-2 when they play together, and 3-8 when they don't.
Teams across the league are spotting this trend too.
In this year's mid-season draft, seven ruckmen were taken inside the first 20 picks.
As some sides struggle for one healthy ruck each week, fielding two presents a massive advantage.
This tactic, however, is not without condition.
In order for the partnership to work, at least one of the rucks must pose a legitimate forward threat.
Now more than ever, young rucks are being sent to work on their forward craft. The future of the league is versatility.
With flexibility the name of the game, coaches are demanding more roles from players than we've ever seen before.
Injuries have been rampant and the game is leaning heavily on sports science. The freedom to manage a ruckman's on-field workload is invaluable in protecting the team's most injury-prone player.
2021 has clearly shown us that fielding two competent rucks offers a size and physicality that is hard to match.
Tall forwards who pinch-hit in the ruck are now being exposed and dragged around the ground by larger and more experienced counterparts.
And as the league evolves fast and clubs try to stay ahead, it could mean that the ruck duo is here to stay.