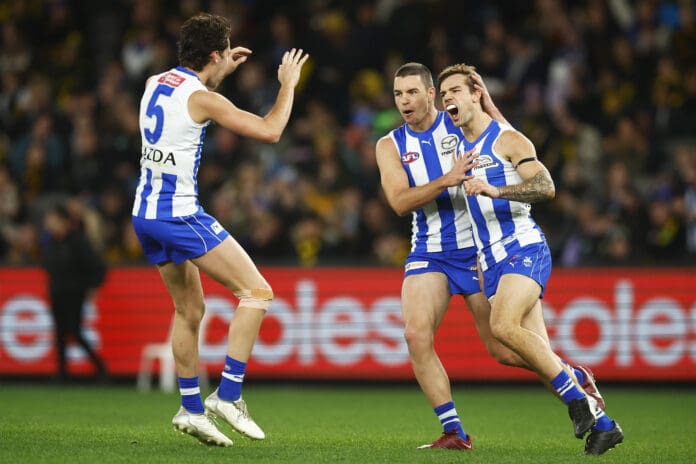 North Melbourne is seeking additional list spots as part of a larger assistance package from the AFL.
The Kangaroos, as well as seeking future priority draft picks, are aiming to expand their rookie list by two players, according to afl.com.au's Cal Twomey.
North Melbourne is said to be presenting the cases of the 2019 Gold Coast Suns and the 2018 Carlton and Brisbane teams as supporting evidence of a necessary AFL assistance package for the Kangaroos in 2022.
The Roos have been among the worst-performing teams in the league in recent times, posting a winning percentage of just 14.75% across the past three seasons.
As part of their assistance package in 2019, the Suns were granted up to an additional ten rookie list spots, with Roos officials requesting just a fifth of that amount this year.
North Melbourne has sorted its coaching dilemma with the acquisition of four-time Hawthorn premiership coach Alastair Clarkson, and will now turn its attention to the list-management aspect of its rebuild.
North Melbourne's newly-appointed General Manager of Football Todd Viney spoke recently on 3AW, detailing the Arden Street club's "aggressive" off-season list strategy.
"We've got work to do in all aspects of the club and the footy department," Viney said.
"Part of that is players. We need to look at the talent we've got [and] try and work out how we can best utilise and improve the talent, but we'll look at all aspects of the avenues available to try and get better.
"Now that's through [the] draft, free agency and trade, so we've got to look at all those avenues, but we'll be aggressive.
"It's not going to be all fixed in one year. It's a tough game, everyone's trying to do the same thing, we have finished on the bottom of the ladder, so we might not be as attractive as some clubs, but having a four-time premiership coach at the club, at a proud club, hopefully that can carry some weight and we can influence some players to come and help us start this journey."
The Kangaroos' 2022 draft hand, pending any AFL care package or upcoming trades, consists of picks 1, 55, 66 and 73.