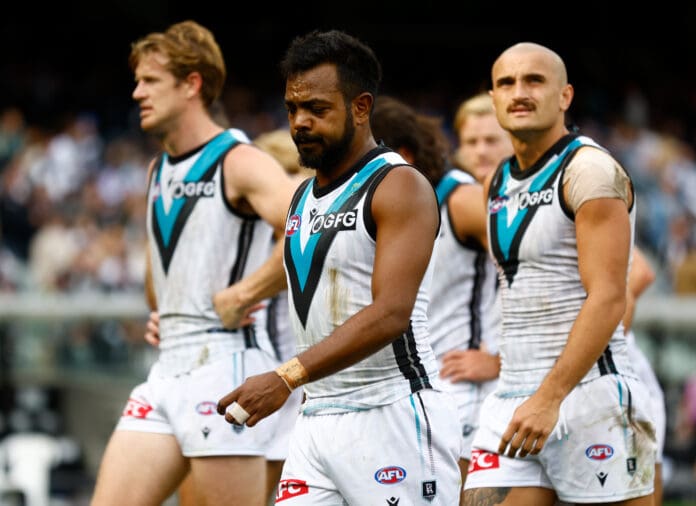 Port Adelaide has been forced to call out yet another vile act of racism, this time directed at premiership-winning forward Junior Rioli.
As reported by News Corp, the former Eagle was targeted by online racists following the Power's Round 8 win over Essendon, a fixture in which the 27-year-old was reported for a high bump on Bombers defender Jordan Ridley. 
In a since-removed post on the AFL's Facebook page, Rioli was racially abused by an individual poster on Sunday, with Port Adelaide making a swift statement condemning the post.
"Racism does not belong in our society, and nor in our national game," the Alberton-based club's statement read.
"Racist comments like these cause deep distress and harm.
"We will continue to call this reprehensible behaviour out and use our voice to educate our fans and the broader community.
"The club is supporting Junior, his family, and all First Nations people within the club who have been distressed by these racist comments."
SEE ALSO: While Winmar's wounds heal, our song of shame remains the same
During his days as an Eagle, Rioli was forced to throw his arm around his now ex-teammate Liam Ryan after the All-Australian was racially abused in a similar fashion in March of 2019.
West Coast released their own club-wide statement on the matter, with Rioli publicly stating that he was "sick of this s**t."
Less than 12 months later, Rioli was personally targeted, going on to call out racist trolls who left vile remarks on one of his Instagram posts in February of 2020.
Given this latest attack on Rioli took place on Facebook and was delivered by what is believed to be a verified account, Port Adelaide and the league are said to be positive that the perpetrator will be delivered a life ban should they be suitably identified.
Last week, the AFL announced that bans for racial vilification would now carry a lifetime penalty, rather than the previous three-year length.
As per News Corp reports, nine racists have already been banned by the league this season alone, with the ages of the individual perpetrators said to range from 18 to 72.
Rioli is set to face the tribunal for the Ridley bump on Tuesday night.