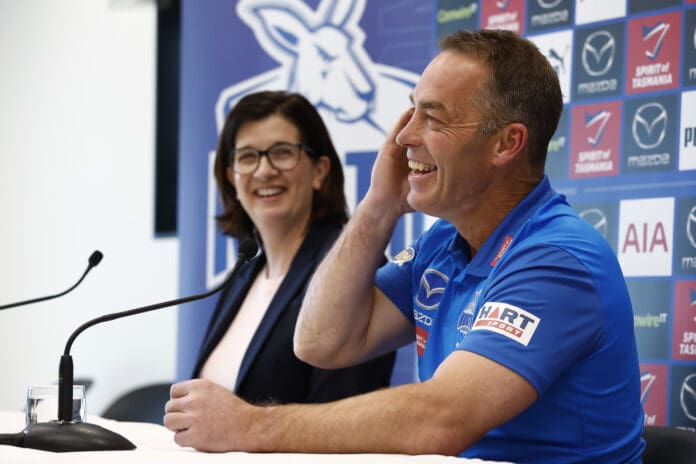 North Melbourne appears set to miss out on the opportunity to 'pre-list' a prodigious Tasmanian draft prospect.
Prospective draftee Ryley Sanders, who is expected to be snapped up within the first ten selections at November's National Draft, seems unlikely to find his way to Arden Street this year, despite being granted official affiliation with the club's Next Generation Academy.
Speculation has floated that the Kangaroos have requested the ability to pre-select Sanders as part of a priority assistance package this year. Sanders' newly-minted NGA ties to the Roos were viewed by some as a lobbying measure to strengthen the likelihood Sanders would find his way to Arden Street.
However, according to a Saturday afternoon report by SEN reporter Tom Morris, a picture of North's potential AFL-gifted package is becoming clearer, and it doesn't appear to include pre-listing Sanders, with Morris adding that wasn't the Roos' end goal anyway.
"I can tell you today that North Melbourne requested a priority pick towards the top of the draft, that's Pick 3, which is after their first regulation selection, but did not request direct access to Ryley Sanders," Morris said on Saturday.
"Now, Gillon McLachlan, he's heavily involved in this decision, along with the (AFL) Commission, but I understand Laura Kane's recommendation at the AFL is to hand [North Melbourne] three draft selections that [don't] include that Pick 3."
Morris reports two first-round draft choices, as well as a second-rounder, spread across 2023 and 2024 are expected to find their way into North's hands, as opposed to a direct early selection or Sanders access.
"So, these three draft selections, if the Commission takes the recommendation on board, would be one late first-round pick this year, one late first-round pick next year, and then a second-rounder next year as well, and North Melbourne, unlike last year, would be permitted to use those selections however they see fit," Morris continued.
Monday is understood to be the AFL's deadline for a decision on the extent of the Kangaroos' assistance this year.
"The Commission will make the final ruling on North's assistance on Monday," said Morris. "The recommendation from the AFL is normally adopted, but it won't necessarily be adopted, given that Gill is so involved and the Commission might have its own views, but the recommendation will be for three draft picks across the next two years."
The AFL Commission, Gillon McLachlan and Laura Kane are all heavily involved in deciding North Melbourne's assistance package. @tommorris32 has the latest on where talks sit. pic.twitter.com/5yx0HgzzNL

— SEN 1116 (@1116sen) September 23, 2023
If North Melbourne still wishes to find a way to acquire Sanders, it will either need to use one of its early regular selections on him, trade up with another team using multiple selections of their own, or hope he drops beyond No. 40, which seems a pipe dream.
Past Pick 40, clubs can match rival bids for their NGA-tied prospects; a draft regulation now relevant to Sanders.
The Kangas already possess one of the competition's strongest draft hands heading into November, holding picks 2, 14, 39, 51, 59, and 76 as the order currently stands.
Further, depending on the Ben McKay compensation outcome, North's list committee is slated to be armed with an additional high-end selection; likely No. 3 if Essendon's contract offer to the defender is lucrative enough to satisfy the AFL's secret free agency formula for 'band one' compensation.
North Melbourne's potential knowledge of its standing regarding a McKay compensation pick could also play into negotiations with the Bombers, as the Roos could be tempted to match an Essendon offer sheet, no matter the price, if they know the compensation won't be top-end as hoped.
A massive off-season period for the Arden Street club is about to unfold, and it will begin on October 6, when the free agency window officially opens for business.