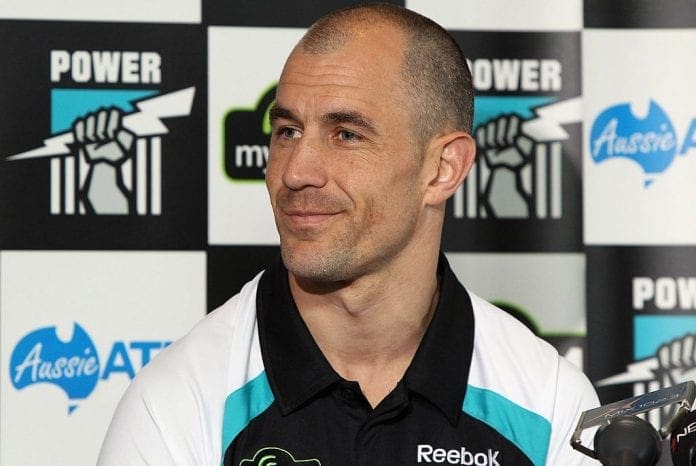 Port Adelaide's sole premiership captain Warren Tredrea has reportedly taken a leave of absence from his duties with the Nine Network following the broadcaster's decision to implement a double vaccine mandate.
Tredrea, 42, was not present for his regular news hosting duties in Adelaide on Thursday and is said to have commenced his holiday leave period ahead of time.
According to Fox Sports, this latest health practice was put into place by Nine from December 1 and would stretch across each of their branches throughout the nation.
While the Australian Football Hall of Famer is yet to offer any comment regarding his employer's stance, Tredrea had previously gone on record by stating that he was not comfortable with the notion that members of the public were forced to obtain inoculations.
Speaking via radio earlier in the year, the four-time John Cahill Medalist offered an ambiguous answer as to his current jab status.
"I'm fully vaccinated … but I'm not Covid vaccinated," Tredrea stated.
"Everyone is entitled to what they want to do because it's your body."
These comments came in the wake of the league's decision to implement a blanket 'no jab, no play' law - a ruling that did not sit well with the South Australian for several reasons.
Tredrea suggested that the all-inclusive coverage was in fact "discriminatory" due to the myriad of religious and cultural backgrounds of players within the league.
The former forward also expressed that athletes within the competition should not be forced out of their jobs simply for undertaking their own research and sticking to their guns.
"It's everyone's individual situation and choice. So if a player doesn't want to do it, that's fine, that's their decision. You shouldn't be able to lose your employment," he continued.
After replacing Tredrea on camera during the local broadcast on Thursday, fellow reporter Tom Rehn explained that he was hoping his contemporary would have a change of heart in the coming weeks.
"It was a strange day that's for sure," Rehn told FIVEaa.
"Warren's someone I consider a very close friend and a great person to work with. I hope he is going to be there,
"As far as I'm aware he's on some leave at the moment, he was due to go off pretty soon anyway. I'm hoping we see him back, he's an A-grade person, fantastic guy to work with and a great team player."
It is not yet known if or when Tredrea will recommence his duties.