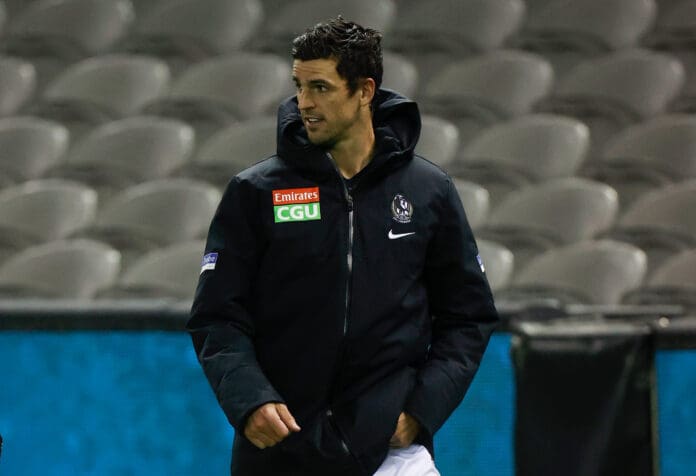 Collingwood captain Scott Pendlebury has revealed he won't return to the field this season after suffering a leg injury during his side's 28-point loss to Port Adelaide at Marvel Stadium on Friday night.
Pendlebury, 33, left the contest at quarter-time following a run down from behind tackle by Port's Willem Drew midway through the opening stanza, with it now revealed the veteran onballer has suffered a hairline fracture.
Unfortunately I have a little crack in my leg and that's it from me on field this season! Thanks for the well wishes and keep getting behind the boys. Plenty to like last night and exciting to see the next 4 games and what we can bring

— Scott Pendlebury (@SP_10) July 24, 2021
Speaking with the ABC's Corbin Middlemas at the completion of the contest, Pendlebury stated that he was already fearing the worst.
"I've broken my leg before and it's a little bit similar to the pain I experienced with that," the skipper said.
Scott Pendlebury has headed to the rooms.#AFLPowerPies pic.twitter.com/9ostxxsJ1T

— AFL (@AFL) July 23, 2021
"It's really sore around the bone and the middle of my leg and the leg muscle around that is really tight. I tried to run and kick and it didn't feel right."
In the face of his captain's intuitions, interim coach, Robert Harvey expressed that the club will wait for scans of the lower-leg injury before jumping to conclusions.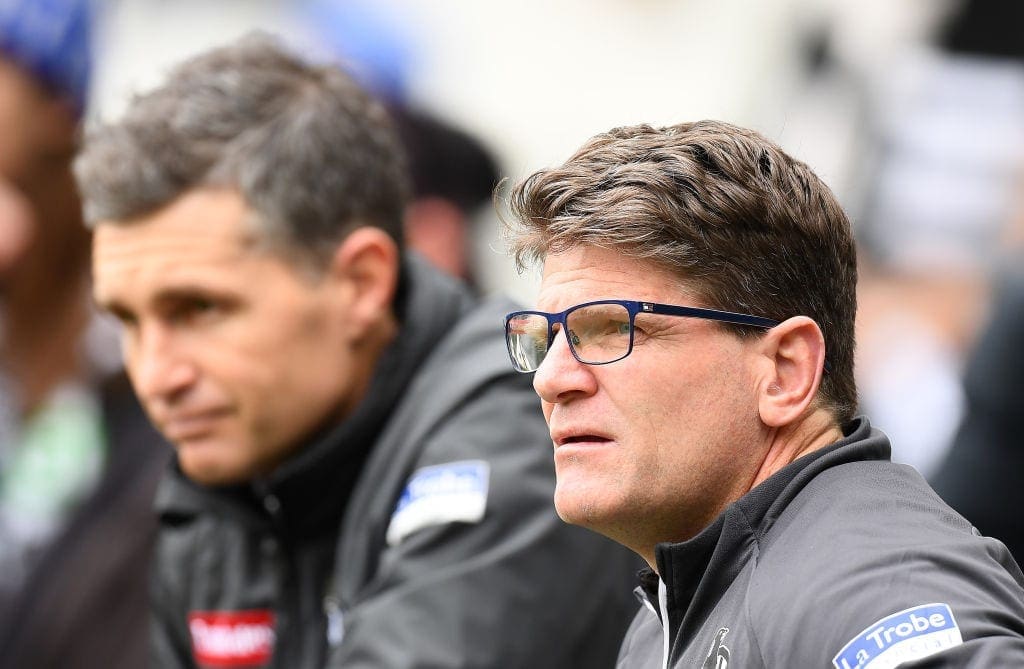 "It's a pretty early diagnosis that one," Harvey said post-game.
"All that we know is that he was a bit sore to go back on.
"Until we get further information it's too early for that (call). But he was moving around ok just then so we'll see."
Despite attempting to re-enter the game following the first break, Pendlebury was subbed out and replaced by the physically dissimilar Mason Cox for the second-half.
With Pendlebury sidelined, Harvey was forced to move his magnets around in an attempt to cover all bases for the remainder of the Round 19 match-up.
The St Kilda legend deployed Cox forward of the ball and veteran Steele Sidebottom into the middle of the ground, whilst also placing more responsibility at the inexperienced feet of first-year Pie Finlay Macrae.
Although Cox had a quiet night - one goal and five disposals - his coach defended the decision to select him as the medical-sub.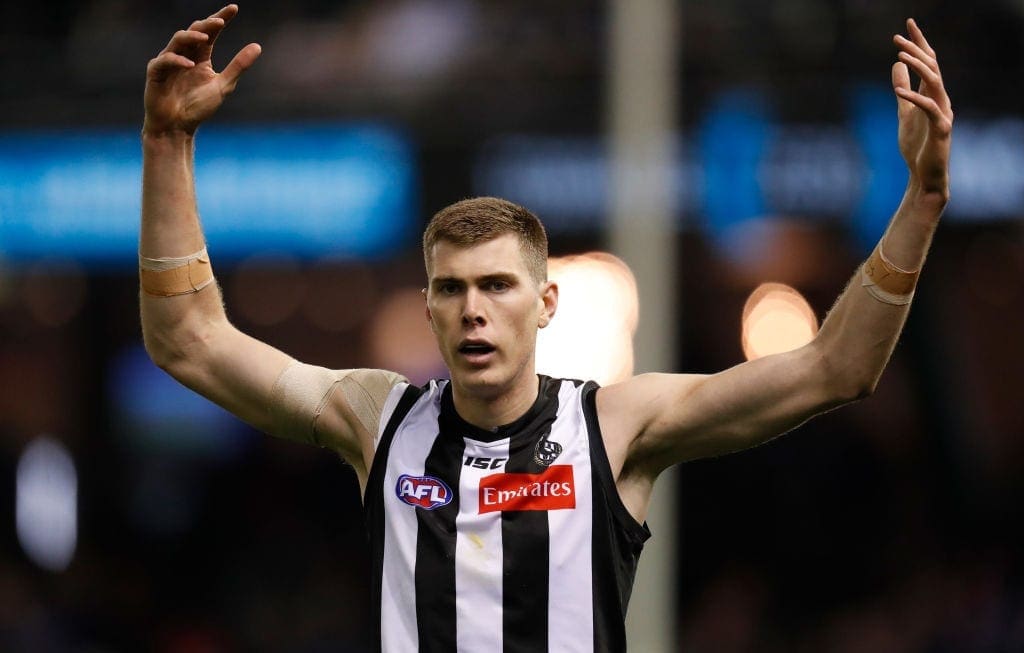 "We were a really young team tonight and we didn't have a lot in reserve in regard to experienced players," Harvey explained.
"I know Mason was quieter and could have done more, but in the end I thought we were really positive in how we entered the ball inside 50.
"Through where we're at I thought that was the best call and that's the way we went.
"We looked like we were running on top of the ground, so I didn't think that was an issue."
In a night where the Magpies eventually ran out of steam against a surging Port Adelaide side desperate to make ex-captain Travis Boak's 300th game a winning one, Collingwood's Taylor Adams also ended the game under an injury cloud.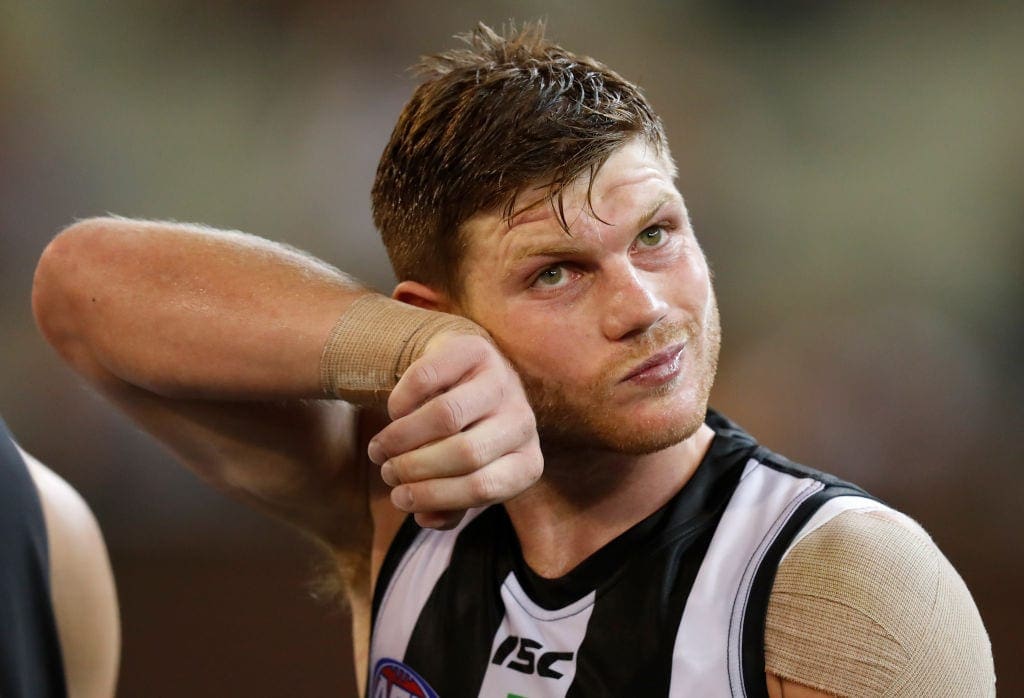 Adams - the club's best and fairest winner in 2020 - spent significant time on the bench during the second-half.
The former Giant began the clash brightly by recording 21-disposals by half-time, but after suffering a knock to the knee, the 27-year-old finished Friday night on the sideline.
Collingwood: "He had a knock in the 3rd qtr.. he wasn't at his absolute best physically in the second half"

Magpies Snr coach Robert Harvey on Taylor Adams (Knee)

Round 19 post game presser#AFL | @aflratings pic.twitter.com/iTDNO86ELA

— aflratings.com.au (@aflratings) July 23, 2021
In spite of his side's slow start, Port Adelaide coach Ken Hinkley paid effusive praise to his charges after fighting back following a first-quarter deficit on the scoreboard.
With his tall-forwards combining for nine of the team's 14-goals, the 54-year-old singled out the previously under-fire Charlie Dixon for further commendation.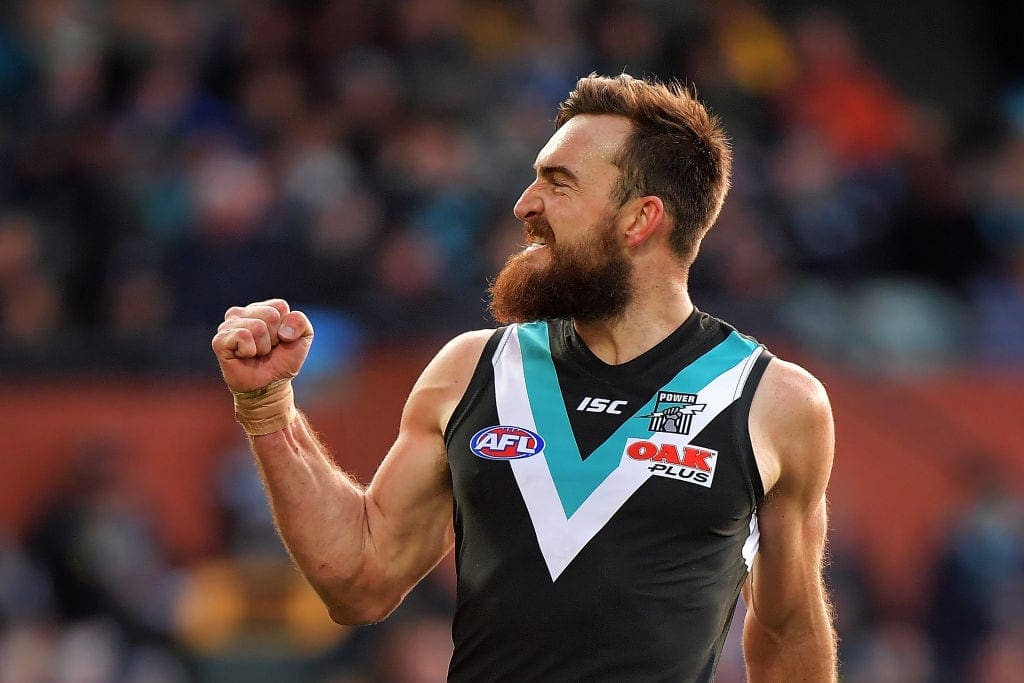 "We go to Charlie a lot when it becomes a contest, but it's nice to have other players out there and tonight we had Ladhams and Marshall who managed to hit the scoreboard," Hinkley said.
"Mitch (Georgiades) didn't have the night he would like from a scoreboard point of view, but that's what happens.
"You take your turn and when you've got multiple options it's really hard for the opposition to defend. I think that's going to be a key part of our team."
After once again being afforded the opportunity to combine Connor Rozee, Zak Butters and Xavier Duursma, Hinkley explained that their abilities were vital for Port's chances in September this season.
"That's exciting for us. We knew that game time was going to be important and we've put them in now," he said.
"It's good for our team and good for our balance."
The beleaguered Magpies are fixtured to face the Eagles in Melbourne next week, with Port scheduled to clash with the Giants in what looms as an important contest in terms of shaping the top-eight.