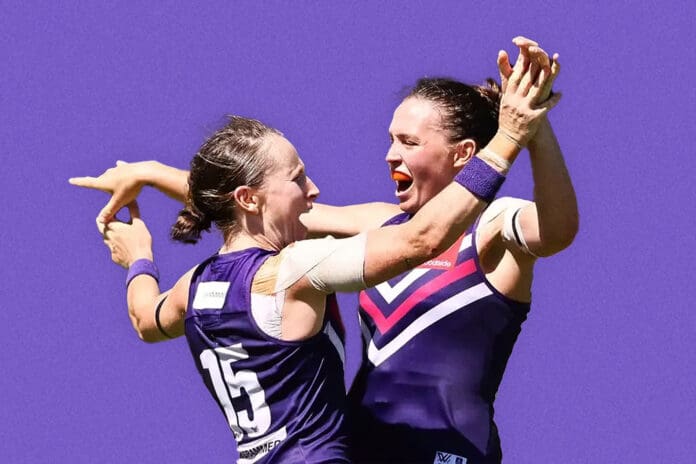 Under last Saturday's fading skies, the hinges of several floodgates were busted, with a purple rain washing red and white throngs onto the streets of Sydney's hip inner-west.
On the expanses of a former brick pit-turned-athletic amphitheatre, the league's rollers and rockers cavorted. Free from an unwanted, and previously unfamiliar, burden. Within the centre of this travelling horde stood the club's beating heart; her tears submerged beneath a celebratory tide of emptying drink bottles.
Since the AFLW's inception in the summer of 2017, Fremantle has remained a near-constant premiership threat, playing finals football at every available juncture since 2019.
Although a breakthrough flag for squad and club is still yet to dock, ever since the Dockers made the trek east for their debut date some five years and change ago, the light from a pair of north stars has shone unimpeded out west.
Once simply teammates but now partners in life, the dual impacts Ebony and Kara Antonio have had on the Fremantle Football Club cannot be overstated. Whether mustering the troops, hitting the scoreboard or adding a further sense of family to coach Trent Cooper's fold, the worth of these perfect partners goes beyond any price tag.
Praise of this nature is often shut down as hyperbole, with trite tropes instead trotted out, stressing no part is greater than the whole. But with the Dockers currently anchored in the mire and this season's curtains creeping closer to closing, reality proves that this applause is still too hushed.
As the AFLW welcomed every club into the fold over winter, the view that the already established sides would dominate season seven streaked towards becoming an ironclad fact. And with September shooting through into the shadows of November, last season's finalists have each shored up their positions.
All but one, that is.
Despite boasting a 7-3 record in season six, a series of dents and departures have cast the Dockers adrift across the back half of 2022 - a draw and a lone win their only fodder ahead of last weekend.
While the losses of Gemma Houghton, Sabreena Duffy, Jasmin Stewart and Stephanie Cain have doubtlessly played a role in Freo's recent turn in fortunes, another duo of daggers effectively ended their season before it had even begun.
Just weeks out from their opening fixture in late August, both halves of the Antonio household were ruled out, with Kara succumbing to a nasty hamstring strain in training and Ebony's PCL giving way less than a fortnight later.
Quantifying intangibles will forever be a challenge. How long, they ask, is a piece of string? Yet, during the quartered, rough and tumble of footy fixtures, the stats sheet has always acted as the marker of greatness.
Although falling just shy of a place in a maiden decider, the Dockers' preliminary final finish last April was born off the back of the class on all lines and a collective buy-in, forged throughout 23 consecutive days locked out of home and state.
Spurred by a breakout season from Hayley Miller and turbo-charged by the routine grunt of Kiara Bowers, the bookending efforts of the Antonios marked season six as Fremantle's most successful campaign on record.
Having handed the captaincy over to Miller ahead of 2022's opening season, outsiders could have been forgiven for predicting a shrunken role for Kara going forward. But while the keys were flung from her sweatbanded wrists, the now 30-year-old's tidiness and efficiency remained at the same embossed standard.
For Ebony, already a club champion and an All-Australian, season six proved her magnum opus, with the fellow tricenarian running with the ball on a string and splitting the sticks, seemingly, at will.
| | | | |
| --- | --- | --- | --- |
| | Kara Antonio  | Ebony Antonio  | Fremantle Player Averages – (S6) |
| Disposals | 9.3 | 13.5 | 9.53 |
| Tackles | 1.6 | 4 | 3.15 |
| Goals Per Game | 0.7 | 0.9 | 0.29 |
| Clearances | 0.3 | 1.5 | 0.99 |
| Marks | 1.1 | 3 | 2.07 |
| Contested Possessions | 3.9 | 5.7 | 4.6 |
| Contested Marks | 0.1 | 0.5 | 0.21 |
| Disposal Efficiency | 70.2% | 65.1% | 58.9% |
But with each of these pioneering drivers now begrudgingly parked, too much has been left to Miller, Bowers and the remainder of Cooper's wharfies; each struggling to fill the void vacated by a pair of vital organs.
Even after three separate extensions, the AFLW schedule has always dictated a sprint down the straight. Like any other competition, consecutive wins are golden, however, any slips on the synthetic can be fatal, with very few tomorrows afforded for correction.
Since the starter's pistol in September to the rise of their penultimate hurdle last Saturday, Fremantle has left layers of skin down the track, only clearing one hurdle cleanly and falling well short on six others.
With an average losing margin north of four goals per week and the lowest score in competition history posted during a rotten home outing against the Cats, the 18-team race may still be alive, but the Dockers' chances are definitely not.
They say you win as a team and lose as one too, and throughout the course of spring, the latter has proven the case for Fremantle, with a collective dropoff telling the tale of the tape.
| | | |
| --- | --- | --- |
| | Fremantle Player Averages – S7 | Fluctuations between S6 & S7 |
| Disposals | 8.34 | -12.48% |
| Tackles | 3.05 | -3.17% |
| Goals Per Game | 0.17 | -41.38% |
| Clearances | 0.89 | -10.10% |
| Marks | 1.53 | -26.08% |
| Contested Possessions | 4.05 | -11.95% |
| Contested Marks | 0.89 | +76.40% |
| Disposal Efficiency | 50.5% | -14.26% |
Without a win to their name since eclipsing the Eagles back in September, Fremantle has followed the map of McCartney, wandering a long and winding road; coming up short both near and far.
Still, their fruitless steps fell well short of the torturous trek undertaken by their leading goalscorer from last season.
While initial scans of her right knee stipulated an 8-10 week stint on the sidelines, Ebony admitted via Instagram last week that the layoff actually came as a "blessing in disguise" given the secret health battles she was fighting.
Shaded from public view, the goalscoring winger spent time with specialists, seeking to amend problems with her heart, issues that could have easily spelt the end of her days in boots.
"There was probably a time (when reality hit) – the girls were running out for training and I was in the changerooms, in the shower for about 20 minutes bawling my eyes out thinking my career was done," Ebony revealed to Fremantle Media.
Consultations with a cardiologist ensued, including chats about pacemakers, medication and check-ins involving electrocardiograms. And while time in a hospital bed was required, with her knee dutifully elevated, little could break Ebony's stride as she made her return to action on time.
And with the Dockers anchored toward the ladder's depths, it hadn't come a moment too soon.
Accruing 14 disposals, a trifecta of marks, a clearance and a goal, all at 73.3 per cent efficiency, it was as if Ebony had never left, as the Dockers shrugged off the Swans at Henson Park, tasting success for the first time in a month.
Speaking through tears post-game, Ebony made no bones about the toll the unsealed road had taken as she finally got back to play her milestone game.
"It's been a tough journey. It's been a tough year for the group. I'm just so proud of them for their effort today (and) getting up for the 50th game," she told Fox Footy.
"It hasn't been the best season. We have really high expectations of our group. The girls have been down at times, but there's one thing for sure, we're a really special group and we're united within the four walls of the Freo Footy Club."
It's this team-first attitude that has long encapsulated Ebony's essence. An essence that goes beyond words and beneath the flesh.
"She's everything," Bowers expressed as Ebony became drenched in celebration. "She's the heart and soul. She's incredible."
From her place calling shots from the boundary, no crystal ball was required to chart the emotions coursing through Kara's veins. Pride. Joy. Relief. All expressed with a tear or two of her own, no doubt.
Yet, for the other half of Fremantle's first family, the spotlight is all hers following the announcement this Saturday's hurdle would be the last before the finish line.
As the Dockers' inaugural skipper and their first All-Australian, few have played a stronger hand than Kara in laying the foundation out west. And though a fairytale finish will be out of reach, so too a return to the finals, little could dampen the pocket rocket's spirit as she called time on her career.
"I've enjoyed every second of it, the highs and the lows," she delineated to Fremantle Media.
"It's made me a better person, a better wife, a better leader, a better friend.
"I'm really looking forward to the week ahead, enjoying it – just getting out there one last time in the purple jumper on Saturday."
Trends may be moving in the other direction, but while statistics can add colourful strokes to the canvas, they cannot complete the whole picture.
Through winning contests and hitting the scoreboard, the on-field impact the Antonios have had on the Fremantle Football Club is both marked and measurable. However, the influence of these perfect partners stretches well beyond the boundary. It lives within the mortar of the place.
With its century and change headstart over the women's competition, there are no Australians alive that can recall the pioneering deeds of George Coulthard at Carlton, Dick Condon at Collingwood or Jack Conway at the Cats. All we have are serious portraits of these male trailblazers to match with legacies on history's page.
These days, the ever-growing estates of Vescio, Chiocci and 'Meg Mac' can be viewed first-hand each week for pocket change. Their books haven't been written as their history is still being made.
As a young program at a young club, Trent Cooper's side is still missing many golden afternoons before the back cover can come down on their story. But as the purple fades on the opening chronicles of the Dockers' first steps at AFLW level, the name Antonio will be plain to see for centuries to come. Their dual deeds and smiling faces dancing atop the yellowing pages.