Bulldogs coach Luke Beveridge was last week involved in a terse exchange with a journalist regarding Jamarra Ugle-Hagan and his lack of a debut to date.
While everyone is entitled to ask questions, Beveridge can be forgiven for losing patience.
In recent years, the clamour for key forwards to be thrown in straight away is getting out of control, with so many examples of recent high draft picks that play the position struggling to adapt to the demands of AFL footy, highlighting not just how difficult the position is to play, but how much patience is key.
There's absolutely no doubt that Bevo thinks he's making the right call to protect what could be his club's poster boy for the next decade. With so many desperate to see Jamarra play at the top level, here's why Beveridge is right to take a softly softly approach.
The Buddy Comparison
We've been hearing about Jamarra for years. The comparisons to Buddy Franklin were made early, not just due to their indigenous heritage, but their style of play, left raking boots and x factor that had recruiters drooling.
What was also highlighted was the scary potential that both players had, so it seemed an apt comparison to compare him to Buddy. In his first few years, Franklin took time to develop, showing glimpses yet not having the fitness required for AFL level.
SEE ALSO: Rival clubs circling Bulldog Ed Richards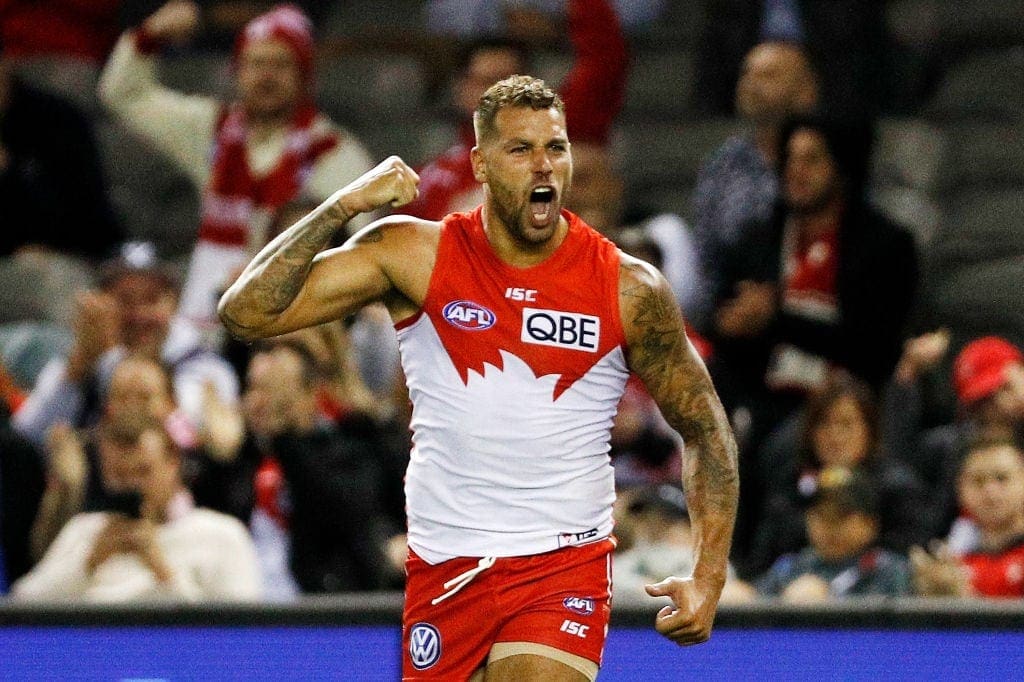 Though it's true Buddy debuted straight away, he also suffered injuries, the kind that are now restricting him to limited games in his quest to kick 1000 goals. What's also crucial to highlight is that the Hawks at the time were struggling, needing something to spark hope within their supporters after several years in the wilderness. The Bulldogs are in a completely different position, but more on that later.
The important point here is that while Buddy played early, he took time to really develop into a dominant key forward and the main reason was that he needed to develop an engine, which took several pre-seasons. Jamarra would appear to be in the same boat, so while playing him now would lead to valuable experience, he is still somewhat short of AFL standard when it comes to his fitness. There's a huge reason for this.
The Lost Year
Like so many AFL hopefuls last year, Ugle-Hagan's entire draft year was compromised by a lack of game time and training due to COVID-19. A quick look reveals that as a general rule, most Victorian based draftees look to be slightly off the pace at AFL level.
And while there's no doubt they have the talent, they are behind the eight ball due to a year of crucial development lost. Besides perhaps the exception to the rule in Nik Cox from the Bombers, who has adapted fairly seamlessly to AFL level, the majority of Victorian players who were drafted last year have found it tough to keep up with the pace of AFL football.
This would seem to be the case with Jamarra, who's VFL form has been great, however, the rider has been that he still requires work on the aerobic side of his game. Going back to the Franklin comparison, Buddy was winning time trials during Hawthorn pre-season before he really broke out and became a superstar, which is often the case when it comes to the big men.
Key Forwards Take Time
One of the stronger arguments to play Ugle-Hagan is that he'll get valuable match experience while Josh Bruce and Aaron Naughton take the best two defenders each week. It's tempting for the romantics to imagine that he could come in and kick a bag on debut and it'll all be smooth sailing from there.
However, the reality is that he's probably physically not ready to play a full game at the top level. A lot of the big forwards of the modern game took time to develop. Buddy took a few years to really break out, while Nick Riewoldt missed his entire first season before spending another at centre half back.
Tom Hawkins and Jack Riewoldt both took until their early-to-mid 20s to become the dominant big men in the game. It's not an easy position to play and if you're intention is to develop someone who can inspire and drag his team mates across the line in tight games for the next decade, then you'll probably want to ensure he's ready to carry that on his shoulders.
The Weight of Expectation and Jack Watts
The media: "Playing Jack Watts too soon ruined his career"
Also the media: "Why aren't you playing Jamara yet?!"
When draftees are so young and inexperienced, the key is developing everything, not just their body, but their mind as well. Unlike the US College system or the NRL, the AFL puts 18 year olds straight up against grown men.
It is the ultimate trial by fire and while it's crucial to harden them up physically and mentally, that can easily be done in house during their first couple of seasons. Throwing a kid, no matter how confident and talented, into the deep end could be a recipe for disaster and greatly damage his development.
SEE ALSO: Bulldogs confirm debutant
Jack Watts is exhibit A. Everyone remembers that first passage of play he was ever involved with and the sheer ruthlessness of a kid being thrown to the wolves against Collingwood on Queen's Birthday. The Demons took a torch to their prized asset to try and keep the fans happy and it backfired spectacularly.
The Bulldogs don't have that same problem. A fellow Bulldog in Josh Schache could serve as a cautionary tale as a player who perhaps wasn't given enough time to develop and as a result, looks to have some serious confidence issues surrounding his game.
There's No Need
Having only lost one game and sitting second on the ladder, there really is no need for the Dogs to make any drastic changes, particularly with Josh Bruce back in form and happy to serve as a battering ram so that young tyro Aaron Naughton can continue to develop.
When you're going so well and the fans are happy, you can take your time with top end talent and ensure they get a proper apprenticeship under their belts before being exposed to the bright lights and scrutiny of the top level.
SEE ALSO: Five players the Adelaide Crows should target
While there's certainly an argument for giving Ugle-Hagan his debut, the Bulldogs are not about the here and now when it comes to their prized recruit, they're looking at the big picture. And the bottom line is, right now, the Bulldogs have the luxury of using Jamarra however they please.
They are heavily invested in his career being a success so won't bow to external pressure to blood him early and with the recent examples of young key forwards struggling to adapt or handle the scrutiny that comes at the top level.
The cautious approach is probably the right way to go with a long term view of having both Jamarra and Naughton terrorise defenders for potentially a decade. As the old saying goes, good things come to those who wait.