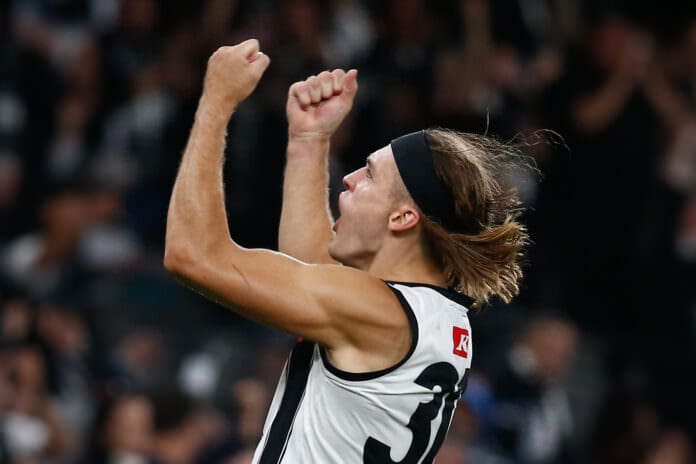 Following a wet and wooly Saturday afternoon to forget in which Richmond spearhead Tom Lynch ran Darcy Moore a proverbial bath, Pies head coach Craig McRae has gone in to bat for the star defender claiming his assignment was made much harder than it needed to be.
While Lynch walked away from the MCG with a haul of six goals and a singular behind and the taste of a second successive Tiger victory his to savour, Moore was left ruing an opportunity lost against one of the competition's benchmark sharpshooters.
Although the son-of-a-gun has drawn the ire of punters and pundits for playing off Lynch in the 27-point loss and allowing the former Sun to gobble 11 marks and collect the Sherrin on 25 occasions, McRae was willing to place the blame on those further afield.
"Our pressure was the worst all year around the ball so that doesn't make Darcy's job or the job of any of our backs easy so we need to get that right," McRae told AAP on Wednesday.
Abiding strictly to Collingwood's new defensive blueprint that is designed to allow him both time and space to leap for intercept grabs, Moore was caught out of place due to his midfield unit's defeat at the coal face, losing the clearance count 36-30.
The headbanded 26-year-old's inability to call on ready-made aid was also raised by McRae, who tipped that the return of Jordan Roughead to his lineup would see Moore freed up to influence contests.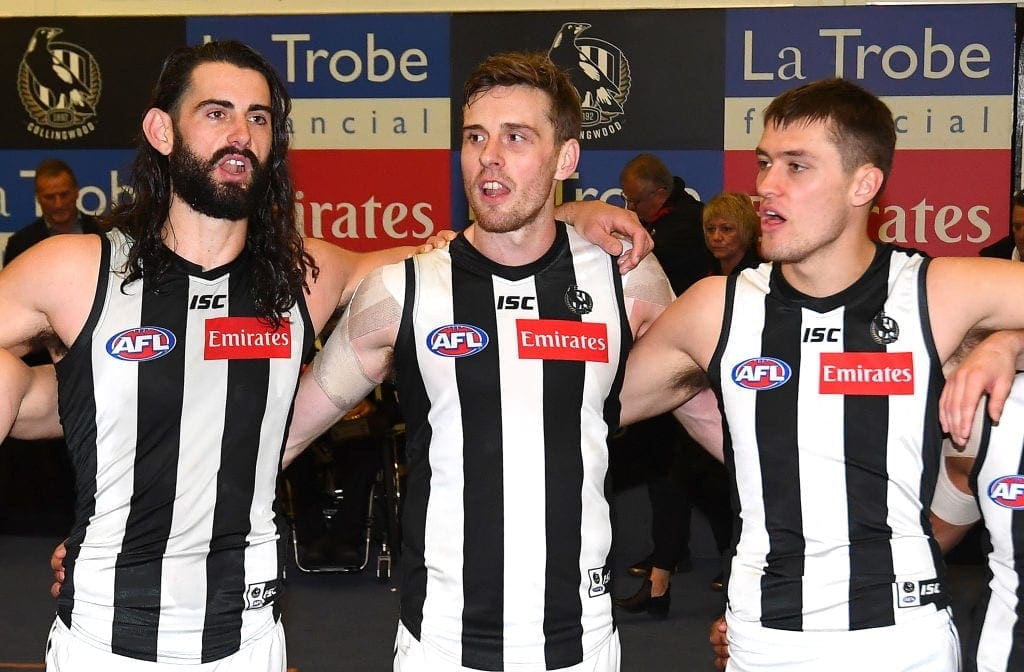 "Jordan Roughead not playing, that's an adjustment for him (Moore) as well," McRae added.
"He's a two-metre guy who's not there to support him."
The first-year head coach's claims come off the back of Moore's back-six contemporary Jeremy Howe telling Nine News on Tuesday that despite errors, the former top-ten draftee remained the man for the job.
"The way that Darcy plays, he reads the ball better than most," Howe delineated.
"I feel like sometimes the ball bounces our way and sometimes it doesn't. It's one of those days where unfortunately he made a couple errors by decision down there, but so did we all, so we'll keep backing Darcy in."
After drying himself off from the Lynch-run bathing, Moore's next assignment does not get any easier, with the prospect of manning in-form Dog Aaron Naughton this Friday night at Marvel Stadium.
Still, McRae was willing to keep his chips behind his defensive mainstay, suggesting that Moore's history against the Western Australian was enough to have him confident of a bounce back.
"We have a couple of options, but I think Darcy prepares well for guys like him," McRae said in finality.
"It's a big challenge because he's [Naughton] a great player."
In the four contests between Moore and Naughton since 2019 - the period in which the latter shifted forward of the ball - the Bulldog's main attacking route has managed a collective tally of just 3.2 across 16 quarters of football.