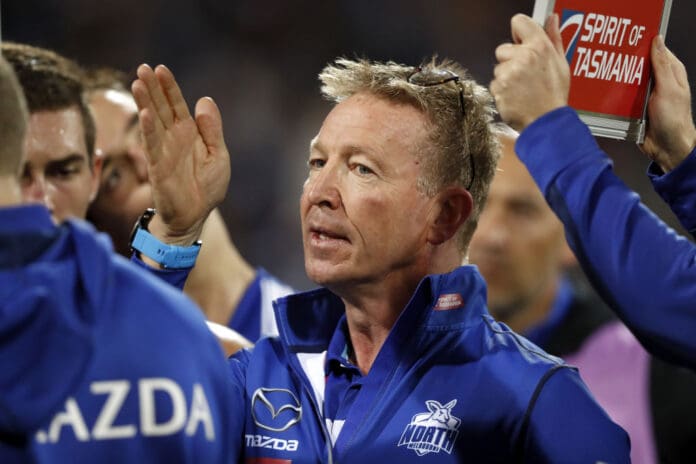 Much was made of North Melbourne's decision to play three rucks - Tristan Xerri, Todd Goldstein and Callum Coleman-Jones - by the commentary team during their 20-point defeat to Hawthorn on Sunday, and rightly so.
To say the experiment didn't work is putting it politely, and there is an argument to be made that it was the biggest factor in the result.
There were some positives to come out of the game for both clubs - think the debut of No. 1 draft pick Jason Horne-Francis for North Melbourne, or the defensive masterclass of Changkuoth Jiath for the Hawks (more on that later).
YING AND YANG: Horne-Francis & Daicos two halves of a whole
But the reality is this was an ordinary game to watch, and, while the final margin was 20 points, there was little between two teams who look likely to occupy two of the bottom four spots on the ladder in 2022.
With so little between the teams and David Noble's decision to play three rucks such a big factor, it pains me - as someone who played in the ruck and a huge advocate for ruckman - to say North would've been better served by leaving one out.
While we'll never know for sure what the result would've been had North elected to go with a more traditional two-ruck selection, there are two factors to be considered regarding the Goldstein/Xerri/Coleman-Jones dilemma:
What impact did this selection decision have on the match against Hawthorn?
Moving forward: which of the three do you pick for the two available spots?
Impact of three rucks
With North going in too tall against the Hawks, they simply were too cumbersome - the moment the ball was brought to ground level inside 50, the talls became a liability.
If you're going into a game with an extra tall, you need them taking marks to maximise your forward entries.
However, North Melbourne only took eight marks inside 50, just over half of Hawthorn's 14.
Goldstein was able to take two contested marks and kick truly to finish with 2.0, but, simply, that's not enough.
Especially when you consider North had four more inside 50s than Hawthorn - 53 to 49.
This shows the limited impact Xerri - who mainly spent his time in the ruck and admittedly took a mark inside 50 before kicking a behind - and Coleman-Jones had on the game, but what it doesn't show is how it impacted North when the ball was at ground level and they had to defend.
The commentary team is harping on it but they're spot on … Questions must be asked of David Noble's decision to play Goldstein, Xerri and Coleman-Jones.

Yes Goldy just kicked a goal, but to say it's not working would be polite #AFLHawksNorth

— Jack Fitzpatrick (@JackFitzT1) March 20, 2022
Take one look at the Coaches' votes from the weekend in the AFLCA champion player award and it'll tell you everything you need to know.
Leading the way with eight votes apiece were Hawthorn defenders Jiath and James Sicily, who recorded 24 and 27 disposals respectively.
They're different players - Sicily setting up the play with his precise kicking and Jiath breaking the lines with his run and carry - but the fact they topped the Coaches' votes shows the impact they had on the game.
Indeed, Jiath, especially, who recorded a near-perfect rating when looking at the 2022 Zero Hanger AFL MVP, polling 19 of a possible 20 votes for the game.
RELATED: Trio record perfect Round 1
Because North Melbourne were too tall, they were unable to place any forward-defensive pressure on the Hawks' defence.
This is further illustrated by the fact North laid just seven tackles inside forward 50 - again, half of Hawthorn's 14.
Despite having the ball in there four more times.
Given 23-year-old Nick Larkey, coming off a 42-goal season in 2021, is a lock to play as a tall forward, North simply must find more mobile options to partner him.
And, to be fair, it's the mobility of the three rucks that is an issue for North more than their height.
Take 2021 premiers Melbourne, for example, who have genuine key forwards in Tom McDonald and Ben Brown (ironically unwanted at Arden St, before moving to the Demons), combining with ruck/forwards Max Gawn and Luke Jackson.
This quartet is just as tall as Larkey, Goldstein, Xerri and Coleman-Jones, but - perhaps with the exception of Gawn - they're much more mobile, and Gawn provides a much more genuine marking threat than his ruck counterparts at North (and let's not bring up his five-goal performance in last year's preliminary final!).
Here's what Gawn had to say about his ruck combination with Jackson at the 2022 AFL Captains Day:

Moving forward
As stated above, Larkey is essentially a lock to play every week, given he's a genuine goal-kicking option.
But how do you squeeze Goldstein, Xerri and Coleman-Jones into two spots?
Ideally, one plays about 80-85% of the game in the ruck, while the other plays as a secondary forward to support Larkey while pinch-hitting in the ruck for 15-20% of the game, to give the other a spell.
If it was purely off output on the weekend, Coleman-Jones is the obvious player to drop given he was barely sighted with just the four disposals.
From what we saw in his time at Richmond - and again on the weekend - Coleman-Jones doesn't appear to be any bigger a forward 50 threat than Goldstein.
Yes, he's younger and more agile than the 33-year-old veteran, which helps when the ball is at ground level, but fan favourite 'Goldy' is a better mark, and kicks the ball just as well - if not better.
Not to mention 'Goldy' is significantly better as a ruckman.
However, the former Tiger was recruited in the off-season for this exact role - the second ruck-forward option - and, at 23, it's likely they'll persist with him, which means the no#1 ruck position comes down to Tristan Xerri vs Goldstein.
And for this writer, the option is clear - Goldstein is your man.
An All-Australian in 2015, and with more recorded hit-outs than any player in the history of the game, 'Goldy' has plenty left to offer despite being in the twilight of his career.
In 2021, he averaged just over 14 disposals and just under 30 hit-outs per game - that's significantly more than what we've seen so far in the early stages of both Xerri (7.50 disposals and 7.38 hit-outs) and Coleman-Jones' (10.78 disposals and 7.89 hit-outs) careers.
Some will argue that there's no point persisting with a soon-to-be 34-year-old given North is clearly rebuilding - that playing Goldy is simply curbing Xerri's development.
However, I disagree.
Winning games and being competitive is far more important to any rebuilding team than simply 'getting games into the youngsters'.
Especially on Sunday, against a similar-placed team like Hawthorn, you simply need to pick your best team - the confidence derived from that winning feeling would be far more beneficial than one extra game given to a younger player.
And 'gifting' games to players can be hugely detrimental when it comes to creating a culture, implicitly promoting certain behaviours - if not explicitly rewarding them - but that's a conversation for another time.
The point here is, if Xerri hasn't forced himself into the team ahead of a ruckman who is in the twilight of his career, then he doesn't deserve to play. Yet.
Reports throughout the pre-season suggested Xerri had trained the house down to become the no#1 ruck at the club - indeed, he started on Sunday while Goldstein began the game on the bench.
And, if that's the way Noble wants to go, then so be it.
But to have a veteran coming off the bench to play a bit-part role, that's when a senior player is hindering the development of the youngsters.
It would certainly be interesting to be a fly on the wall at Arden Street for the selection meeting ahead of the Kangaroos' Round 2 clash against the West Coast Eagles on Sunday.