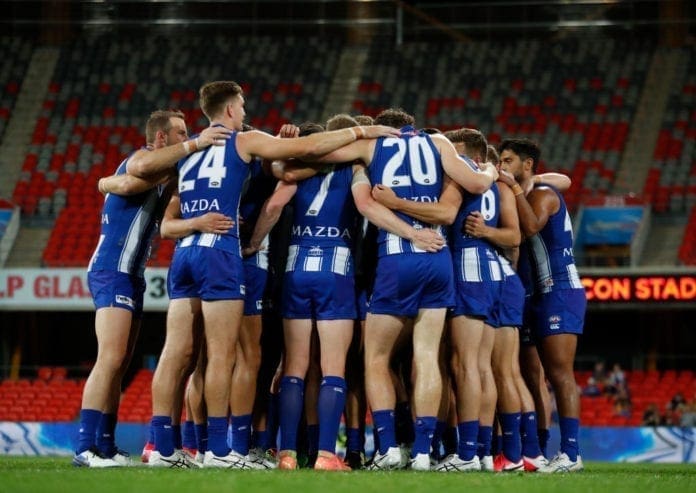 North Melbourne officials have reportedly met with the AFL regarding the process of securing a priority pick at the upcoming National Draft.
It is understood Kangaroos CEO Ben Amarfio and head of strategy James Gallagher were the club's representatives who met with the league on Monday, according to afl.com.au's Riley Beveridge.
At former coach David Noble's departure press conference last week, Amarfio stated the club had "started informal conversations about mechanisms to bring more talent to the club through priority picks and such".
North Melbourne currently sits last on the AFL ladder, having managed just two wins this season - against the West Coast Eagles back in Round 2 and Richmond in Leigh Adams' first game as interim senior coach last weekend.
While the Roos are already tipped to snag the first overall selection at November's draft, they are not currently slated to pick in the second or third rounds after dishing out those respective picks to Richmond (in exchange for ruckman Callum Coleman-Jones) and the Western Bulldogs (as part of a live pick trade) last year.
RELATED: ROOS FACING DRAFT DILEMMA DESPITE NO.1 PICK CHANCES
Therefore, with the Kangaroos currently holding just their first-round choice, two selections in the fourth and one pick in the fifth, it could be estimated that Amarfio and co. will seek at least one additional pick from the AFL as discussions about a formal priority pick application start to heat up in the coming weeks.
The Gold Coast Suns (2019) were the last club to receive priority draft compensation from the league as a result of poor on-field performance, receiving an array of picks across the 2019, 2020 and 2021 National Drafts.
The Roos will be chasing their third win of the season on Saturday when they host Hawthorn at Blundstone Arena, Hobart, at 1:45pm (AEST).
A win against the Hawks would see North Melbourne jump into second-last on the ladder, leaping the Eagles.