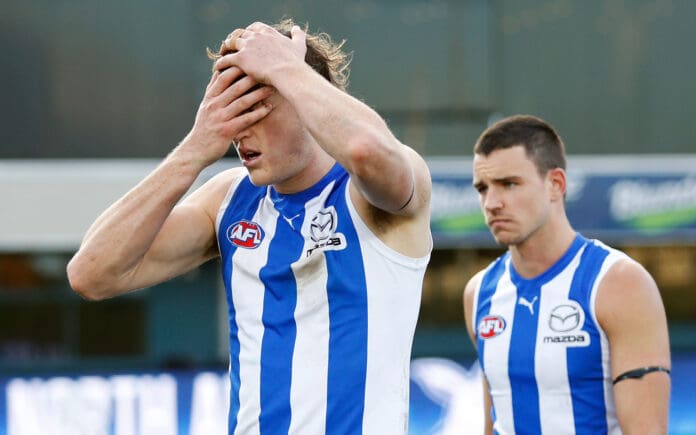 North Melbourne will need to at least double their winning record to avoid the wooden and spoon and Pick 1 of the 2022 National Draft, a selection that may bear some burden for the Arden Street side.
West Coast's 10-point win over Essendon on Friday has the Eagles at arms distance over the Roos at the foot of the ladder, with the Perth powerhouse now four premiership points and 3.6 per cent ahead of David Noble's side.
The Round 15 result has left the Roos as the front-runners to be placed on the 18th rung at the cessation of this season, with North Melbourne set to enter their remaining eight fixtures unfavoured.
Should they remain last and subsequently secure the first overall selection at this year's draft, a dilemma awaits the Roos' recruiting team.
North's last six first-round selections has seen the club recruit midfielders, with Jason Horne-Francis (2021), Will Phillips (2020), Tom Powell (2020), Tarryn Thomas (2018), Luke Davies-Uniacke (2017) and Jy Simpkin (2016) all joining the Shinboner cause.
North notably passed on WA talent Logan McDonald in 2020, instead selecting Phillips as a safer selection given no 'go home' factor loomed. McDonald, however, has since signed an extension until 2024 with Sydney and has emerged as a bonafide fit in the attacking third of a premiership contender.
The sextet of aforementioned selections have only amplified the club's need to recruit key-position talent for the future, with Noble yet to identify a partner-in-crime for tall forward Nick Larkey since Ben Brown's departure two years ago.
Sunday's uninspiring outing against the Crows saw Ben McKay's magnet moved into attack, fuelling a few fans' conspiracy theories before realising the 24-year-old may have been best placed at the other end of the field in a more familair role.
His absence in defence saw Tayor Walker and Darcy Fogarty carve up the Roos' back wall of Aidan Corr and Josh Walker, with McKay amassing just the four touches for the match.
Even with McKay leading down back, some questions will be raised as to whether he, Corr and Walker can lead the Roos for the long haul as a collective, with the latter unlikely to be part of any premiership push at the current age of 29.
So with Larkey finding no known collaboration with luckless one-gamer Charlie Comben or Richmond recruit Callum Coleman-Jones, it can be said a void in attack may be as concerning as their hole at the opposing end of the field.
The disturbing thought is doubled when you gaze your eyes across this year's top daft talent, with the class of 2022 dominated by midfielders at the top end.
Headlined by likely Lions father-son selection Will Ashcroft, the top talent at the draft would see the Roos selecting another onballer should they go down the path of choosing the best name on offer.
Moving past an anticipated matched bid for Ashcroft by Brisbane, Oakleigh Chargers pair George Wardlaw and Elijah Tsatas, Sandringham hybrid Harry Sheezel, Swan Districts ball-winner Elijah Hewett, Geelong Falcons captain Jhye Clark and versatile SA prodigy Mattaes Phillipou could all be considered for the top few selections at the draft and, to the Roos' dismay, are all midfielders.
With the Roos likely looking to fill a key-position need, they may consider splitting their top selection for multiple picks in the first round.
Among the options to consider, West Adelaide pairing Harry Lemmey and Tom Scully are both seen in the pack of best tall forwards, while Oakleigh's Matthew Jefferson is also seen as a potential first-round selection for those looking to add height to their attack.
At the opposing end, East Perth prospect Jedd Busslinger could come into top five selection considerations after emerging as the standout key defensive option in his class.
Like Josh Gibcus last year, Busslinger is head and shoulders above the rest of his positional rivals, with Eastern Ranges' backman Lewis Hayes, the younger brother of Port Adelaide ruckman Sam, a fringe first-round contender and likely the next best option on offer.
Should the Roos look to place their top pick on the trade table this off-season, it could give them a more fitting and versatile hand at the National Draft, as opposed to stepping onto the clock to open proceedings and either adding to their already talent-rich midfield or selecting a player who may be still on offer several selections later.
An outcome of acquiring multiple early selections will also bolster what is a short hand of selections the Roos will hold, with their second pick not coming until the start of the fourth round - currently Pick 55.
Whether it be to aid Larkey's workload and forge a lethal twin tower pair in their forward third, or plant roots in their defence, the Roos must consider trading their first draft pick, or remain hopeful a key-position prospect announces himself as a top draft pick by the year's end.