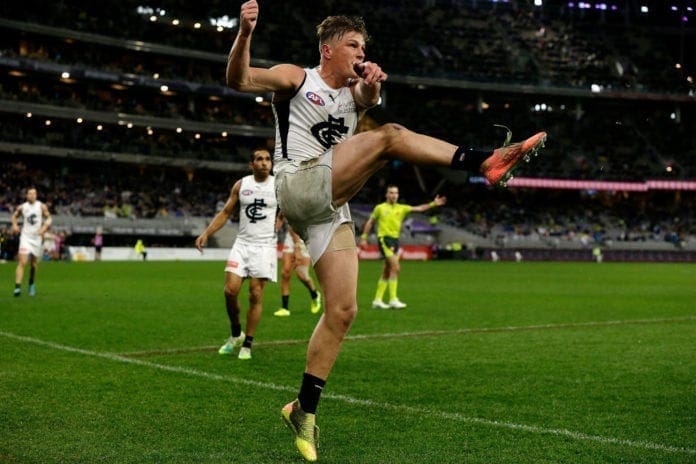 The AFL will today admit there were some crucial errors in the lead up to Blue Jack Newnes' after-the-siren goal against Fremantle on Saturday night.
Newnes flushed the match winner from 50 metres out on the boundary line to sink the Dockers, who led for all but two minutes of the game.
There were several key decisions that led to the Carlton midfielder getting the opportunity to fulfil the boyhood dream.
The original deliberate out ouf bounds call against Matt Taberner will be ticked off on. However, Sam Docherty then blasted the ball out on the full before being knocked to the ground by Andrew Brayshaw, who was attempting to smother the ball.
That collision led to a downfield free kick, which should have gone to the player closest to the ball, which was Michael Gibbons.
UMPIRE CALLS A DOWNFIELD FREE KICK, NEWNES WINS IT AFTER THE SIREN.

UNBELIEVABLE 😱😱😱 pic.twitter.com/aH6A1Wk2i5

— 7AFL (@7AFL) August 15, 2020
However, Newnes was awarded the kick, with Fox Sports reporting that the AFL will today confirm that was the wrong decision.
Speaking on the Sunday Footy Show, former Richmond and Western Bulldogs star Nathan Brown said Newnes was smart to con the umpire into giving him the ball, doubting Gibbons would have been able to make the journey.
"I think he (the umpire) is speaking to Newnes there, and maybe he thinks Jack Newnes is the closest," Brown said.
"Jack Newnes did a great job to get this free kick.
"I don't think Gibbons would have made the distance."
Journalist Damian Barrett added: "Clearly, as Browny pointed out, Michael Gibbons should have been taking the kick and not Jack Newnes."
Adding to the drama, some footy commentators believe Newnes took his kick from the wrong spot. Channel 7's Brian Taylor claims he should have been kicking from further out from goal.
"Where did it go out of bounds? This is something that no one has talked about so far," Taylor said.
"The boundary umpire ... look at that, indicates 49m out (from goal). The field umpire, after all of the confusion, says it's 40m out because he got lost about where the boundary umpire said the mark was.
"This means that Newnes has to go from kicking a potential 55m kick to a 45m kick. It is the difference between him getting the distance, and not getting the distance and changes the skill of the kick as well.
"I just reckon the umpires got that wrong."