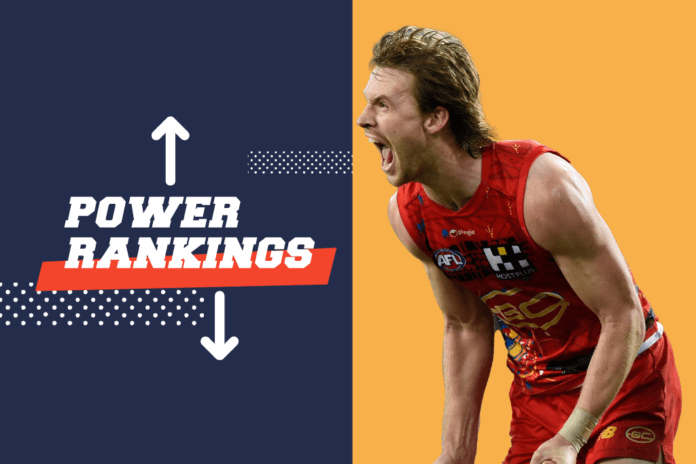 A week where many finals and premiership contenders slipped up and once again left the finals race wide open. Melbourne, Brisbane, Richmond and St Kilda all suffered disappointing losses on the weekend.
Wins to Carlton, Collingwood and Fremantle livened up the chase for a double chance, while Gold Coast put themselves as deep into a finals picture as they've ever been.
1. Geelong (+1)
The Cats have moved into the first seed after their terrific win against the former top seed, Melbourne, on Thursday night. Geelong snapped their Melbourne hoodoo with a relatively dominant display that has them on top of the AFL ladder as well as these Power Rankings. They're the team to beat at the moment.
2. Melbourne (-1)
Melbourne's form slump is real. This isn't something they will just be able to snap out of and it has lost them their place on the AFL ladder and the Zero Hanger Power Rankings. The Demons threatened to find their best against Geelong but there are issues that came to the surface again.
3. Fremantle (-)
The Dockers were sublimely professional against the Saints at Marvel Stadium which was needed after their recent loss at the roofed stadium to Carlton. Fremantle were superb as they flexed their muscle and showed that there is a gap between themselves and those vying for a spot in the eight.
4. Brisbane (-)
The Lions just about get a pass for their loss to Essendon. They were wiped out by injury and COVID in the lead-up to the Essendon defeat. There are queries on their midfield's form at the moment with some big tests still ahead. They deserve some forgiveness though.
5. Carlton (+1)
Carlton shows their best and worst quicker than any team in the competition. Keeping West Coast scoreless in the first quarter was followed up by conceding seven goals to the 17th placed team in the second term. Despite that, they still had their biggest win since 2014. With troops starting to return from injury, the Blues' ceiling is as high as any it seems.
6. Collingwood (+1)
Collingwood fans will still be wiping the sweat off their brow after Saturday's win. At three-quarter-time, the Pies looked as good as gone against North Melbourne before a stellar final stanza of play saw them scrape over the line. Collingwood have been close game experts this year and they took another step towards securing a finals berth.
7. Sydney (+1)
The Swans were at their blistering best on Friday night as they put the Western Bulldogs to the sword and all but ended their season. It was a much-needed response after their disappointing loss to Essendon and showed that maybe that defeat was the exception and not the rule.
8. Richmond (-3)
The Tigers blew it. A seemingly match-winning lead that would have put the Suns' season to bed and opened the door wide open for Richmond to walk into the top eight. Their demise was alarming and very unlike the Tigers of old, it came at a price too with some key injuries coming out of the game. They have a nice run home but this loss makes that run look more difficult than first thought perhaps.
9. Western Bulldogs (-)
Had St Kilda been just a touch more convincing in their loss this weekend, the Dogs would have lost their grip on ninth spot. The Whitten Oval side was blown off the park and may have seen their season blow up in smoke. There are plenty of issues for Luke Beveridge to sort through ahead of 2023 and it seems the process may start now.
10. St Kilda (-)
Only just clinging to tenth spot themselves, the Saints undid all the good work they produced against Carlton the week before. Seemingly having found their game again, the Saints were cut to ribbons by Fremantle and got a sound reality check as their bid for a finals berth slipped a touch more out of reach.
11. Gold Coast (-)
As lucky as the above pair is to have held their spots, the Suns are equally as unlucky to be stuck in 11th. This is without a doubt the best Gold Coast team we have ever seen and they aren't without a sneaky shout at finals in 2022. Their determination and desperation to fight back against an experienced Tigers outfit and win after the siren was thrilling. Noah Anderson, take a bow.
12. Port Adelaide (-)
A good win from the Power over a disappointing GWS side with their ever so slight finals chances staying somewhat alive. It must be remembered that the Power was 0-5 and there were calls for radical change. They have steadied really well but it always felt like too big a mountain to climb from such a poor start.
13. Hawthorn (+1)
The Hawks needed a win after a run of defeats had threatened to run their season into the ground. They controlled their clash with Adelaide from start to finish in a mature display for such a young group. They're showing great signs this year for a bright future ahead.
14. GWS (-1)
Every time the Giants seem to have things back on track they tend to let themselves down. They were flat from the very start against Port Adelaide and played like a team with one eye to 2023 already. It's a slippery slope if that's the case.
15. Essendon (-)
They've had a stellar month, the Bombers. It seems Essendon have got their game back to some extent and while circumstances helped them through Covid protocols against Brisbane, a win at the Gabba is nothing to be snickered at. They could rattle the eight from outside of it on the run home.
16. Adelaide (-)
The Crows never really looked likely against the Hawks. It was a winnable game, albeit on the road, but they were outplayed from the start of the contest. Wins and losses aren't incredibly vital at this stage of Adelaide's build but it is important that they don't meekly go into the darkness this season.
17. West Coast (-)
The second quarter against Carlton may seduce many to think the Eagles weren't as bad as their 61-point loss may suggest. However, they were worse than a 61-point loss may have you believe. Other than an impressive seven-goal second quarter, they managed one goal for the rest of the game and didn't score in the final term when the game was on the line. They offered very little for three quarters.
18. North Melbourne (-)
Ouch! North fans would have dared to dream at three-quarter-time on Saturday afternoon when leading Collingwood by 26-points. North Melbourne won't be too impressed with how quickly Collingwood took the game away from them but to break the streak of 11 losses of at least 47-points is a win of sorts. Effort was much better.