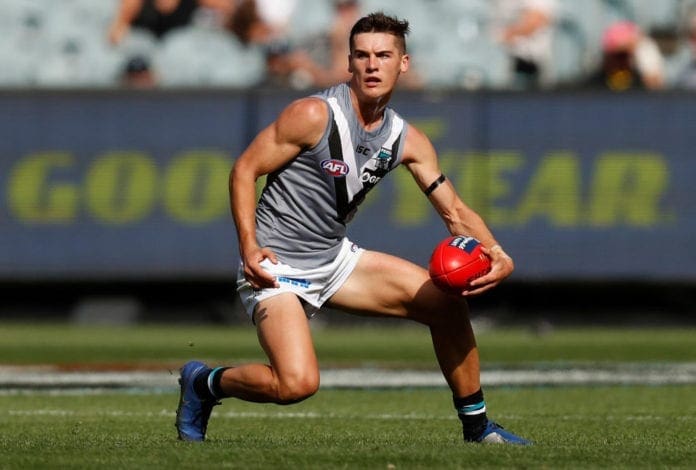 An uninterrupted pre-season has given Port Adelaide young gun Connor Rozee a boost of confidence ahead of a contract year that is sure to see the local product gain greater exposure in midfield.
Rozee's past several off-seasons have been hindered by setbacks, having most recently been forced to undergo surgery on his foot that sidelined his start to the 2021 season.
After missing the opening two matches, Rozee was able to feature in all but one game for the remainder of the season as the Power's year was ended in a heartbreaking preliminary final finish.
Now entering his fourth season at Alberton Oval, the 22-year-old has been able to place greater focus on adding to his game rather than working through rehabilitation ahead of a highly-anticipated campaign.
"I didn't have any surgeries in the off-season, which was a big bonus for me," Rozee told media on Monday.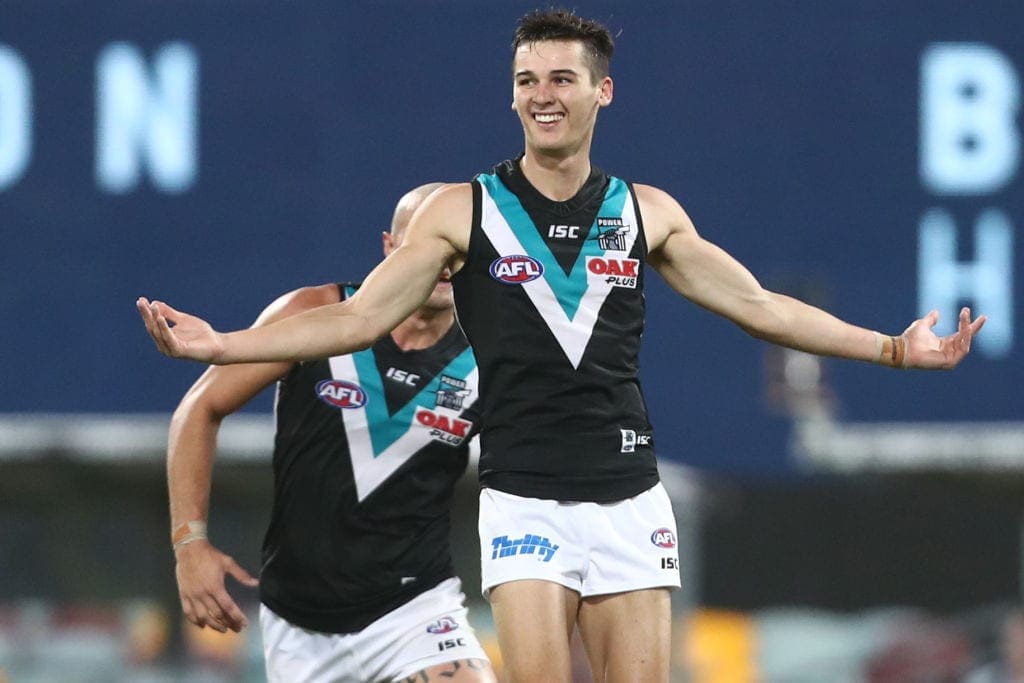 "The last couple years I've had a couple of surgeries that have kept me out for a fair while ... I had to take a fair bit of time away from the group. So it's been nice just to be a part of the whole process and not miss any running.
"I'm feeling really fit and strong at this stage and have been able to really push for that midfield spot, so hopefully I can stay fit."
In taking another step through his raw career, Rozee is looking to sharpen the definition of his role under senior coach Ken Hinkley, having spent a majority of his tenure to date in the Power's attacking third.
The string of recent setbacks have perhaps impeded on the South Augusta product's hopes of amplifying his tallied minutes in midfield.
While Rozee has enjoyed a steady path ahead of the season's start, the same can't be said for forward duo Charlie Dixon and Orazio Fantasia, who will require treatment on ankle and knee injuries respectively this pre-season.
Despite a potentially greater reliance for Rozee to play as a forward come Round 1, any forced rotation won't deter the rising star's prospects of further developing into a full-time midfielder.
"Last year I was sort of planning to play midfield but depending on roles and injuries, those roles do change week to week," Rozee said. "The plans at this is stage to hopefully play some more midfield minutes.
CONNOR ROZEE
Forward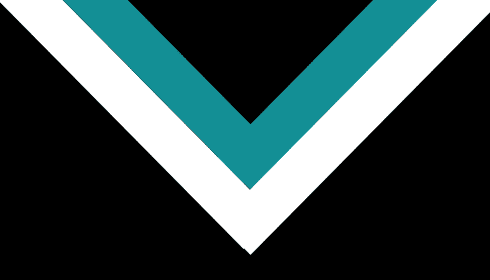 Port Adelaide

2021 SEASON AVG

16
Disposals

1
Goals

2.8
Inside50s
"I think it will definitely be a bit of a jump from last year. I was probably on 20-25% last year ... that number will probably jump a little bit.
"We've had two forwards go down, so if that means that I have to jump back forward for a little bit then so be it."
Hinkley and midfield coach Brett Montgomery are sure to be buoyed by Rozee's increased exposure within the engine room, while a bevy of emerging names have also joined the midfield group this pre-season.
Sam Powell-Pepper, Miles Bergman, Jackson Mead and draftee Josh Sinn are among those looking to impose themselves under the watchful eye of Montgomery.
The depth and versatility has been a key focus on Port Adelaide's planning for the year ahead, with the club looking to best utilise their stocks and known strengths to support the likes of veteran duo Travis Boak and Ollie Wines.
"I think at this stage where we're going in with a mindset that we're going to be really flexible (in midfield)" Rozee said.
"There's going to be a lot of boys roll through there. We've got a pretty good young brigade that are coming through. They're putting their hands up, so I don't think it's going to be a case of one person dropping out and one coming in. It's probably gonna be more of a case that we share the load a little bit more.
"It's not just Trav and Oli doing the main lifting this year. We have a lot of boys taking the load off them and that will help us move forward as a group in the long term."
While Rozee and the Power will be keen on conjuring redemption in 2022 following successive home preliminary finals exits, a number of the club's brightest players are currently yet to recommit to the club past 2022, Rozee included.
Despite his contractual status, Rozee has placed his attention toward the season ahead. That hasn't stopped the South Australian from expressing his love for the club that drafted him with Pick 5 in the 2018 National Draft however, with his management and the Power understood to have begun contract discussions.
"Still going over that with the club at the moment," Rozee revealed.
"I leave that sort of stuff mostly to my manager. I think they're slowly talking with the club at the moment, and hopefully sometime soon or during the year we'll get that sorted, but it's not a massive priority at the moment.
"I really enjoy playing for Port Adelaide and have loved my first four years here so I'm sure that will get put to bed soon.
"I obviously love playing in Adelaide and am an Adelaide boy, so hopefully down the line we can get that sorted."
Rozee is set to begin his fifth campaign with the Power when they travel to the Gabba to face Brisbane on Saturday, March 19.